December 1, 2015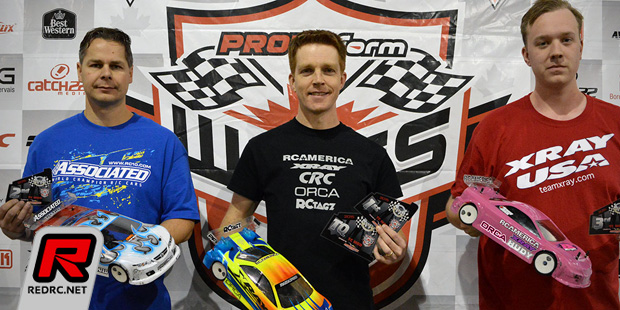 The third round of the Western Canadian Indoor Championship Series was held in the Capital of Alberta, Edmonton. Hosted by the NASCAR Club, great weather helped racers from all around Western Canada make the drive, and this year saw their biggest turnout ever. In Touring Modified, National Champion, Xray driver Blake Bell drove his T4 from pole to checkered without looking back. For his second round in a row, Blake took all 3 class wins, again proving exactly why Blake is "The Champ". Fellow Xray driver Danny Buck would hold 2nd for almost the entire race, but on the 3rd last lap it all exploded with three different racers, Danny Buck along with Team Associated's Peter Toszer and Team Awsomatix's Wayne Mah, holding 3rd place. Ultimately Peter Tozser would bring it across the line, followed by Danny.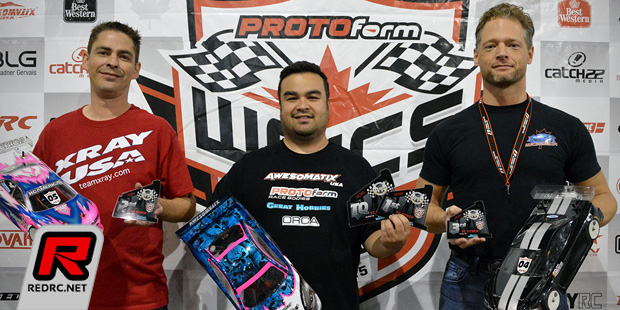 Touring Stock was again by far the biggest class of the weekend provided a great final race. Awesomatix's Wayne Mah was dominant, solidly in TQ most of the weekend. He led from tone to tone taking the win in style. Xray's Ryan Rice, having traveled all the way from Saskatoon, moved from 3rd when fellow Xray driver Danny Buck had a mechanical. Top privateer Josh Carter kept the pressure on Ryan all the way to the end, taking 3rd.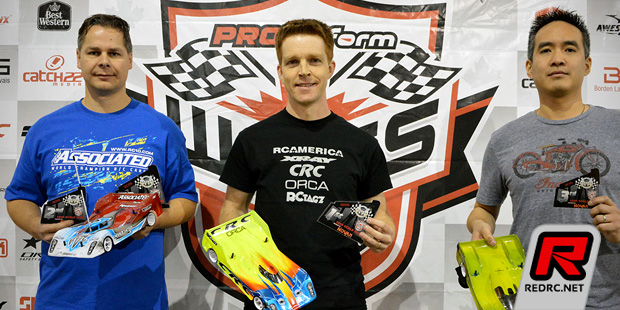 In a reverse of 1/12th Stock, Team Associated's Peter Tozser would take TQ in 1/12th Modified, again with the fastest car. But a mistake on lap 12 would drop him back to 2nd behind "The Champ" Blake Bell. This time it wasn't so easy for the National Champion, as he had a fantastic battle with the TQ, Team Associated's Peter Toszer, trading the lead back and forth, treating the fans to an amazing race in this hugely challenging class, it would be "The Champ" who would get by right at the end for a virtual photo finish. Calgary's Ivan Chan was third.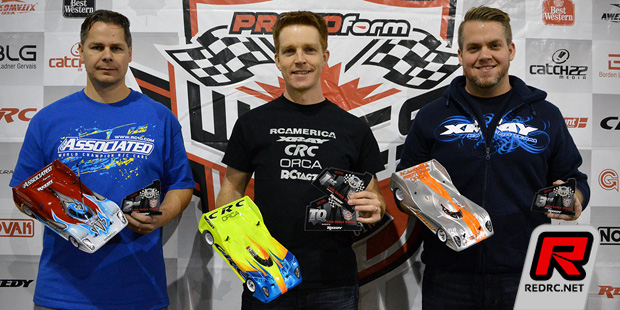 With reigning Canadian National Champion Blake Bell putting his CRC firmly in TQ in 1/12th Stock, and would lead to the checkered, it would seem like an easy victory. But Team Associated driver Peter Tozser, with the fastest lap of the main, put constant pressure on The Champ for the full 8 minutes, finishing just 0.4sec behind. Xray's Luke Pittman, while posting the second fastest lap, would take the last step on the podium.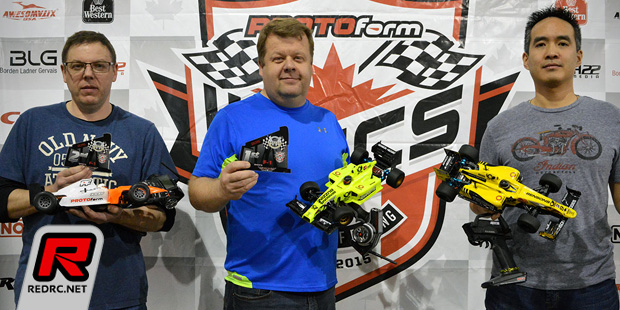 Local Edmonton driver Ian, returning to RC after years off, is back on form with a win in the Formula category, a class he's helped grow at his home club. Mike Watson drove an almost perfect race to finish a solid second. Ivan Chan was third.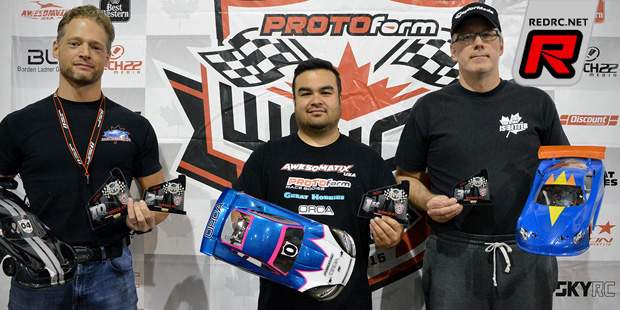 Top privateer, WCICS President Josh Carter took a tight TQ in World GT, but couldn't hold off the speed of one of Western Canadian's top drivers, Team ORCA's Wayne Mah in the final, who drove away for the win. Dropping back to 3rd behind Ken Miller, it was now a battle for 2nd place. Josh was looking for any clean pass, but Ken was on a perfect drive, and it looked like Ken would hold the challenge off to the end. But on the 2nd last corner of the final lap, Ken just barely swiped a board, pushed wide, which was the opening Josh had been waiting 20 laps for. In a drag race to the finish, Josh would end up 2nd and Ken in 3rd.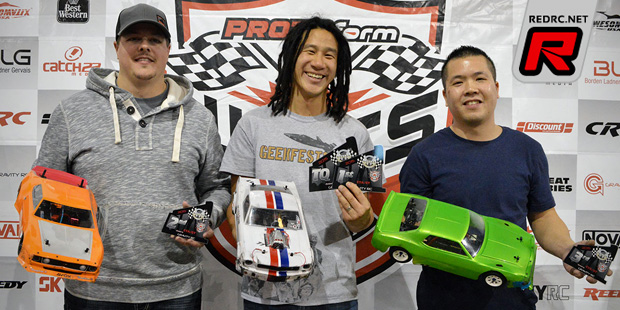 The CTA race belonged to Edmonton driver Des Tse, who led from TQ to checkered. Cam and Erwin would fight for second, with Cam taking the number 2 spot on lap 7 and running to the end. Erwin, who would drop back to 4th on that lap, had to battle back to claim the last podium spot.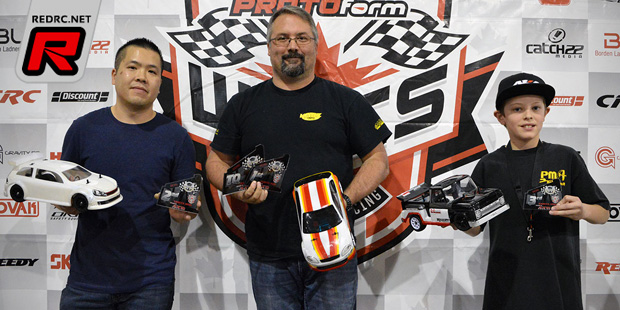 Finally in the Tamiya Mini class TQ Scott West from Calgary appeared to be untouchable, having basically held TQ throughout the entire weekend, with a car several tenths faster than most of the field. If that description sounds familiar, check the round 2 Penticton report. It also looked to be repeat performance, when on the first corner Scott misjudged his turn-in, and stuck his car against the corner board while almost the entire field drove past. In a drive like Rossi in Valencia MotoGP, Scott drove back through the entire field, this time vanquishing the ghosts of Penticton and taking back first place. Fellow Calgary racers Erwin and young up and coming driver Carter finished just 2 and 4 seconds behind, rounding out the podium.
Source: WCICS [wcics.ca]
---