December 2, 2015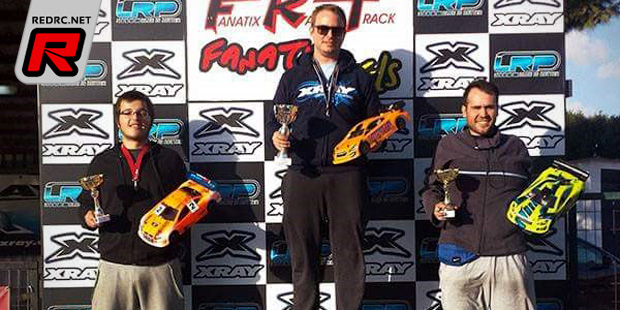 The Greek Attiko Cup was recently held at the Fanatix Racing Track in Athens. The race format was three rounds of qualifying followed by 30 minute finals and in the 200mm Sedan class it was Xray driver Dimitriou who took the overall TQ by coming out fastest in the early round one that allowed for the fastest times. Second on the grid was young and talented Licaris (Shepherd) from Sotiropoulos (Mugen) in third.


Qualfying result:
1. Dimitriou – Xray
2. Licaris – Shepherd
3. Sotiropoulos – Mugen
4. Christodoulou – Mugen
5. Nikiforos – Xray
6. Papachristos – Xray
7. Pilichos – Capricorn
8. Amaksas – Mugen
9. Kiritsis – Capricorn
10.Bratis – Xray
11.Kordas – Xray
The 30 minute main final was started around half an hour later than expected due to rain and at the beginning the track was still a little bit slower than in qualifying but once everyone had grooved in the times were close to the ones scored in the qualifiers. Up front Dimitriou had an easier job than expected as Licaris ran into minor problems and he was not able to show his real talent. In the end Dimitriou took a pretty easy win from Licaris in second and Nikiforos (Xray) in third. Christodoulou (Mugen) ended the main just 1.7s behind in fourth place.
Final result:
1. Dimitriou – Xray
2. Licaris – Shepherd
3. Nikiforos – Xray
4. Christodoulou – Mugen
5. Sotiropoulos – Mugen
6. Bratis – Xray
7. Kiritsis – Capricorn
8. Kordas – Xray
9. Pilichos – Capricorn
10.Papachristos – Xray
11.Amaksas – Mugen
Source: Xray [teamxray.com]
---