December 29, 2015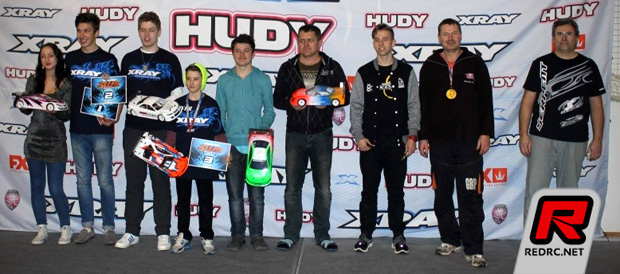 The third round of the Xray Winter Series Morava was held just before Christmas and it attracted a total of 105 entries in the five classes of Touring Open, Touring Stock 17.5T, Formula, GT and Hobby. In the Open class Kuba Simurda lead the proceedings right from the start but he was closely followed by young and talented Oliver Havranek who did his best to stay in touch with Kuba. Although he tried very hard, bad luck for Oliver meant he had to settle for third overall in the finals with Michal Vitamvas grabbing the runner-up spot.
Touring Open top 5 result:
1. Kuba Šimurda
2. Michal Vítámvás
3. Oliver Havránek
4. Martin Kratochvíl
5. Karel Kratochvíl
The Touring Stock class is gaining more and more popularity in the Czech Republic and so a total of 28 drivers battled for the win. In the qualifiers Jarda Kopecký Jr. took the TQ, beating his main rival Oliver Havránek but it seemed that taking race wins is not Jarda's destiny as Oliver was able to overtake him in all finals. Jarda had to settle for second while the third spot went to Martin Kratochvíl, who had a very successful weekend.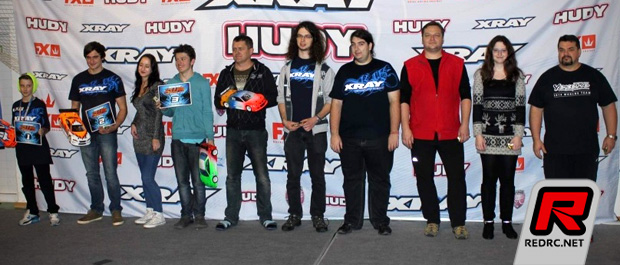 Touring Stock top 5 result:
1. Oliver Havránek
2. Jaroslav Kopecký ml.
3. Martin Kratochvíl
4. Karel Kratochvíl
5. Tono Sloboda
The Formula class saw 25 drivers fighting for the win with Vit Parak being the hot candidate for the overall victory. An expert for 2WD classes Vit dominated the race and he never gave a chance to runner-up Ludek Szostek thanks to his perfect driving lines. Libor Holub rounded out the top 3 result in third place.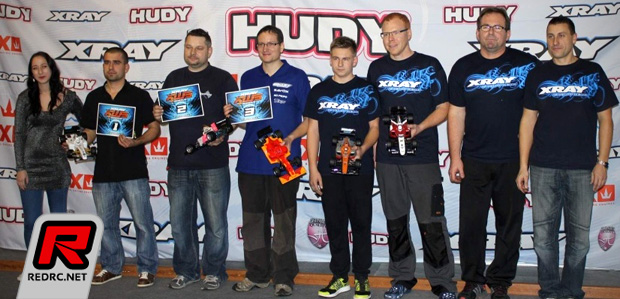 Formula top 5 result:
1. Vít Parák
2. Luděk Szostek
3. Libor Holub
4. Lukáš Hoch
5. Aleš Horák
The GT10 class had Roman Krejci taking the TQ and overall win in the finals. Martin Zvára was able to overtake his team mate Miroslav Jurenka to secure the runner-up spot.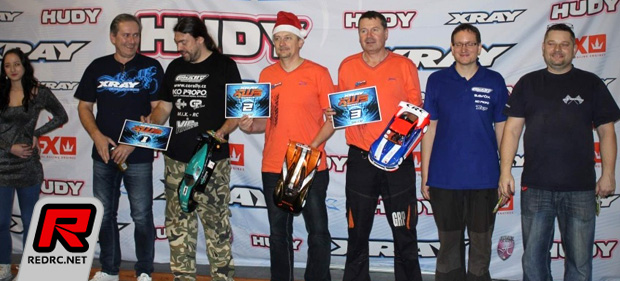 GT10 top 5 result:
1. Roman Krejčí
2. Martin Zvára
3. Miroslav Jurenka
4. Libor Holub
5. Luděk Szostek
Finally in the Hobby class Jiri Hrabec took tone-to-tone victories in every heat. David Kana brought home a second place finish from Jgor Vlahovič while Jan Žerníček and Karel Bečička rounded out the top 5 result.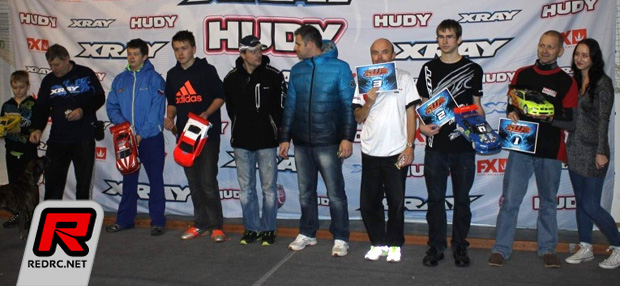 Hobby top 5 result:
1. Jura Hrabec
2. David Káňa
3. Igor Vlahovič
4. Jan Žerníček
5. Karel Bečička
Source: Xray [teamxray.com]
---