January 11, 2016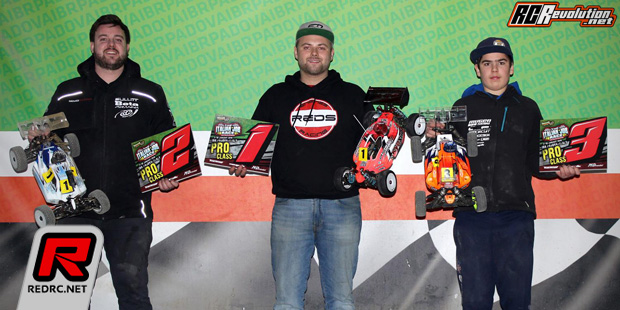 The annual Italian Job Race was held at the IBR Padova indoor facility in Italy over the weekend. As usual the race attracted Europe's best 1/8th off-road drivers to compete in the premier Nitro Buggy and the supporting 1/8th E-buggy classes. The Pro Nitro class qualifying was a tight affair between Marco Baruffolo (TLR/Picco), Elliott Boots (Kyosho/Reds Racing), Alex Zenchettin (TLR/Reds Racing) and Darren Bloomfield (Agama/Bullitt). In the end Marco would make a clean sweep though with three round TQs to secure the overall TQ from Elliott, Alex and Darren. The E-Buggy class had Agama's Darren Bloomfield taking the TQ from fellow countryman Elliott Boots (Kyosho) with both ending tie on points. Marco Baruffolo (TLR) rounded out the top 3 result after the qualifiers.

The 45 minute Nitro Buggy main final saw a battle of Boots and Bloomfield in the early stages as both took profit of some chaos behind them. While in the lead Bloomfield made a mistake under much pressure of Boots, who was then promoted into the lead that he would hold until the chequered flag. In the meantime Darren had to defend the runner-up spot from a storming Davide Ongaro (Mugen/LRP) and in the end both were only separated by 6 seconds.
Pro Nitro Buggy final results:
1. Elliott Boots – Kyosho/Reds Racing
2. Darren Bloomfield – Agama/Bullitt
3. Davide Ongaro – Mugen/LRP
4. Alex Zanchettin – TLR/Reds Racing
5. Lee Martin – Mugen/RC Concept
6. Alessandro Stocco – TLR/Reds Racing
7. Renaud Savoya – HB/RC Concept
8. Federico Ruggeri – Kyosho/Novarossi
9. Mattia Pilito – TLR/Novarossi
10.Jerome Sartel – TLR/TOP
11.Fabrizio Teghesi – Kyosho/O.S.
12.Marco Baruffolo – TLR/Picco
13.Jerome Aigoin – Kyosho/Reds Racing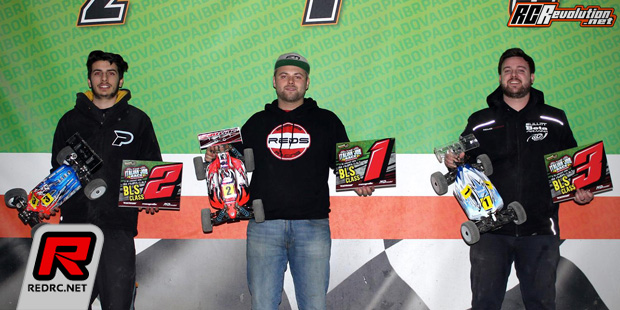 The E-Buggy class was a bit of a disaster for the TQ holder. Darren would only end in third place overall with 3rd, 6th and 2nd place finishes while Elliott Boots would excel with two wins and a third place over runner-up Marco Baruffolo who scored a second place, a win and a 13th place finish in the triple A-mains. The two wins would hand Elliott his second title of the weekend from Marco Baruffolo in second and Darren Bloomfield in third.
Source: RC Revolution [rcrevolution.net]
---