January 19, 2016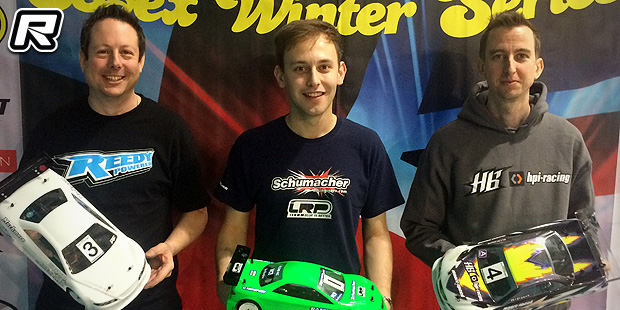 The fourth round of the 2015/16 Essex Winter Series took place this past weekend. With the International Carpet Challenge taking place at the venue in a few weeks time, drivers were not only focussed on improving their own championship points, but also getting some final testing in for the big event. The Modified class had a few notable absentees, as championship leader Olly Jefferies, along with Xray team mate Alexander Hagberg, were on 1/12th duties at the Reedy Race. However, all of the other top UK drivers were in attendance, joined as well by Ride's own Ludo Leflon, making the trip over from Thailand to support the event.

Elliott Harper knew that this was an opportunity to get his championship hopes back on track, and the Schumacher driver did exactly that by TQing every one of the four rounds of qualifying. Behind him, however, the battles were close, as Andy Moore took a second place in the opening qualifier, ahead of Kyle Branson and Chris Grainger, whilst Kyle moved his Capricorn into second place in the second round, in front of Jon Bowden's Xray. Kyle was second quickest in round three as well, with Schumacher's Paul Pinkney taking third. Chris Grainger improved his grid slot with a second place in the final round, setting the second quickest time of the round with his new Associated TC7. Super-star junior Harley Eldridge set the third best time in the round with her Yokomo, as Andy Moore rebounded from a difficult round two and three to take fourth with his HB.
Elliott led the A-final off, with Kyle Branson sticking with him from second on the grid. However, Kyle made a mistake on the third lap, giving Elliott a decent lead as Chris Grainger moved into second place and Kyle dropped down the field. The battle on track was then for third, with Harley making a great start and capitalising on others mistakes to hold the position, hotly pursued by Andy Moore. Lap after lap the two battled, with the crowd enthusiastically cheering on the youngster as she kept the 2006 World Champion behind her. However, Andy's experience showed through as he found a gap exactly wide enough for his HB car to fit through on the entrance to the Scorpion section of the track, to which the crowd rightly applauded a great racing move. Andy was then able to pull away from Harley to maintain the position, as Harley continued to prove her skill by racing hard against many of the best in the UK. Out in front, Elliott didn't put a wheel wrong as he took a comfortable victory, with Chris having an equally lonely but solid drive to take second.
Modified A-final result:
1. Elliott Harper – Schumacher/LRP – 23L 301.01
2. Chris Grainger – Associated/Reedy – 23L 306.54
3. Andy Moore – HB/Hobbywing – 23L 309.59
4. Jon Bowden – Xray/Hobbywing – 22L 300.83
5. Phil Chambers – Capricorn/LRP – 22L 301.51
6. Kyle Branson – Capricorn/LRP – 22L 302.66
7. Stefan Chodzynski – Capricorn/GForce – 22L 303.77
8. Harley Eldridge – Yokomo/LRP – 22L 304.18
9. Paul Pinkney – Schumacher/Hobbywing – 22L304.54
10.John Pape – Yokomo/LRP – 22L 305.39
In the Super Stock class, Jimmy Maddison had already taken the championship title with a perfect score from the first three rounds, but the Xray driver wanted to prove his dominance and intended on making it four-out-of-four at the meeting. Jimmy got to work quickly, topping round one, but the chasing pack of Tony Broad, Jamie Hickin and Mason Weston (all Xray) seemed noticeably closer than in previous rounds. However, that top four remained the order of the first three qualifiers, as Wesley Roper, Rich White, Will Vertigan, Peter Phillips and Rob Sawell battled over the second half of the A final grid spots. The final qualifier saw Wesley score a great fourth in round as the lineup was set, with Andrew Low being the final man into the main show thanks to consistent runs throughout the early part of qualifying.
Jimmy took off at the start of the A-final, with Tony in hot pursuit. Tony remained just in touch with Jimmy for the first half of the final, the gap fluctuating between half and one second. However, it was Tony who was first to blink, rolling his car and allowing Mason through to second. Tony closed the gap back, and was then able to capitalise on a late mistake from Mason to re-take second, whilst behind them Wesley Roper completed his break-out meeting with a strong fourth place finish. Jimmy completed his mission of four TQs and four A-final wins from four meetings with a lights-to-flag victory, taking the win by four seconds at the final buzzer.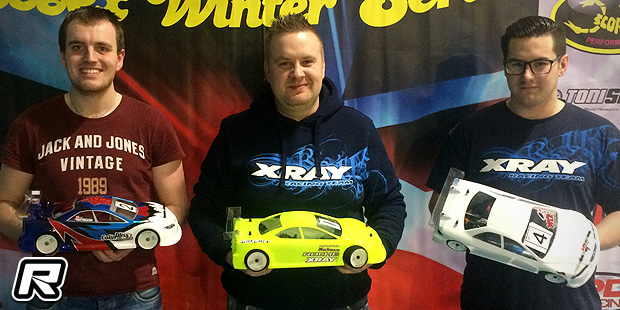 Super Stock A-final result:
1. Jimmy Maddison – Xray – 22L 304.55
2. Tony Broad – Xray – 22L 308.37
3. Mason Weston – Xray – 22L 312.60
4. Wesley Roper – Yokomo – 21L 300.46
5. Jamie Hickin – Xray – 21L 300.87
6. Andrew Low – Yokomo – 21L 311.38
7. Rich White – Xray – 21L 312.30
8. Will Vertigan – ARC – 21L 313.06
9. Peter Phillips – Xray – 20L 301.33
10.Rob Sawell – HB – 20L 307.01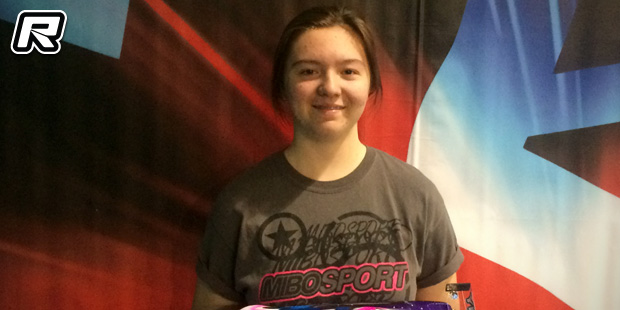 Harley Eldridge's A-final performance placed her once again as the top junior, whilst Bradley Coaker was also a repeat winner in this sub division. The Essex Winter Series championship concludes in March, with the Modified title still to be decided.
Thanks to Oli Meggitt for the report.
---