January 25, 2016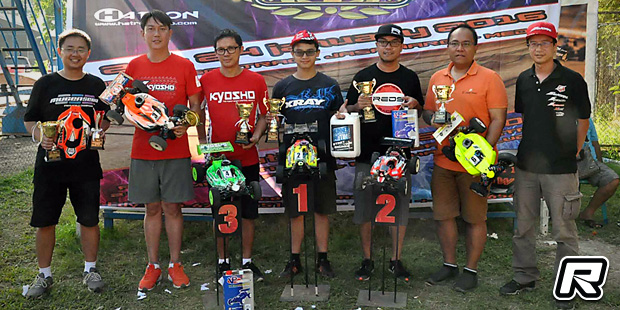 The 6th annual MRCC Challenge was held at the MRCC track in Medan, North Sumatera, Indonesia with almost 60 drivers from Taiwan, Malaysia, Jakarta, Bandung, Surabaya, Batam, Bali, Palembang, Aceh and Medan in attendance. In the 60 minute main final Jason Nugroho (Xray/Novarossi) took the win, coming from the 2 spot on the grid. At first Jason tried to maintain the second spot but about 20 minutes into the race he was able to pass the leader and he never looked back from that moment on. Behind Jason, Adrian Wicaksono (Mugen/Reds Racing) ultimately grabbed the runner-up spot from third placed John Agus (Kyosho/O.S.).
A-main final result:
1. Jason Nugroho – Xray/Novarossi
2. Adrian Wicaksono – Mugen/Reds
3. John Agus – Kyosho/O.S.
4. Indra Liono – Kyosho/SPower
5. Ery S – Kyosho/O.S.
6. Chopin Yusuf – TLR/Novarossi
7. Kenji Liono – Kyosho/SPower
8. Patrix – JQ/Alpha
9. Andre Irawan – Mugen/O.S.
10. Wie Wen – Mugen/O.S.
11. Yoko – Sworkz/Spower
12. Asang – Mugen/Reds
13. Kent Sung – TLR/O.S.
14. BH Gan – Kyosho/O.S.
15. Stanley Wangsanegara – Mugen/O.S.
Source: Xray [teamxray.com]
---