January 20, 2016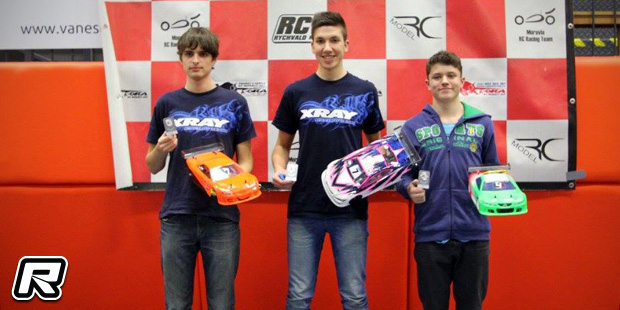 The forth round of the Moravian-Silesian Cup attracted some 80 entries to race in several electric on-road classes. The track was made using the famous "ETS" carpet, making for a constant grip level the whole day. In the Touring Modified class Kuba Simurda was the man to beat as he took a pretty easy win from Pavel Martinec, who hugely bettered his qualifying performance, coming from 5th on the grid. The top 3 result was completed by Karel Kratochvil.
Touring Modified A-main result:
1. Kuba Simurda
2. Pavel Martinec
3. Karel Kratochvil
4. Martin Kratochvil
5. Ludvik Kurecka
6. Vladimir Nancevsky jun.
7. Martin Karel
8. Vladimir Nancevsky
The Stock class was a family affair between Martin and Karel Kratochvil. Young Martin was able to withstand Karel's attacks to take the win in front of his father. The final podium spot went to Michal Radjdus who was beaten by family member Filip. The Formula class had Ludek Szotek coming out fastest in the finals from Tomas Rajdus and Libor Holub in second and third respectively. The 1/10th scale GT class was won by Roman Krejci from Libor Holub and Polish guest Wojciech Bukryj. In the last of the pan-car classes this weekend, 1/12th scale, Roman Krejci reigned a 3-horse race all the time. Behind him Petr Sorf and Jerzy Krawczyk finished in second and third respectively. Finally there was the Mini class, a category run with 1/14th scale LC Racing cars decked out with on-road bodyshells, Tomas Rajdus would take the day's win from Martin Jurca and Tomas Liska.
Source: Xray [teamxray.com]
---