January 18, 2016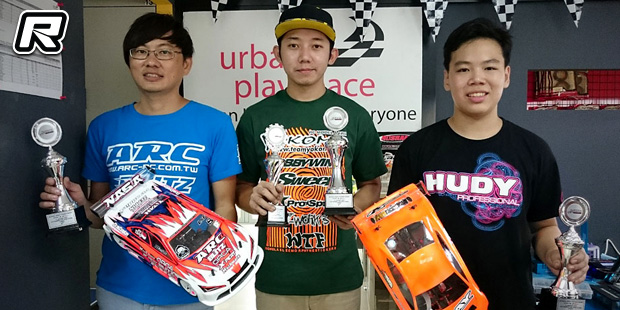 Singapore's first EP on-road race of the year was held this past weekend at the rooftop Urban PlaySpace track in the city's centre. This round of the 2015/16 Urban Touring Series was also a points scoring round for the 2016 Singapore National EP Onroad Series and it was held in the two classes of Touring Open and 17.5T non-boosted Classes. In the Touring Open class it was Nicholas Lee (Yokomo) who dominated qualifying, putting in the only 28-lap run in round 2, and setting the day's fastest lap at 10.703s. Xray's Dominic Quek, who set the day's only other sub-11sec laptime with a 10.955s, clinched P2 on the grid.
Touring Open qualifying top 10:
1. Nicholas Lee – Yokomo – 28/5:07.580
2. Dominic Quek – Xray – 27/5:06.379
3. Esmail Apandi – Awesomatix – 27/5:09.804
4. PY Tang – ARC – 27/5:10.190
5. Bowie Ginting – Serpent – 26/5:01.610
6. Nelson Lee – Yokomo – 26/5:03.130
7. Colin Tong – Xray – 26/5:04.971
8. Marcus Choo – Xray – 26/5:05.105
9. Wei-Jian Ng – Tamiya – 26/5:06.433
10.Eugene Goh – Yokomo – 26/5:08.946
A thunderstorm disrupted the race shortly after the conclusion of qualifying. After a 2-hour rain delay, the finals resumed with Nicholas continuing his dominating performance to claim leg 1 of the A-main while Dominic held off Esmail to take 2nd. In leg 2, Nicholas again took a commanding win, and with it the overall victory. Benefiting from a good start and a quick sequence of laps, PY Tang finished 2nd while Dominic took 3rd. In the final leg, Nicholas chose to run and he would finish 1st again to make it a perfect day for him. Dominic once again put in a good run and managed to finish 2nd, 3.5 seconds ahead of PY Tang in 3rd, and with this result Dominic would seal the overall runner-up spot.
Final Results
1. Nicholas Lee – Yokomo
2. Dominic Quek – Xray
3. PY Tang – ARC
4. Esmail Apandi – Awesomatix
5. Bowie Ginting – Serpent
6. Nelson Lee – Yokomo
7. Marcus Choo – Xray
8. Colin Tong – Xray
9. Eugene Goh – Yokomo
10.Wei-Jian Ng – Tamiya
Source: Xray [teamxray.com]
---