January 5, 2016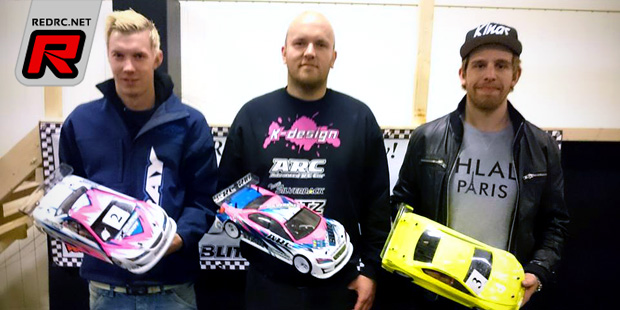 The second round of the Norwegian Cup was run at the Lucky Raceway in Fredrikstad, host of the 2015 Nordic Championships. Classes run were Touring Modified, 13.5T Stock Blinky and 1/12th on-road and in the Modified class Helge Johannessen took the TQ with a prototype ARC R11 car in front of Petter Berntsen (Xray) and Andreas Daving (Schumacher). In the supporting Stock class Fredrik Haavardsrud (ARC) came out fastest after the qualifiers from Lars Haugen (Xray) and Trygve Berntsen (Gizmo). Finally in the 1/12th pan car class Lars Haugen (Xray) took the TQ from Lars Tommy Berntsen (Xray) and Trygve Bull Freng (Xray).

The finals promised to be a 2-way affair between Helge and Petter but Helge had pretty easy runs to take the overall win from Petter with Andreas securing the final podium spot in third.
Touring Modified A-final result:
1. Helge Johannessen – ARC
2. Petter Berntsen – Xray
3. Andreas Daving – Schumacher
4. Georg Ellingsen – HPI
5. Geir Bjarte Terum – ARC
6.Lars A. Andersen – ARC
7. Sebastian Huse – Xray
8. Christer Antonsen – Xray
9. Tore Fossberg – Xray
10.Alexander Nygaard – Xray
In the Stock finals Fredrik took an easy overall win from Trygve Berntsen who campaigned the new Gizmo touring car from Denmark. The final podium spot went to off-road driver Rune Karlsen.
Touring Stock 13.5 A-final result:
1. Fredrik Haavardsrud – ARC
2. Trygve Berntsen – Gizmo
3. Rune Karlsen – Xray
4. Jonas Ramsrud – VBC
5. Lars Haugen – Xray
6. Magnus Medalen – ARC
7. Jorn Kristian Borgevad – Xray
8. Bjorn Dahl – Xray
9. Ronny Eriksen – Xray
10.Marcus Braaten Aaseth – VBC
The 1/12th class Trygve Bull Freng laid down some mistake free runs to grab the day's win by coming out fastest in A1 and A2. 1/8th off-road expert Rune Karlsen again showed a lot of talent on the smooth stuff to take the runner-up spot from Lars Haugen who eventually finished in third place.
1/12th A-final result:
1. Trygve Bull Freng – Xray
2. Rune karlsen – Team Associated
3. Lars Haugen – Xray
4. Lars Tommy Berntsen – Xray
5. Lars Ivar Rønning – Xray
Thanks to Espen Fjeldvær for the report.
---