January 6, 2016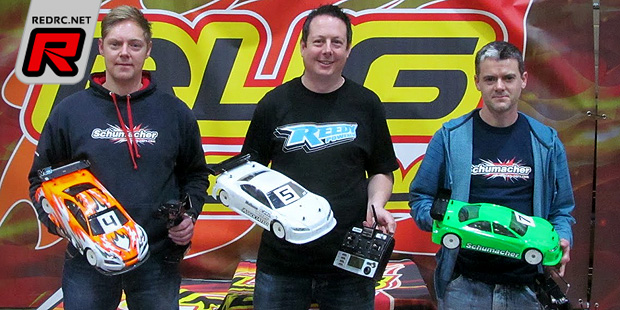 The recent third round of the 2015/16 Rug Racers series welcomed people in from the rain and the excesses of Christmas, the pits were awash with shiny new toys that loved ones had bestowed upon them to spread some Christmas cheer and get them out the house for a few weekends of racing a year. The race again was fully booked and so controlled practice was the starting order of the day and once all 11 practice heats had been completed it was onto driver briefing and then game time. In Open Modified Elliott Harper took 3 of the 4 rounds, being the only driver on the day to get into 31 laps with young Harley Eldridge taking round 4 Kyle Branson being 2nd in every round.

17.5T had Jimmy Maddison keeping his car at the top, being the only driver to break into 29 laps with close attention from defending champion Matt Worton and Colin Jackson. GT12 had Tim Hancock, Ben Vincent and Chris "Mr. Mardave" Wilkinson keeping in touch with each other through out to setup a good looking Final. Finally in WGT, Owen Smith and Martin Southall were the only drivers into 28 laps with Pierre Phaneuf keeping close tabs on them both, while Remo Casadei was the lasted driver to join the WGT brigade for this round.
In the Open Modified A-final leg 1 Elliott Harper led the early running with Kyle Branson and Harley Eldridge pressing hard. Harley moved up to second with an audacious overtake on lap 6 and held onto Elliott forcing the mistake at lap 19 from which Elliott would retire, Harley held of the advances of Chris Grainger to take leg 1 by 0.5 of a second. Leg 2 would see a dominant drive from Elliott to the flag, Harley again made the pass on Kyle before retiring with a breakdown and so the podium was Chris Grainger in first with Paul Pinkney and Richard Barton in second and third respectively.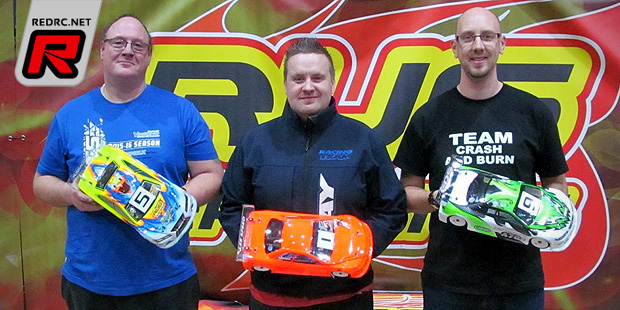 In the 17.5 Blinky A-final, Jimmy Maddison took leg 1 after a good early start and a good recovery after falling back down to 3rd. He would reclaim the lead 3 laps from home with Matt Worton second and Malc Hall 3rd. Leg 2 was a lights to flag drive from Jimmy but with Jamie Hickin and Malc Hall fighting over 2nd. Behind winner Jimmy Maddison, Malc Hall and Michael RedShaw would end the race in second and third respectively.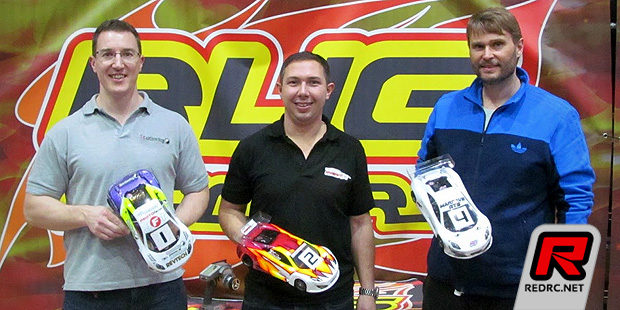 The opening GT12 A-final was taken by Ben Vincent, with the top 4 of Ben, Scott Morton, Tim Hancock and Chris Wilkinson all separated by 4 seconds. Leg 2 was then won by Tim Hancock with a lights to flag drive with 2nd to 4th separated by 1.5 seconds. The podium then was Ben Vincent, Tim Hancock, Scott Morton.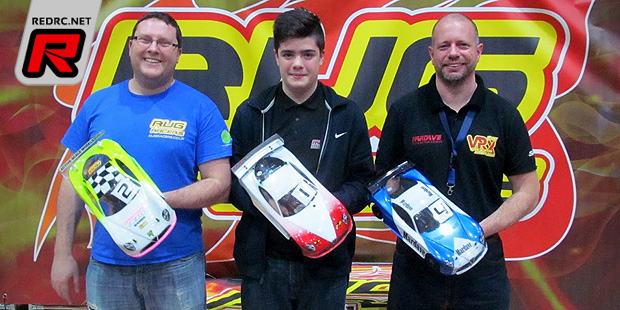 The WGT A-final leg 1 saw the battle at the front between Martin Southall and Owen Smith continuing through the race, with Martin Southall managing to open a gap to take the win from Owen. Leg 2 and Owen set off at a furious pace and opened up a sizeable early lead. Martin fought back to close the gap back to 3 seconds as Owen took the win and FTF. Overall Owen Smith took the win from Martin Southall and James Garrett. The the penultimate round 4 of the series will take place on the 7th of February.
Source: The RC Racer [thercracer.com]
---