January 19, 2016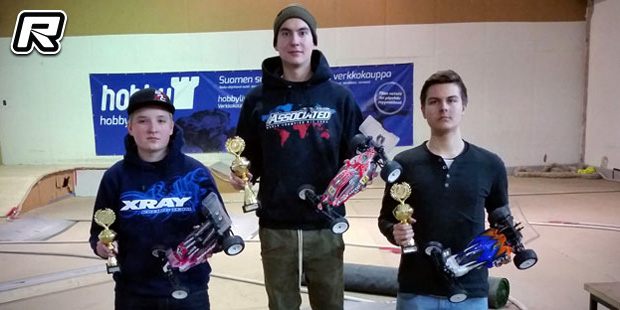 The third round of the Finnish Winter Jumps Series was held this past weekend with around 100 drivers from all over Finland in attendance. The qualification of the 2WD Buggy class was a super tight battle between the top 3 drivers and in the end it were Karri Salmela, Samppa Orhanen and Joel Valander who grabbed the top 3 positions for the A-mains. The opening A-main was a pretty crazy affair as at first Karri was able to open a small gap on the field until he got collected by backmarkers. This promoted Joel into the lead in front of Samppa. The two then also got mixed up by slower drivers, costing Joel some concentration, resulting in a coming together between Joel and Samppa. This allowed August Poutiainen to cruise to the win in A1. The second A-main then had Joel taking the win after the top 2 guys crashed and A3 brought the decision for the overall victory with Karri taking the top spot from August and Joel in second and third respectively.
2WD Buggy overall:
1. Karri Salmela – Team Associated
2. August Poutiainen – Team Durango
3. Joel Valander – Xray
4. Samppa Orhanen – Schumacher
5. Markku Honkanen – Team Durango
6. Max Mört – Schumacher
7. Lari Jäppinen – Xray
8. Jarno Siltanen – Schumacher
9. Touko Silpola – Schumacher
10.Jani Hovi – Yokomo
Sunday morning and it was time for the 4WD class. Ari Heinonen would grab the TQ from Joel Valander who would take the win in the opening A-main following issues of Ari. In A2 Joel pushed very hard to catch Ari but a mistake cost him dearly and the young man only finished in 4th place. So the final A-main would bring the decision about the day's win and as Ari made a mistake in the first corner Joel was able to cruise to the win, taking the overall 4WD victory in the progress.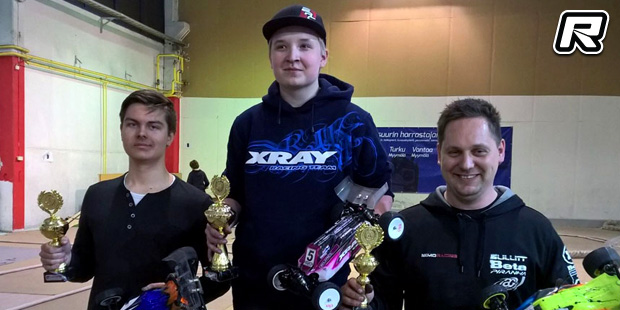 4WD Buggy overall:
1. Joel Valander – Xray
2. August Poutiainen – Team Durango
3. Ari Heinonen – Team Durango
4. Max Mört – Schumacher
5. Samppa Orhanen – Schumacher
6. Markku Honkanen – Team Durango
7. Jarno Siltanen – Schumacher
8. Tomi Salonen – HB
9. Karri Salmela – Team Associated
10. Lauri Ruotsalainen – Team Durango
Source: Xray [teamxray.com]
---