February 11, 2016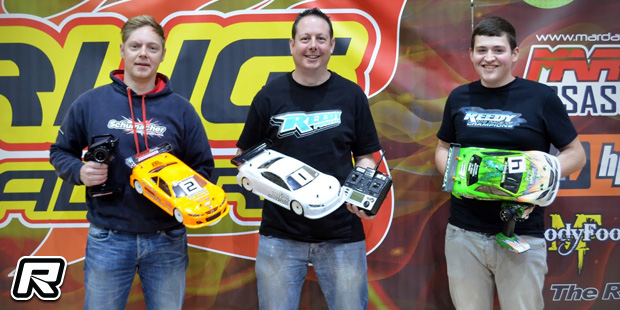 The penultimate round 4 of the 2015/16 Rug Racers series again attracted a good amount of racers to attend in the four classes of Touring Modified, Touring Stock, 1/10th Pan Car and GT12. In the Touring Modified qualifying Chris Grainger took two of the rounds, being the only driver to break into 27 laps, with Scott Booth, Paul Pinkney and Matthew White a little further back but close enough to cause concern later on in the finals.

In the opening A-final, Chris Grainger took the win with a comfortable lights to flag victory from Matthew White who had made his way up from sixth to second, and Scott Booth capitalising to take third. U17 driver Terry Yarranton took fifth from eighth on the grid to finish a few seconds off the top 3. Leg 2 was controlled from the front by Chris Grainger, keeping Paul Pinkney close behind but just out of reach, the top 4 able to open up a gap after a midfield incident shuffled the order. Overall Chris Grainger grabbed the day's win from Paul Pinkney second and Scott Booth third.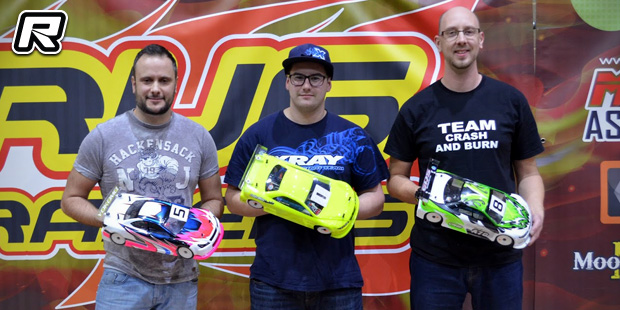 The Touring Stock 17.5T A-final leg 1 was a win for Mason Weston after briefly dropping to second. But he fought back to take the win from Chris Page and Jamie Hickin. Leg 2 was a lights to flag victory for Mason with Chris Page again taking second from Michael Redshaw with less than 1 second separating them at the line so overall it was Mason Weston with the win from Chris Page and Michael Redshaw.
In the WGT A-final leg 1 Martin Southall took the victory from fourth although this is only half the story, as with Hampo out in front the battle seemed to be for second with Owen Smith until a broken car saw Hampo forced to retire and Martin able to capitalise on the mistake to take the win. Leg 2 was a more fierce affair with Hampo streaking off like a scolded cat with Owen Smith in tow, leaving a tight battle for third between Remo Casadei to take place over a number of laps. This allowed the front two to drop Remo and Martin like a bad habit. Martin able to force the mistake was able to start pushing to close the gap dragging Remo along with him. Up front Hampo was not getting it his own way with Owen close enough to smell the additive but time ran out and Hampo took the win. Overall Martin Southall took the win from Tom Hampson and Owen Smith in second and third respectively.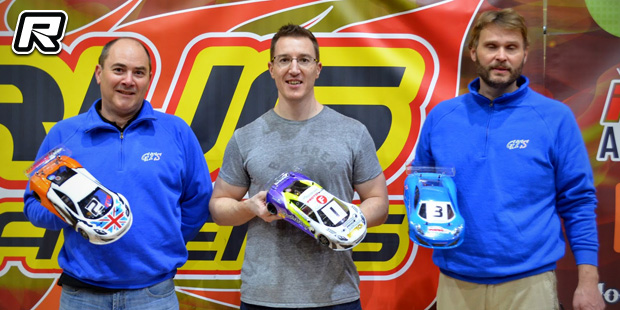 The GT12 A-final leg 1 and leg 2 surprisingly ended with all five cars finishing in the same position they started in. Tim Hancock drove to victory in both legs, the only real drama came from leg 2 when Chris Wilkinson had to recover from fifth back up to second. Again Owen Smith in fifth needs a mention, showing his superb turns of speed, surely a future champion. Ben Vincent, championship leader coming into this round, would have to settle for fourth overall so at the end it was Tim Hancock, Chris Wilkinson and Scott Morton making up the top 3.
Source: The RC Racer [thercracer.com]
---