February 29, 2016
The 2016 edition of the famous Thailand International Touring Car Championship, TITC, was held this past week at the RC Addict track in Bangkok with around 250 drivers attending in various electric on-road classes. Super hot asphalt temperatures of sometimes above 60 degree Celsius combined with a somewhat bumpy track made for challenging conditions for the drivers who had to seek for a setup that allowed for consistent lap times over the five minute runs. In the Touring Modified class Xray's Bruno Coelho made the best out of the conditions and he would grab the overall TQ after the qualifiers by winning three of the six qualifying rounds. The Yokomo duo of Meen Vejrak and Ronald Völker would line up in second and third while Marc Rheinard (Tamiya) and Alexander Hagberg (Xray) would round out the top 5 result.

The opening A-main would see Bruno taking a close win from runner-up after the qualifiers, Meen V. by under a second. Ronald Völker had to settle for third, one lap down and only 0.7 seconds in front of Alexander Hagberg. In the second A-main disaster stroke for the TQ holder as Bruno had to stop the car around halfway into the race after being hampered by what looked to be an erratically handling car. Up front Ronald took the win some 0.7 seconds from Marc in second and Alexander Hagberg in third. So A3 would bring the title decision and in again a super close race Bruno snatched the win some 0.6 seconds from Meen Vejrak. Ronald Völker again ended the race in third. With two wins Bruno Coelho was crowned the 2016 TITC Touring Modified Champion from Ronald Völker, whose better tie-breaker handed him the runner-up spot from Yokomo team mate Meen Vejrak. Marc Rheinard and Alexander Hagberg sampled their qualifying results by coming in fourth and fifth respectively.
Touring Modified A-final result:
1. Bruno Coelho – Xray
2. Ronald Volker – Yokomo
3. Meen Vejrak – Yokomo
4. Marc Rheinard – Tamiya
5. Alexander Hagberg – Xray
6. Jilles Groskamp – HB
7. Akio Sobue – Tamiya
8. Atsushi Hara – Awesometix
9. Andy Moore – Xray
10.Nicholas Lee – Yokomo
In the Touring Open Brushless 13.5T class Paphon C. (Xray) would grab the TQ after the qualifiers and also the overall win from runner-up after the qualifiers, Kittipong R. (Yokomo). Roumlarp Witsarut (Yokomo) completed the top 3 result.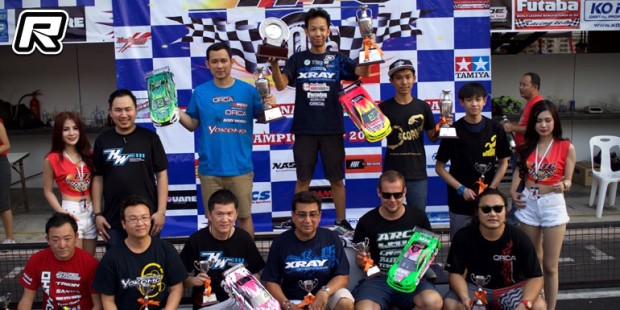 Touring Open 13.5T A-final result:
1. C. Paphon – Xray
2. R. Kittipong – Yokomo
3. Roumlarp Witsarut – Yokomo
4. Dong Salton – Xray
5. K. Chatpong – Yokomo
6. P. Au – Xray T4
7. Murai Kazuma – Kyosho
8. Poon Ray – Yokomo
9. Heitsch Henrik – ARC
10.Simaraks Ongsanit – Xray
The Touring 13.5T non-boost class had Singha Thanet S. (3Racing) taking the title, coming from the 2 spot on the grid. Patchara S. (Xray) and Somjainuek J. (Xray) came in second and third respectively.
Touring 13.5T non-boost A-final result:
1. S. Singha Thanet – Sukura
2. S. Patchara – Xray
3. J. Somjainuek – Xray
4. Tam Tony – Awesometix
5. Ping Chiang Wen – Awesometix
6. Tokuda Akihiro – HB
7. Intha Komsun – Sakura
8. Pholdoke Supawoot – Team C
9. Quan Wei – Tamiya
10.Ubolrat Apiwat – Xray
In the Formula class Trin T. and Rayanasuk Pattajak battled for the TQ with the better end for Trin who took three round TQs to grab the pole position for the single 15 minute A-main encounter that had 15 drivers battle for the title. At the end Trin T. took a pretty dominant win some 2 laps ahead of runner-up, Kittichai Pisalwongwan. Ludovic Leflon completed the top 3 result only 4 seconds shy of Pisalwongwan.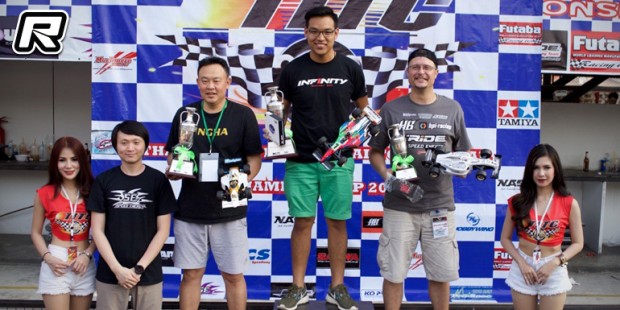 Formula A-final result:
1. T. Trin
2. Pisalwongwan Kittichai
3. Leflon Ludovic
4. Boonphen Apichart
5. So Jimmy
6. Arakawa Tsutomu
7. Boehringer Sven
8. V. Palamet
9. Yin
10. Rawling Scott
11. Kawase Hiroki
12. Porapong R.
13. Pattajak R.
14. Yuan Wee
15. Surasak
Source: Xray [teamxray.com]
---