February 18, 2016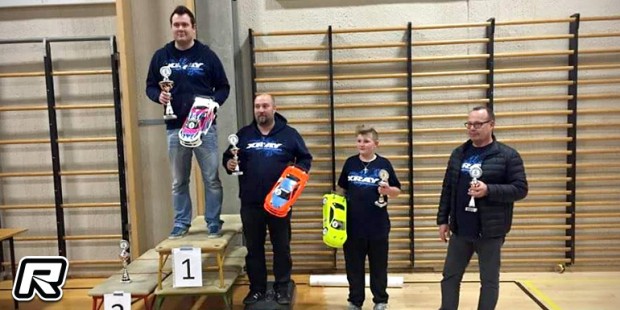 Round six of the Danish DRCMU series was held in Birkerod in the outskirts of Copenhagen with about 60 racers attending, and more would have joined them, but because of limited pit space, the organisers decided not to accept late entries. In the 17.5T class Chris Nielsen set the early pace both in the free and times practice but he was chased by Bjarke Nyskov and Rasmus Skjoldborg. The qualifiers then were a done deal for Chris who won all three rounds to grab the overall TQ from Bjarke Nyskov and Henrik Hoj Rasmussen.
Touring 17.5T qualifying top 8:
1. Chris Nielsen
2. Bjarke Nyskov
3. Henrik Hoj Rasmussen
4. Rasmus Skjoldborg
5. Nicolai Nielsen
6. Niels Ole Klinge
7. Bo Larsen
8. Willy Lehmann
In the opening A-main Chris tried to open a gap to Bjarke right from the start as this set pressure on Nyskov right from the beginning and he was forced to push which isn't Bjarke's style. Chris' strategy paid out and after three laps he was clear of the second place driver, allowing him to cruise to the win in A1 but not without a big scare in the final minute when he had a near miss with a backmarker. A2 and Chris did the same as in the opening A-main and he took a tone-to-tone win to grab the overall victory early. A3 then was again pretty much a blueprint of the first two legs with Chris taking the win. Behind him, Henrik Hoj Rasmussen ended the day on the runner-up spot from third placed Bjarke Nyskov.
Touring 17.5T A-final result:
1. Chris Nielsen
2. Henrik Hoj Rasmussen
3. Bjarke Nyskov
4. Nicolai Nielsen
5. Rasmus Skjoldborg
6. Bo Larsen
7. Willy Lehmann
8. Niels Ole Klinge
Source: Xray [teamxray.com]
---