February 11, 2016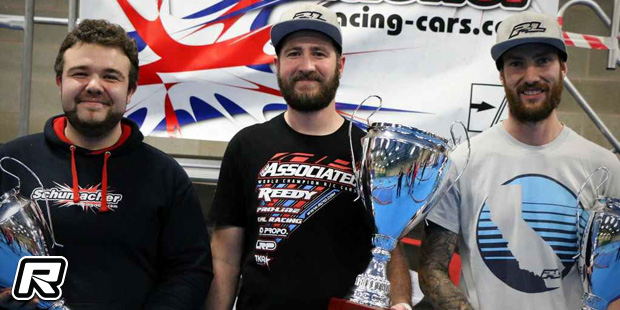 Last weekend's British Winter Open Championship held at the Silverstone club was the opening event to the forthcoming yearlong season. A good measure one could say to how the new rides and the teams are doing. By the time February comes round many of the drivers have competed on all sorts of indoor events on all sorts of tracks and are ready for this event. Well everyone was ready apart from the overwhelming record breaking entries that flew in when the on-line booking in system opened up just before the Christmas period. An unprecedented 249 individual entries were received within hours.

The weather was never going to be a factor in indoor racing and thank goodness for that as outside was just horrible. The usual suspects were certainly at it again as soon as qualification was under way. Lee Martin set the pace in round 1 with Neil Cragg just a couple of seconds behind. Neil Cragg took the 2nd round on a faster time than Lee so it looked like everything to play for even after only two rounds. Nathan Waters and Tom Yardy were both looking quick too. Greg Williams had two solid top 10 finishes as well. Round 3 was on very quickly and Lee Martin decided to knock off another 4 seconds off the TQ best time and certainly threw down the gauntlet for Neil Cragg and everyone else to chase. In round 3, Neil could only take 2nd so Lee looked the favourite for the pole position with one to go. Nathan Waters and Tom Yardy took the 3rd and 4th spots. Tom Cockerill taking 5th.
The fourth round was now upon us and the main A Final was taking shape nicely. Neil and Lee were split in the top 2 heats. Neil would go first and did he go. A great run from the Associated man that set a new fastest time of 14/02.24. Looked unbeatable. Lee was off next and was on and off beating Neil's time throughout his last qualification run. He looked super quick too and he knew he had to beat Neil's time for the overall TQ and Pole position. Lee Romang, the commentator for the event, had everyone hanging with anticipation of who took the TQ. It turns out Neil and Lee set an identical fastest time of 14 laps in 304/02.24, so both drivers had zero score for the Round. Incredible stuff with Lee having 3 round TQ's and Neil having 2 round TQs and now with identical times in one round. You just couldn't write the script if you tried. Well of course it has to go down to the next best time of the zero score. Lee Martin would take the TQ as his next "zero" was a faster time.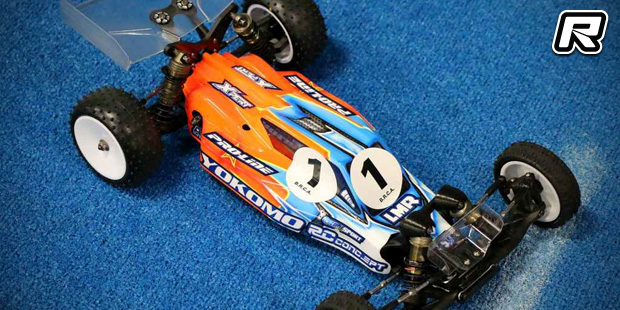 2WD qualifying top 10:
1. Lee Martin – Yokomo
2. Neil Cragg – Team Associated
3. Tom Yardy – Schumacher
4. Nathan Waters – Schumacher
5. Greg Williams – Schumacher
6. Tom Cockerill – Yokomo
7. Kev Lee – PR Racing
8. Iain Mellish – Kyosho
9. Ellis Stafford – TLR
10.Chris Doughty – Team Durango
The 2WD A-main leg 1 was off and Lee started quick and tried to break the pack. Neil went with him and a true close race was on. These two have been at it for years but in this race Neil Cragg would pull out a move that everyone hope someone has on video. Neil lined up Lee at the end of the fast sweeper at the end of the straight and threw his car up the inside to such perfection. If he braked too soon or too late they would have collided for sure but he didn't. They braked wheel to wheel and if they touched it was ever so slight. Neil made the perfect block pass on Lee of all people and took the lead. He didn't give it up and took leg 1. Tom Yardy came in 3rd, Tom Cockerill 4th, Nathan Waters 5th.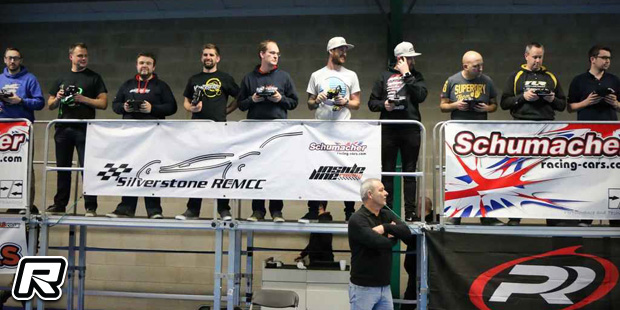 The 2nd leg would start and no one in the hall could even dream of a similar race to the 1st leg because it was just amazing. Lee the pole man set off fast again and Neil in hot pursuit. Of course Neil showed and executed his Ace Card to perfection in leg 1 so Lee was very much aware of Neil throwing it up the inside again. Nose to tail is the saying and that is how they were circulating. Nothing between these two super drivers. Nathan Waters was not too far away so if these two got together for whatever reason he would certainly be in the picture. What happened next was nothing short of extra ordinary. Neil put pressure on Lee in the same spot and was trying for a couple of laps to do the same move. Lee was aware of it and was defending that inside line. Out of the blue, Neil comes round the fast sweeper and sort of shows he is going for the same move, Lee defends but Neil decided to overtake Lee round the outside, the long way round and somehow managed to make it stick. The racers watching and the crowd simply called out the "wow" word and no one could really believe the incredible move Neil created and executed on one of his biggest rivals. The Associated man came home to take leg 2 and the win of the meeting and become the 2016 British Winter Open Champion. Now as much as it all sounds incredible and it was, credit has to also go to Lee Martin that was the first to congratulate Neil not only on his win but on some amazing driving. Nathan was 3rd, Tom Yardy 4th, Iain 5th.
Leg 3 of the A-main and the crowd was exhausted from the excitements. It was no different in leg 3. This time though, Lee had seen it all before and learned very quickly. Lee drove the perfect race from tone to tone with Neil just 0.25 seconds behind him. Tom Yardy found some extra speed for leg 3 and was only 2.13 secs off the two superstars.
2WD A-main top 10:
1. Neil Cragg – Team Associated
2. Lee Martin – Yokomo
3. Tom Yardy – Schumacher
4. Nathan Waters – Schumacher
5. Tom Cockerill – Yokomo
6. Ellis Stafford – TLR
7. Iain Mellish – Kyosho
8. Greg Williams – Schumacher
9.Chris Doughty – Team Durango
10. Kev Lee – PR Racing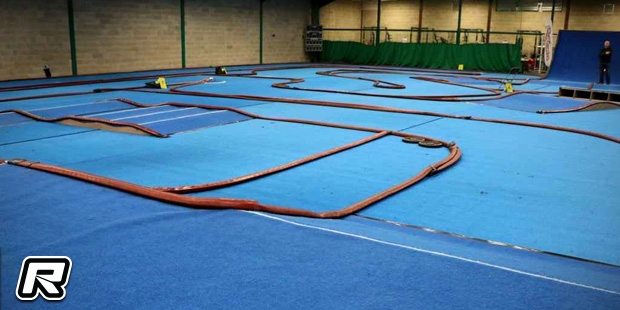 For the 4WD event on Sunday the track layout was totally the same and it worked really well. The question for the qualifiers was if anyone could touch the untouchables of Neil and Lee. From word go one could see that Lee was on a mission. If Lee had some nightmares overnight referencing to the 2 moves Neil put on him the day before, he was certainly coming out fighting this morning. He smashed in an incredible first run to take round 1 TQ by 6 seconds. Neil 2nd and Ellis Stafford in 3rd with his TLR car. Cockers does what he does best and takes 4th in round. Chris Doughty looked good with his Durango to take 5th in round 1. Moving to round 2, Lee Martin again with another fat "zero" score with Neil 2nd again. Nathan Waters 3rd, Cockers another 4th in round and Greg Williams again turning out well in qualification with a 5th in the round. Round 3 came really quickly and it was turning out to be the Lee Martin show as Lee took another fat "zero" to secure TQ already. Ellis Stafford took a nice 2nd, Nathan another 3rd, and yes you guessed it, another 4th for Cockers with Chris Doughty 5th. Last round and another exhibition run for Lee Martin to score "zero" points in qualification and set the fastest time of the day too. Neil another 2nd, Nathan another 3rd, Danny McGee was to take 4th and Greg another 5th.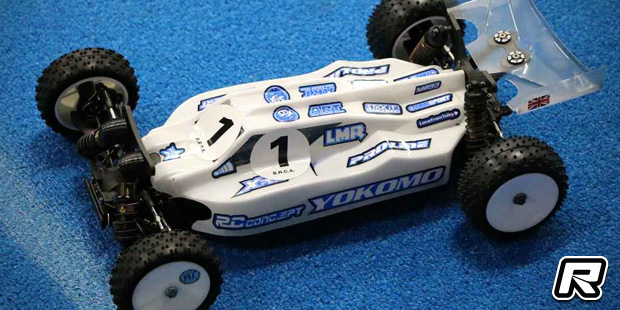 4WD qualifying top 10:
1. Lee Martin – Yokomo
2. Neil Cragg – Team Associated
3. Ellis Stafford – TLR
4. Nathan Waters – Schumacher
5. Tom Cockerill – Yokomo
6. Greg Williams – Schumacher
7. Chris Doughty – Team Durango
8. Danny McGee – Schumacher
9. Jack Neal – Schumacher
10.Tom Yardy – Schumacher
A-main leg 1 and everyone was lined up and ready. Lee Martin carried on his exhibition driving to take leg one and the only car capable in doing mid 20 seconds laps. Everyone else in the 21 seconds lap times. Neil came in 2nd, Nathan 3rd, Tom Cockerill 4th , Jack Neil 5th.
The second A-main saw another amazing run by Lee Martin to take the win of the leg, the win of the meeting and consequently become the 2016 British Winter 4WD Open Champion. Another 2nd for Neil only secured him a podium at this stage with Nathan Waters in 3rd, Cockers again 4th, Jack in 5th.
In A3 Lee Martin was out to win every race of the day. All qualifications and all legs. He did just that and posted the fastest lap of the day too. Nathan Waters needed a win to knock off Neil Cragg from 2nd spot. It didn't happen with him finishing 6th. Tom Cockerill needed a 2nd to knock off Nathan from the podium and Tom that made the Worlds A Final at the Yatabe Arena recently, did just that. Tom came in 2nd. Danny McGee 3rd, Neil in 4th, Chris up to 5th.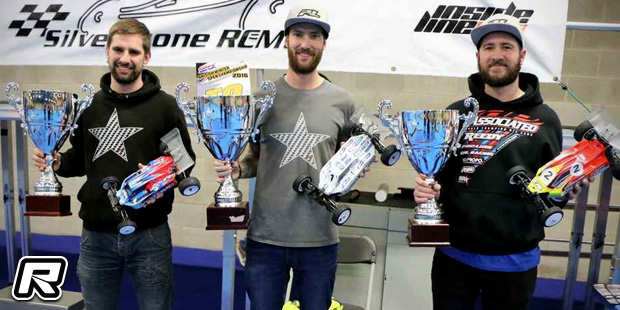 4WD A-main top 10:
1. Lee Martin – Yokomo
2. Neil Cragg – Team Associated
3. Tom Cockerill – Yokomo
4. Nathan Waters – Schumacher
5. Danny McGee – Schumacher
6. Chris Doughty – Team Durango
7. Jack Neal – Schumacher
8. Ellis Stafford – TLR
9. Greg Williams – Schumacher
10.Tom Yardy – Schumacher
Source: BRCA [brca10thoffroad.co.uk]
---