February 16, 2016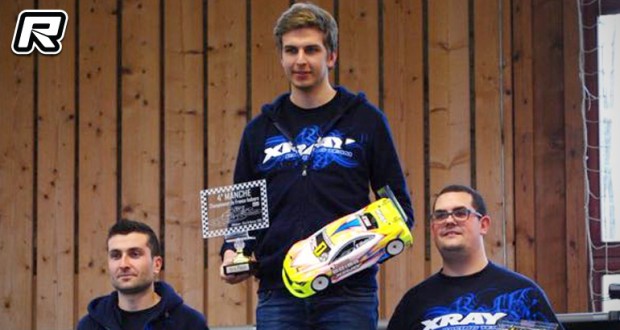 The fourth and final round of the French Indoor National Championship was held this past weekend in Zillisheim in the East of the country. Three titles were still up for grabs in the Touring Modified, Touring Stock and Formula class. In the Modified category Leo Arnold had the best chances to snatch the overall title after winning five of the five qualifying rounds to take the overall TQ and the pole position for the finals. The fight was on for the 2 spot on the grid between Alexandre Laurent, the title rival, and Jeremy Limoges. Jeremy finally took the 2nd spot with a better time over the 5 minute runs.

In the opening A-main Leo managed to take the win and behind him Alexandre grabbed the runner-up spot in front of Jeremy. A2 then again saw Leo coming out fastest, taking the day's win and with it the overall title. Alexandre and Jeremy again finished in second and third respectively. A3 and the scenario was the same with Leo, Alexandre and Jeremy finishing on the top 3 spot.
Touring Modified A-main top 5:
1. Leo Arnold – Xray/Orion
2. Alexandre Laurent – Xray/Nosram
3. Jeremy Limoges – Xray/Trinity
4. Valentin Lehmann – Xray/LRP
5. Hugo Ragaut – Xray/LRP
In the Touring Stock class the title decision was between Basile Concialdi and Pierre Delorme but it was Alexandre Kunkler who took the TQ in front of Jean and Pierre Delorme while Basile only qualified in 8th. The opening A-main then saw a close battle between Alexandre and Jean with the better end for the top qualifier. Jean finished in second, Pierre third. A2 then had Basile Concialdi taking the win from the 8 spot in what can only be described as a crazy race. Pierre and Alexandre completed the top 3 so far. In the third and decisive A-main TQ Alexandre came out successful from Pierre and Jean Delorme. Overall Alexandre Kunkler grabbed the day's win from Pierre and Jean Delorme. As for the National title, Basile Concialdi and Pierre Delorme finished tie on points after the final round but a better tie breaker handed Basile the 2016 Stock title.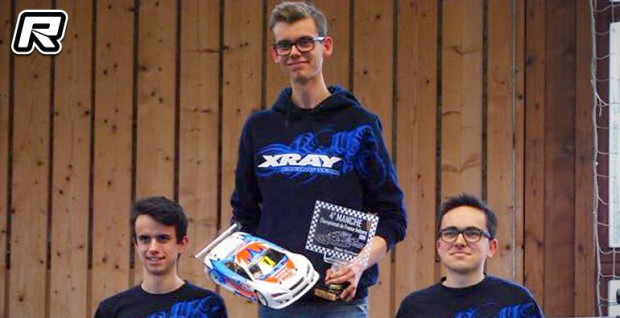 Touring Stock A-main top 5:
1. Alexandre Kunkler – Xray/PRT
2. Pierre Delorme – Xray/Trinity
3. Jean Delorme – Xray/Trinity
4. Basile Concialdi – Xray/PRT
5. Mickael Jasmin – Yokomo/LRP
The Formula class saw the maiden outing of touring car ace Leo Arnold who would instantly take the pole position for the finals in front of Jeremy Limoges and Nicolas Cardoso. Leo then went on to win A1 and A2 to grab the day's win early but he was hardly chased by Jeremy who in turn would win A3 to grab the overall runner-up spot at round 4 of the championship which was enough to take the 2016 Formula class title.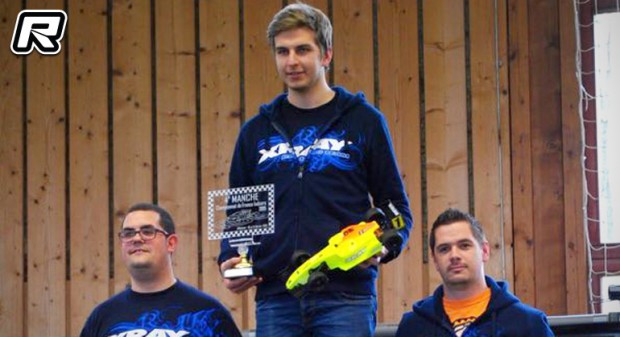 Formula A-main top 5:
1. Leo Arnold – Xray/Orion
2. Jeremy Limoges – Xray/Trinity
3. Nicolas Cardoso – Xray/LRP
4. Willy Voisangrin – Xray/-
5. Jean-Michel Varinard – Xray/-
Source: Xray [teamxray.com]
---