February 24, 2016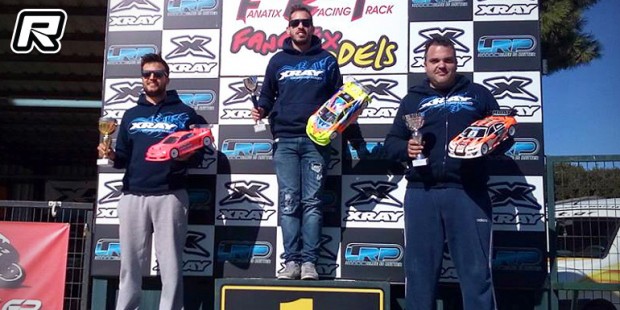 The second round of the Greek Xray Winter Series was held this past weekend after the race had to be postponed earlier due to weather issues. The event was held at the FRT track in the three classes of Touring Modified, Formula and Pan Car and in the Touring Modified class it was Georgiadis who instantly set the pace and swept qualifying by winning all rounds to take a dominant TQ spot. Behind him, Batas and Papachristos completed the top 3 result.

In the finals it was again Georgiadis who was the man to beat, winning the two opening A-mains handed him the overall victory early. Batas and Papachristos came in second and third respectively, copying their qualifying results.
Touring Modified A-final result:
1. Georgiadis – Xray
2. Batas – Xray
3. Papachristos – Xray
4. Panagiotopoulos – Xray
5. Zogogiannis – Xray
6. Tsoutsias – Xray
7. Katsikis – Xray
8. Bouleros – Xray
9. Platanas – Xray
10.Tsatsamis – Xray
For the third A-main the organisers introduced something new as they used a speed gun to check the top speeds at the end of the straight with some impressive results. Again Georgiadis was the fastest man on the track with a speed of 121km/h followed by Panagiotopoulos who was caught doing 119km/h.
A-final top speeds
1. Georgiadis – 121km/h
2. Panagiotopoulos – 119km/h
3. Zogogiannis – 112km/h
4. Platanas – 111km/h
5. Batas – 108km/h
6. Bouleros – 107km/h
7. Katsikis – 106km/h
8. Papachristos – 106km/h
9. Tsioutsias – 103km/h
10.Tsatsamis – 100km/h
The Formula class had Amaxas taking the TQ following great battles with the other drivers. Papachristos came in second while Niotis put his car on the third spot on the grid. In the A-finals things mixed up a bit as Niotis would take the day's win coming from the 3 spot while Amaxas dropped to third overall. Papachristos was able to conserve his qualifying performance to take the runner-up spot.
Formula A-final result:
1. Niotis
2. Papachristos
3. Amaxas
4. Tsiridakis
5. Panagiotopoulos
6. Kakarikos
7. Pontikis
8. Xristidis
9. Diamantis
Source: Xray [teamxray.com]
---