February 4, 2016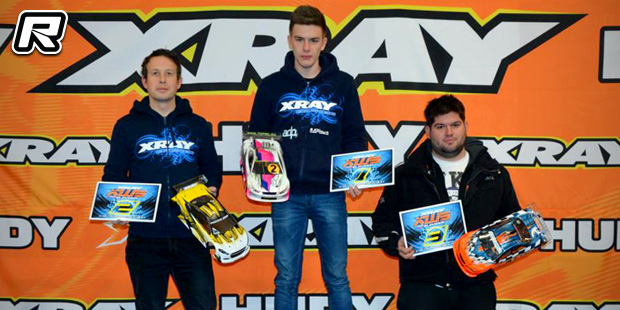 Round 3 of the Xray Winter Series Slovenia was held at the Pik Hala track in Maribor on a small yet nice track that offered a slightly updated layout compared to the previous round. The weekend started off with free practice on Saturday followed by seeding practice rounds on Sunday morning, qualifiers and finals. The Touring Pro Stock class had Jan Popic coming out fastest after the qualifiers with two round TQs. Dario Veseli and Viktor Boslec would line up in second and third for the finals. In the Formula class Nejc Marcic lead the pack to take the pole position for the A-mains from Jan Pernarcic and Borut Svoljsak, who followed closely behind. Finally in the 1/12th scale pan car class Rok Rudl took the TQ from Valentin Mis and Goran Vignjevic.

The Pro Stock A-mains saw very entertaining fight for the top positions with Jan Popic, Alojzij Osvald, Dario Veseli and others all fighting for positions and after A1 and A2 both Jan and Alojzij had a win to count, meaning the decision for the day's win would be made in A3. Jan made a mistake in lap 3, falling back to third, so he had to chase the leader down to the wire. Dario would lead from Alojzij but with Dario making a mistake is was down to Alojzij and Jan to battle it out for the win and Jan would have to wait until the very last lap to try and make a pass on Alojzij which ultimately worked out, handing Jan the leg win and with it the overall win from Alojzij and Dario (all Xray).
Pro Stock A-main result:
1. Jan Popic
2. Alojzij Osvald
3. Dario Veseli
4. Viktor Bolsec
5. Matej Miklavec
6. Vladimir Knehtl
7. Plattner Lukas
The Formula class was a pretty easy affair for Nejc who scored two wins and one second place to grab the day's win from Jan Pernarcic in second and Borut Svoljsak in third (all Xray).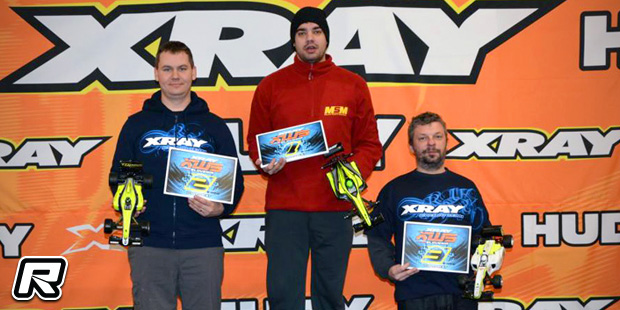 Formula A-main result:
1. Nejc Marčič
2. Jan Pernarčič
3. Borut Svoljšak
4. Andrej Grebenc
5. Darko Nemec
6. Matevz Homar
7. Massimo Gratton
8. Sašo Kramljak
The 1/12th scale class saw Rok Rudl walking away with the day's win after after scoring two wins. Nejc Mihelic came in second followed by Goran Vignjevic in third place.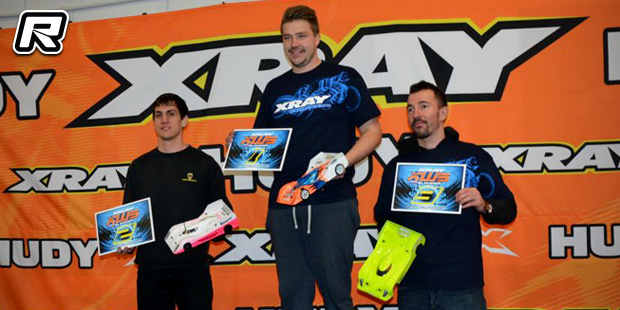 1/12th scale A-main result:
1. Rok Rudl
2. Nejc Mihelic
3. Goran Vignjevic
4. Valentin Mis
5. Herfried Pucher
Source: Xray [teamxray.com]
---