March 8, 2016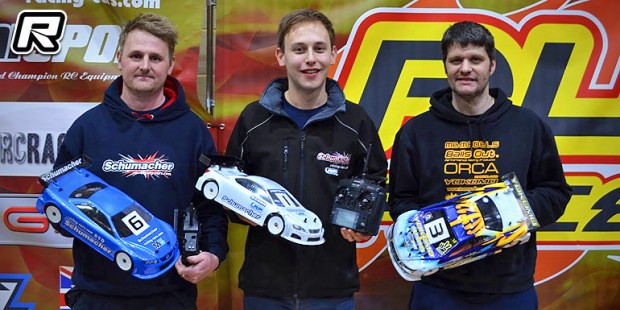 The fifth round of the 2015/16 Rug Racers series also marked the end of the season, with the now famous or rather infamous lollipop throwing ceremony at the end of the day, and the championship in some classes being open till the very last round. In Touring Open Modified the series had been fortunate to have some of the best Touring drivers in the country, showing them all how to drive a really fast car really well, none more so of course than the current UK touring car champion Elliott Harper, who may be fast on track but also showed his quickness on the scrutineering table as well, after he went at the ride height checker with a Vernier after someone passed comment to him that it was marginal, he proved it wasn't. Another of the young stars, Harley Eldridge, made 2nd her own, although Brian Eldridge did nab 2nd in round 3 but Harley still went one better to take 1st.

Onto Touring 17.5T Blinky, heat 4 was Gareth Coates getting through his workload for all 4 rounds, equally so for Ben Pedersen in heat 5 with Paul Isaacs making position 2 his own. Heat 6 was the Wes Roper show and easily up to the A final with Rob Brighton and Andy Lees pushing hard as well. Heat 7 with Jimmy starting at number 3 he would soon be making number 1 his own with all four legs and a blistering pace Michael Redshaw looking on from behind.
WGT heat 8 or rather the Owen Smith show, as the 1st driver to blast into 28 laps and decimate all behind him, Martin Southall and Remo Casadei looking on from afar.
Finally in GT12 heat 1, the generation heat, featuring the youngsters and the not so young, but this one looked different, as racing alongside the kids was their parents this one featured Alan and Shane Chipolina, James and Jake Vincent, Michael and Holly Cook, Graham, Martin and Ethan Southall, that's Grandad, Dad and Son and the ever so small Preston Eldridge with his Dad Graham perched just below him handing out the advice. How was racing? Well honestly who knows they were having so much fun it didn't really matter. This is why we do this and our future stars of racing. Heat 2 was a fierce affair with the Peter White making the most of it with the Bradley Dilworth and Michael Vale for company, not to detract from the young Darcie Smith keeping them all very honest and Daniel Robins. Heat 3 and the now business end of GT12, Tim Hancock was showing his intentions as champion elect with three of four rounds banked ahead of Scott Morton with Owen Smith & Leyton Foster sharing thirds about.
In the Touring Open A-final, Elliott Harper took leg 1 with a track record of 29 laps. 2 seconds faster than when it was last used at round 2 the only time his car went above 11 seconds was the first and last lap. Ashley Wiffen came in second in leg 1 and Andrew Carter 3rd. Leg 2 and Elliott flirted with second and third place a few times before recovering to take the win ahead of Brian Eldridge and Ashley Wiffen giving an overall of Elliott Harper, Ashley Wiffen and Brian Eldridge.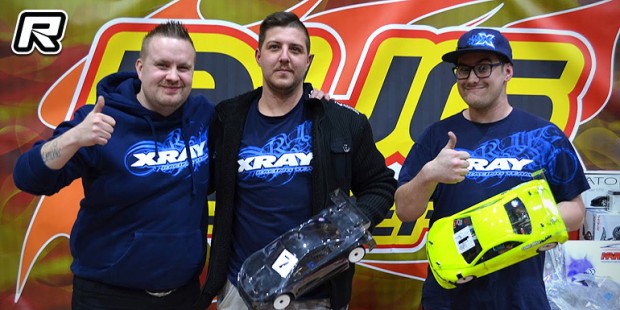 17.5T Blinky saw a clean getaway of Jimmy Maddison take a stroll to the opening leg win with Ricky Copsey and Mason Weston fighting over 2nd which Ricky just edged. Leg 2 saw a restart after a 1st corner pile up, Ricky Copsey led them home to victory ahead of Mason and Malc Hall with the Champion down in 4th after uncharacteristic errors. Overall Ricky Copsey would bring home the win from Jimmy Maddison and Mason Weston.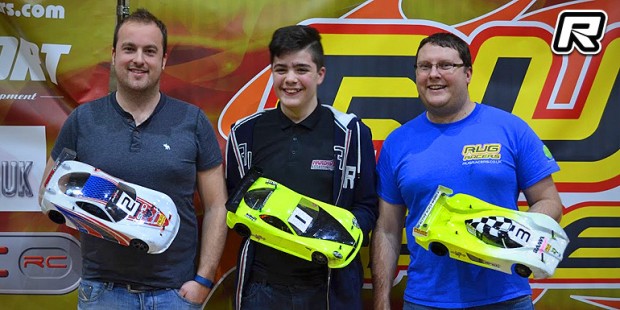 In the WGT A-finals 12 years old Owen Smith was the star of the show leaving all in his wake. He took both legs comfortably, while setting the fastest lap of the day of anyone with a 10.340s. Tom Hampson got within 3 seconds but that was not enough. Behind Owen, Tom Hampson and Martin Southall would take second and third respectively.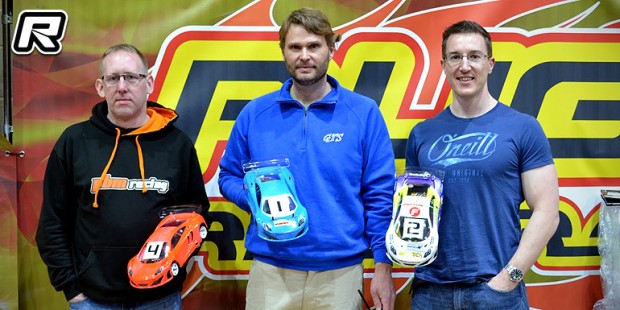 In the GT12 A-final, Tim Hancock took the win in the 1st leg with Scott Morton taking the 2nd with a lights to flag victory. Overall it was Scott Morton from Tim Hancock and Leyton Foster.
Source: The RC Racer [thercracer.com]
---