March 21, 2016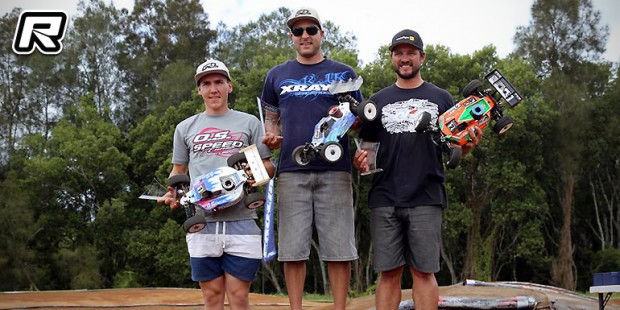 With a new format and allocation of the meeting to the country area Manning Valley was the chosen Track for the 2016 States in NSW, Australia. The weather was very warm during practice and the track did not hold any moisture, with only two rounds of practice and the track breaking up badly it was looking like a trying weekend for everyone. In the Nitro Buggy final Ari Bakla (Xray), coming from the 3 spot on the grid and Craig Lautghton (TLR) battled for most of the race, trading places at every pit stop. Pressure was on on Ari but he was still confident and calm, but two minutes to the end he lost the lead, and with one minute left a block pass on a corner jump was needed to take back the lead. After a last lap nose to tail and a drag race to the line Ari would take win by half a second.
Buggy results:
1. Ari Bakla – Xray
2. Craig Lautghton – TLR
3. Jarred King – Kyosho
4. Dallas Gardiner – Mugen
5. Cale Wilson – TLR
6. Simon Roberts – Kyosho
7. Brendhan Wade – Xray
8. Alex Richardson – Team Associated
9. Wade Lazich – Mugen
10.Kevin Lewis – Team Associated
11.Darren Pryor – Agama
12.Shane Frieberg – Team Associated
In Nitro Truggy Brendham Wade (Xray) set the pace all weekend with Ari Bakla (Xray) close behind in second. Ultimately it was all Brendan in the final, Ari suffered a flame out in the first pit stop with a low idle allowing Brendhan a nice buffer. The veteran and all round nice guy kept a clean line and drove flawlessly all the way to the finish line with another veteran, Ian Haley (Mugen) in second.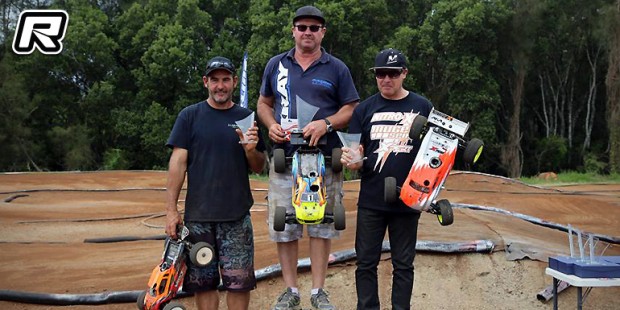 Truggy results:
1. Brendhan Wade – Xray
2. Ian Haley – Mugen
3. Wade Lazich – Mugen
4. Brad Stafford – Team Associated
5. Mark Andrew – Team Associated
6. Scott Richardson – Mugen
7. Corey Chivas – n/a
8. Mick Matic – Mugen
9. Ari Bakla – Xray
10.Darren Pryor – Agama
11.Chris Omega – TLR
Source: Xray [teamxray.com]
---