March 8, 2016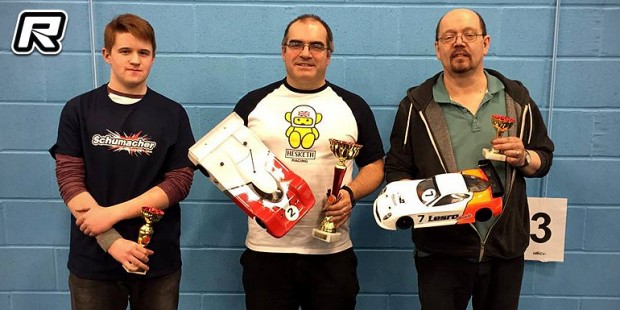 Round 3 of the BRCA GT national series was held last weekend by Newbury RC Club, A large quite technical track greeted the drivers on Saturday morning, a new challenge for some of the drivers this round was the ETS carpet used. GT10 got underway with Adam Catchpole fast out the blocks but a few errors would see TQ in round 1 go to Rory Hobkirk closely followed by Adam, similar story in round 2 as Mark Barford would set the quickest time. Adam finally found his rhythm in rounds 3 and 4 setting the quickest times in both with a gap to second place of 7.7 seconds.

The A-final would get underway with Adam leading the way, as the pack bunched up into the first few corners there were a few changes of position, Adam would hold the lead until lap 18 where unfortunately a mechanical failure would see Adam retire, retirements would be the story of this final as only half the drivers finished. The final was won by Mark Barford with a solid drive. The top 5 were Mark Barford, Aidan Ripley, Mark Passingham, Ollie Payne and Nick Upton.
The Formula cars were working nicely on the ETS carpet, Championship leader Andy Murray wasn't having the best of starts with a fast Daniel Blake setting the quickest times in rounds 1 and 2. Round 3 would see James Wright put in a good run to top the time sheets. With one more qualifying round left anything could happen. A change from an alloy chassis to carbon would see Andy Murray find his form and set the quickest time from James Wright by 5.3 seconds. The A-final would be won by Andy Murray, closely followed by Daniel Blake only 2.6 behind, 3rd spot would be taken by Darren Newton making up a few positions from his 5th place grid slot. Overall the top 5 were Andy Murray, Daniel Blake, Darren Newton, James Wright and Damian Giddins.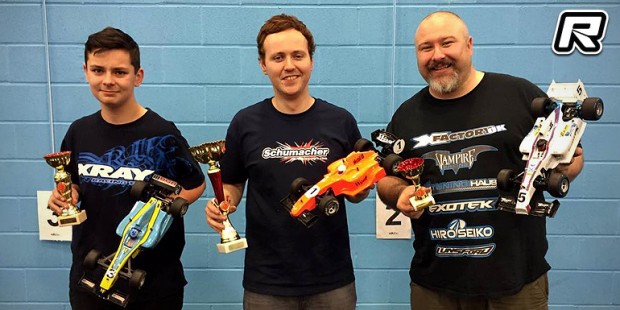 A small track change greeted drivers on Sunday morning to a slightly more open track. Another busy competitive field turned up with 81 drivers competing. Qualifying got underway with Andy Murray setting the pace in the opening rounds, round 2 the gap to Adam Catchpole was 0.02 seconds unbelievably close. Andy Murray would continue to top the time sheets in rounds 3 and 4 with the final gap to Adam being only 0.5 seconds. The crowds gathered track side to watch the highly anticipated A-final. As the buzzer went the drivers got off to a good start with only a few incidents happening further down the pack after a couple of corners, Andy lead Adam for the first lap with the pair being very close, coming off the straight on lap 2 Andy would brush a track maker and have a mechanical failure that made him instantly retire, Adam took this opportunity and didn't look back as he pulled away from the field. Paul Jenkinson would make it into 2nd position from 8th on the grid, until going a little wide off the straight allowing Chris Gunter who started 9th into 2nd the pair were close on track until the end. It was a shame we didn't get to see Andy and Adam battle it out for the win as I'm sure we would have seen a great race from them, but thats how racing goes sometimes. Overall the top 5 were Adam Catchpole, Chris Gunter, Paul Jenkinson, David Gale and Mark Jewitt.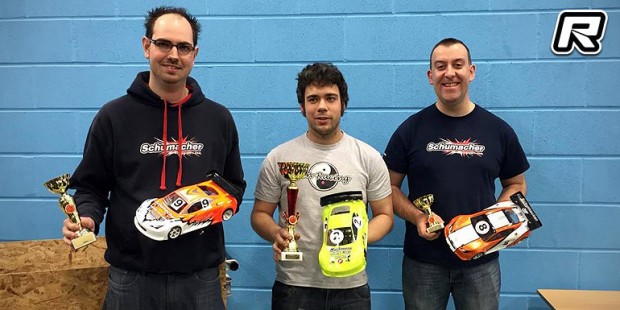 Source: BRCA [brca.org]
---