March 27, 2016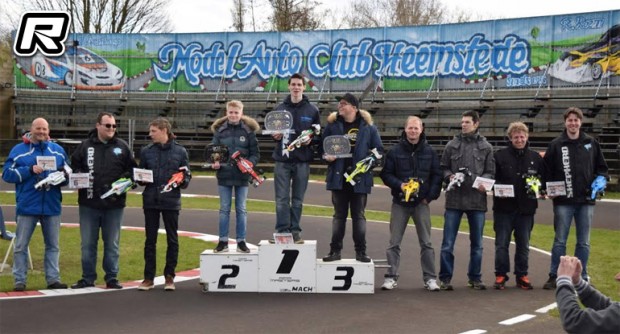 This weekend the Heemstede track played host to the International Dutch F1 Masters. Friday started with free practice without heats and at the end of the day there were 2 rounds of free practice heats which saw Jitse Miedema with the best pace followed by his brother Tjitte Miedema and Milan Holthuis. Saturday was a nice day with the sun shining and all drivers having fun. Following 2 rounds of controlled practice it was last year's winner Jitse who had a really good pace with the fastest time in the controlled practice followed by Roy Bakker and Sidney Blokker. Qualification was up next and it was again Jitse on position 1 followed by Milan Holthuis and Stephan Beelen. On Sunday the beginning of the day was a little bit wet what offered up some surprises but in the first final it was business as usual for Jitse who took the win followed by Milan and Sidney. In A2 there was a crash in the first lap but for the rest of the final the guys shows a good pace and clean racing. It was Jitse who would bring home the win and take the overall win for the IDFM 2016 followed by Milan and Tjitte. In the 3rd final it was again Jitse followed by Milan and Niels.
A-Final Results
1. Jitse Miedema – Xray
2. Milan Holthuis – Yokomo
3. Sidney Blokker – Yokomo
4. Niels de Zwijger – CRC
5. Tjitte Miedema – Xray
6. Joey Sorber – Shepherd
7. Stephan Beelen – CRC
8. Ben Voorhaar – Xray
9. Marco Verkade – Serpent
10.Roy Bakker – Shepherd
Thanks to Jeffrey Jongeling for the report.
---