March 16, 2016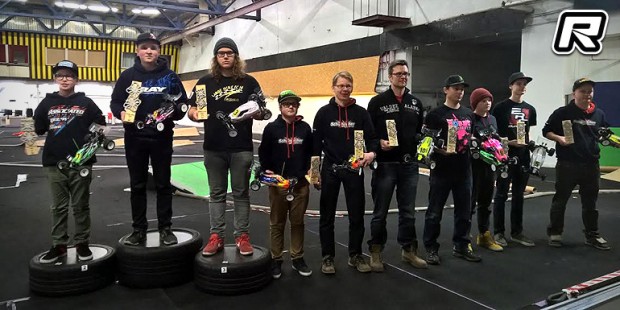 The recent round of the Finnish Winter Jumps Series was held outside of Finland in Tallinn, Estonia with drivers from several countries in attendance. Saturday was devoted to the 2WD Buggy class and it was Joona Haatanen who grabbed the TQ in front of Joel Valander, who was fastest after the practice rounds. In the opening A-main Joel capitalised of a mistake of Joona, handing Valander the win from runner-up, Jörg Tiit. A2 then saw Joel only finish in third place due to a couple of errors but he stroke back in the third and decisive A-main when Joona opened the inside line on the first lap, allowing Joel to slip through. From that moment on he never looked back to take the win and with it the overall victory in the 2WD class.
2WD A-main result:
1. Joel Valander – Xray
2. Joona Haatanen – Team Associated
3. Jorg Miikael Tiit – Schumacher
4. Max Mört – Schumacher
5. Jarno Siltanen – Schumacher
6. Lari Jäppinen – Xray
7. Markku Honkanen – Team Durango
8. Pekko Iivonen – Schumacher
9. Eeli Vieno – Xray
10.Samppa Orhanen – Schumacher
In the 4WD class, held on Sunday, Joel was the man to beat as he showed a blistering pace already in practice and he would also sweep the qualifying by winning all four rounds, handing him the pole position from Karri Salmela in second. In the opening A-main Karri tried to challenge Joel but he pushed too much and made a mistake, allowing Joel to cruise to the win. A2 then was a bit of a disaster for the TQ holder as Joel crashed in the opening lap when he hit a track marker and he wasn't able to recover. A3 then would bring the decision and with a tremendous drive right from the tone Joel would bring home the win with a comfortable gap.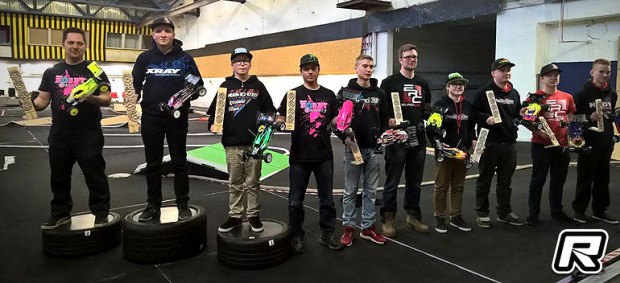 4WD A-main result:
1. Joel Valander – Xray
2. Ari Heinonen – Team Durango
3. Joona Haatanen – Team Associated
4. Markku Honkanen – Team Durango
5. Karri Salmela – Team Associated
6. Lari Jäppinen – Xray
7. Max Mört – Schumacher
8. Samppa Orhanen – Schumacher
9. Toni Niinivirta – Xray
10. Hendrik Lainemae – Xray
Source: Euro RC [eurorc.com]
---