March 19, 2016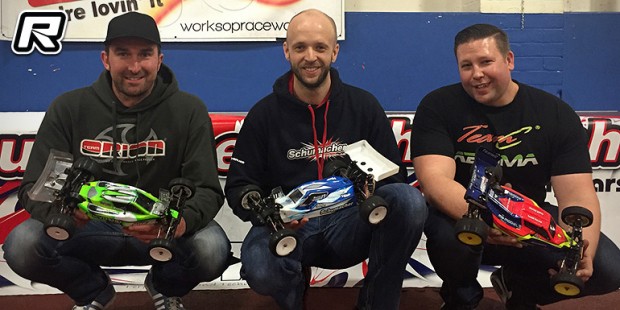 Last weekend saw the sixth and final round of the fantastic Worksop Series taking place. With no let up in drivers wanting a race entry to this hugely popular series, it was a full line up of 15 heats, with 8 heats of 2WD and 7 heats of 4WD. As always Round by round qualifying was the racing format, with the best 2 results from 4 rounds of qualifying counting towards the final position. Some championship contenders were unable to make this race, therefore it meant that no overall championship positions were yet decided and all was still to play for in the top 10 in both championships, therefore the points at this event were vital for some drivers.

In 2WD it was a very close fought battle, 4 different drivers all setting TQ in each round and leaving things extremely close, therefore their 2nd best result was key to a top qualifying spot. Schumacher's Danny McGee was the man on Pole ready for the A-final. Danny had a flag to flag victory in the final, driving a brilliant controlled race and never looking behind him. Driving off into the distance Danny managed to finish 8 seconds ahead of the rest of the field. However behind Danny it was all happening, cars changing positions in the early laps and some great close racing. It was a surprise to everybody and obviously he was also surprised, in 2nd place it was the 'old pro' Karl Marsden coming through from 6th on the grid with some great overtakes and good driving, while others were making mistakes Mr 'Consistent' Marsden was holding his own and managed to finish a great 2nd just ahead of a hard charging Craig Collinson towards the end of the race.
2WD A-final result:
1. Danny McGee – Schumacher
2. Karl Marsden – Kyosho
3. Craig Collinson – Team C
4. Greg Williams – Schumacher
5. Fabian Simonini – Team Durango
6. Steven Pierce – Yokomo
7. Richard Lowe – Team C
8. James Helliwell – Schumacher
9. Eugene Galley – Schumacher
10.Paul Crompton – Team C
In 4WD it was a totally different story, Schumacher's Greg Williams was on top form and set TQ in all 4 rounds of qualifying, therefore lining up on pole position. Behind Greg the rest of the drivers were fairly close so it was going to be an exciting final. There was no change in the A-final and Greg carried on where he left off in qualifying, taking the victory in the 4WD class. Behind him James Helliwell was into 2nd and doing what he could, trying to put pressure on Greg. All the way up to 3rd place after now getting his car as he liked it, Danny McGee would round out the top 3 in the class for Schumacher. A special mention has to go to young Edward Callan, making his first ever Worksop A-final and not only doing so, but finishing in a brilliant 5th place too. Maybe a young star of the future to watch out for.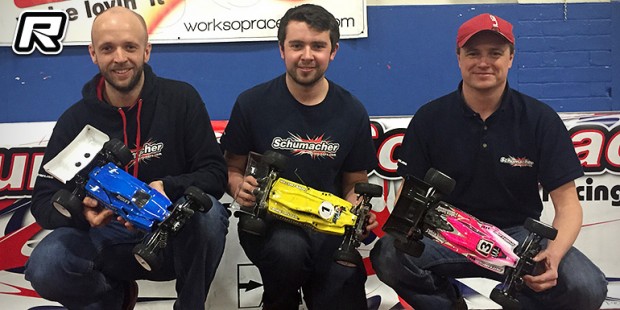 4WD A-final result:
1. Greg Williams – Schumacher
2. James Helliwell – Schumacher
3. Danny McGee – Schumacher
4. Craig Collinson – Team C
5. Edward Callan – Xray
6. Mitchell Fiddling – Schumacher
7. Ben Jemison – Schumacher
8. James Hart – Schumacher
9. Steven Pierce – Xray
10.Andy Pearson – Kyosho
Source: Schumacher [racing-cars.com]
---