March 29, 2016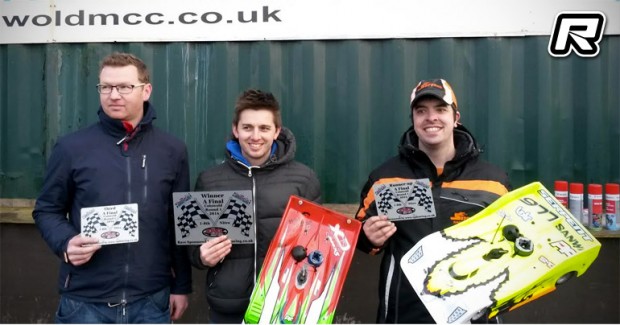 The first round of the BRCA 1/8 Circuit Championship took place at the Cotswold Model Car club over the Easter weekend, with the new addition of an electric class to run alongside the nitro powered cars. With one of the highest number of drivers booked in to race within recent years, we were in for a great first round, unfortunately the British weather had other ideas with heavy downpours throughout the weekend. Qualifying saw mixed track conditions with low grip, which left a few big names in the B-final, Steve Scott secured a superb pole position for the 30 minute A-final from Clive Connolly and John Carr.
By the time the A-final started the circuit was dry again, the battle at the front was intense between Clive Connolly, Richard Waters and Michael Walton with John Carr a lap behind. As the race went on many changes of the lead took place with only a few seconds between the top drivers and it went down to the last 10 minutes for the result to be decided between Michael and Clive. Clive was to stay out too long and ran out of fuel leaving Michael to take the win from John Carr a lap behind.
Nitro A-final Results
1. Michael Walton – Mugen / XRD – 106/1812.769
2. John Carr – Serpent / O.S. – 104/1803.157
3. Clive Connolly – Shepherd / Ielasi Tuned – 104/1812.299
4. Wayne Briggs – Serpent / O.S. – 95/1807.703
5. Karl Dransfield – Shepherd / Orcan – 81/1800.596
6. Chris Snell – Shepherd / O.S. – 71/1293.459
7. Richard Waters – Shepherd / Sonic – 68/1253.787
8. Steve Scott – Serpent / O.S. – 47/1800.986
9. Sam Snell – Motonica / O.S. – 35/665.394
10.Richard Hicklin – Serpent / O.S. – 3/667.301
After qualifying in the electric class Ian Billett was on pole for the two legged A final, The first leg of the final launched away with Franck Dambrine jumping to the front and leading until the end, with pole man Ian Billett retiring on lap 13.
The second leg of the finals got under way after all the nitro cars had driven their finals so a significant amount of extra rubber had been laid down on the track, once again Franck Dambrine made an amazing start and was up into second, and wrestled his way to the front until lap 10 where Paul Bellinger took the lead and maintained this until the end, with Ian Billet finishing 2nd. This meant with a second and first place Paul Bellinger was to take the overall win in the first BRCA electric 1/8 circuit national.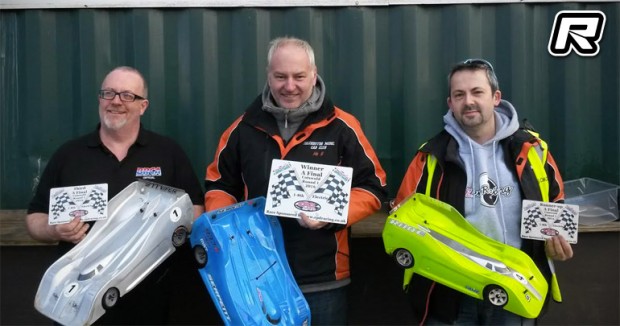 Electric A-final Results
1. Paul Bellinger – Serpent – 3 Points
2. Franck Dambrine – ARC – 4 Points
3. Ian Billett – Serpent – 6 Points
4. John Russell – Serpent – 7 Points
5. Mathew Baker – Serpent – 20 Points
Thanks to James Healey for the report.
---