March 14, 2016
The Protoform Western Canadian Indoor Championship Series held round 7 in BC's "Tournament Capital", Kamloops, British Columbia, hosted by the Thompson Valley R/C Race Club. It was a great race weekend, lots of entries, with full heats all around. As usual, TVRCRC threw down a unique layout that left drivers looking for every inch on track to shave off the lap times with the bravest pulling out all the stops to make time in the tightest of chicanes. In the premier Touring Modified class the top 3 would slip away, with a chase for the win. Q3 Jason Melnyk however was sent airborne off track doing the first lap. His car would not survive and he would be a spectator for the 5 minute main. TQ Blake Bell and Korgae Scales would clear the pack quickly and just after setting his fastest lap, Korgae would have some issues in traffic, widening the distance to Blake and allowing Q4 John Tsang through for second. It would appear the car did not survive the incident undamaged, and after another slow lap, Scales joined Melnyk as a spectator. The second incident entangled Tsang, and allowed Luke Pittman a break into second position. Tsang closed the gap, but was unable to pass Pittman by the buzzer, just 0.25sec back.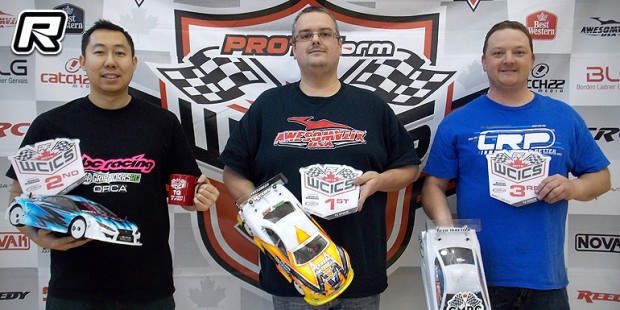 In Touring Stock TQ setter John Tsang and P2 Frank Bortolazzo slipped away early and battled for 10 laps. John edged by to take the lead, but a bobble 2 laps later gave the lead back to Frank who ran with it to the end. John turned his fastest laps trying to close the gap, but ran out of time. Kamloops local Dustin Quanstrom made a quiet climb from 5th on the grid to take 3rd overall to finish the podium.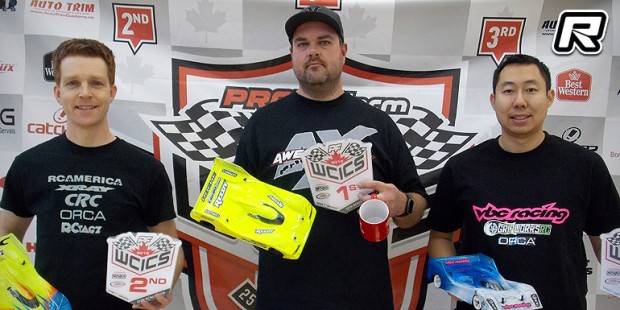 In the 1/12th Modified class the top 3 immediately began to gap away from the field. Pole-setter Korgae Scales and Q2 Blake Bell would start an 8 minute chase for the lead. Q3 Jason Melnyk had settled into a groove and appeared to be secure in 3rd until the mid-point; an accident with a lap car sent Melnyk's car off track. He would not be able to recover. John Tsang took advantage of Melnyk's woes and finished 3rd. Blake though setting fast lap, would not catch Korgae.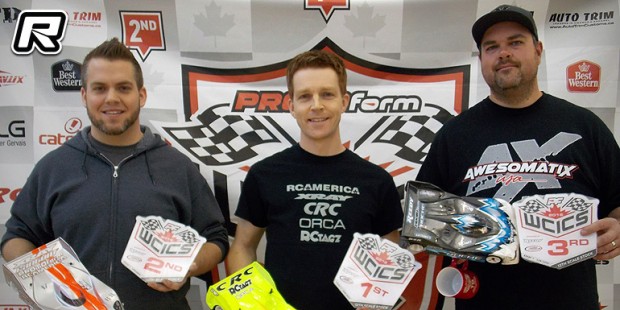 Stock class racing, as expected, is anyone's race when it's time to throw down. Korgae Scales and Blake Bell left the gate clean with Luke Pittman in pursuit in the 1/12th Stock A-main. The stage was set and the 3 leaders did not disappoint the crowd of racers watching. At lap 15 things started to getting interesting, a mistake from Korgae, then Mr. Bell put Luke through to the lead. The relative rookie compared to these veteran drivers is now leading. Luke and Blake would stretch the gap between TQ setter Korgae, and trade the lead several times. Luke had it through the final minute, but a minor mistake with two laps to go would let the patient Blake by for the win.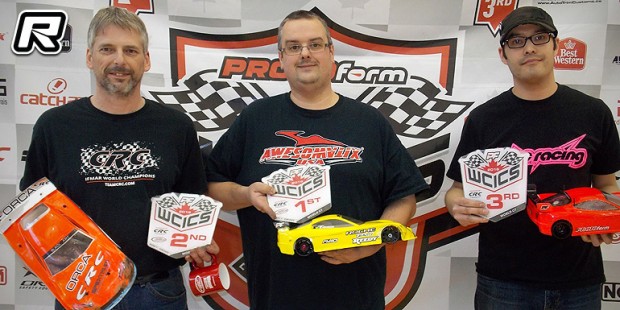 In WGT TQ Craig Roberts looked like was going to battle with Q2 Frank Bortolazzo the whole run. Instead, lap 3 decided to make it interesting. Craig now last, had 4:30 to climb the field. It looked like the climb would stop with Dennis Beck who was running second. The gap narrowed near the 1min tone, Dennis made his car a touch too big and clipped a corner letting Craig through. The remaining minute was not enough though. Frank would hold the lead, Craig second, Dennis third.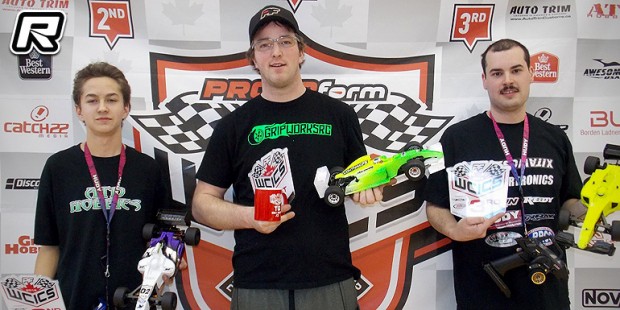 Another class with a close contended TQ all weekend was Formula. Alex Pate through solid finishes put himself on pole with Colin Rousell and Ed Mardones behind. Ed starts with a tough lap 1 and 2, and though he set the quickest lap time, was not going to be in the race for the lead. Alex would cruise for the run, while Q4 Brandon Rogers, would make a charge and challenge for 2nd place. Colin and Brandon would exchange the position several times and a last lap mistake gave the young Brandon the edge over Colin.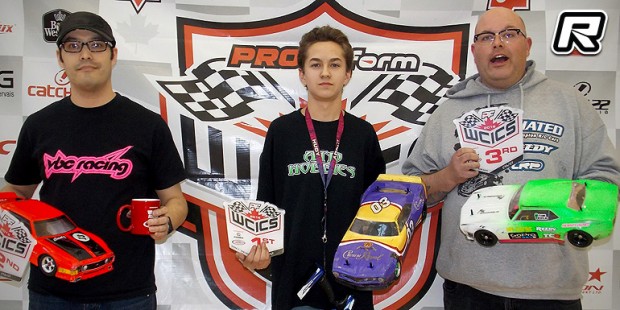 In CTA TQ Dennis Beck had a busy main ahead of him with Brandon Rogers in hot pursuit and a full field of cars to navigate for the 5 minute main. The two immediately gapped themselves from the pack and the battle was on. Through the first minute it looked like Dennis would be able to edge out Brandon, but when both go collected with lap traffic, it quickly changed the race for both. Dennis had to mount a charge from 3 corners back, and Brandon had to maintain the lead while dancing through the big body traffic. Dennis ran out of time. Tim Bulb chasing Q3 driver Nick Weinrauch for a final lap pass.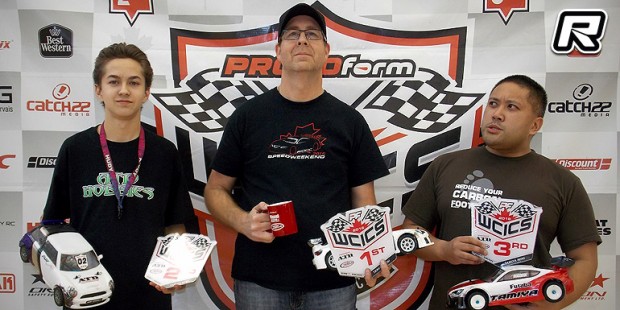 Finally in Tamiya Mini, all weekend there was a 3 way battle for TQ in ATD Hobbies MINI. Local Brent Wende and PRCC's Brandon Rogers looking for every tenth thru qualifying with Chuck De Belan always in the wings waiting. The main was no different. Brent held P1 wire to wire, but Brandon just tenths behind and at times mere inches on track. With Brent's win and TQ, it sets up a do or die for the final round in Calgary. Both drivers will need all their skill and lucky charms with them. The season's final race is April 1st to 3rd in Calgary, Alberta, with all the championships decided.
Source: WCICS [wcics.ca]
---