March 22, 2016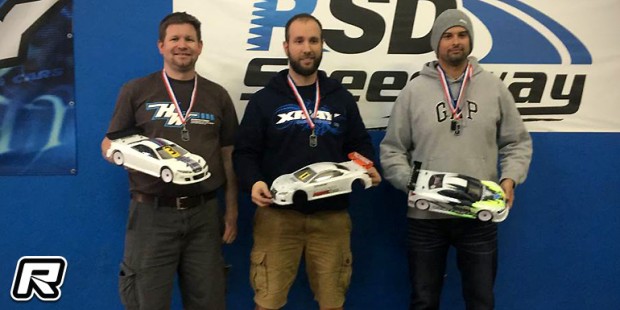 Round two of the Texas Electric On-Road Series was held this past Sunday at RSD Speedway in Houston, Texas. 54 entries in total were present between the six classes. Three rounds of qualifying and single mains were run on the new fast and flowing lay-out. A cold front in the weather the day before resulted in medium traction conditions on the carpet. This change in the norm caused drivers to search for traction and steering in their setups. In Modified Touring Car and after three rounds of qualifying, Brandon McNally topped the time charts and claimed TQ by 3 seconds over recently crowned ROAR National Champion Chris Adams. Another 3 seconds behind Adams was 3rd qualifier, David Joor. During qualifying, John Hodges would put together the fastest overall lap of the entire weekend, by over a tenth, with a 9.3 second lap.

In the main, mistakes in the opening laps by McNally would allow for Adams to get by and control the race to the end for the win. Starting in 6th, Andrew Doherty would put together a great run to complete the podium.
Modified Touring top 5 results:
1. Chris Adams – Xray
2. Brandon McNally – Yokomo
3. Andrew Doherty – Xray
4. Chris Kemper – Xray
5. Larry Myers – Schumacher
Stock Touring Car would prove to be the largest class of the event with 19 entries. Sponsored drivers Mackenzie "Mackie" Meyercord and Chris Kemper would battle all day long, along with Guillaume "G-MAN" Herve, at the top. The three would complete qualifying in that order with only 3 seconds separating them. The A-main would prove to be dramatic with 2nd and 3rd lap errors and collisions dropping Mackie and G-Man to the last positions. In the chaos, it looked like Kemper would cruise to victory. However, Mackie would put together an incredible string of fast laps to close in to Kemper's rear bumper with 45 seconds left in the 5-minute race. With three laps to go, Mackie placed a clean inside pass around the sweeper section of the track on Kemper. He would hold the lead for the final 2 laps to claim victory. Brian Montgomery completed the podium.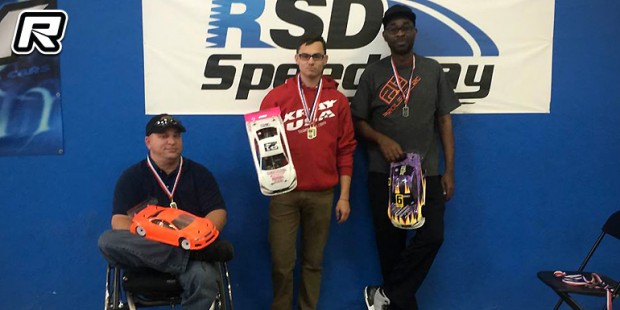 17.5 Touring Cat top 5 results:
1. Mackenzie Meyercord – Xray
2. Chris Kemper – Xray
3. Brian Montgomery – Yokomo
4. Guillaume Herve – Xray
5. Philippe Quero – Team Associated
In the 1/12th 17.5T class Reflex Racing team members capitalized on their home track and replicated their first round performance with another podium sweep. Cristian Tabush claimed TQ ahead of Konosuke and Johnee Fenimore. In the main, Cristian Tabush would walk away with a tone to tone win. Konosuke  encountered issues in the final stages of the race forcing him to retire. Brothers Joe and Richard Smith would put together solid 8-minute runs to complete the podium behind Cristian.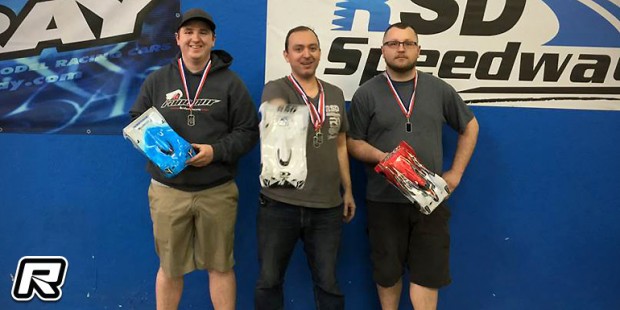 17.5 1/12th top 5 results:
1. Cristian Tabush
2. Joe Smith
3. Richard Smith
4. Jose Moreno
5. Johnee Fenimore
21.5 Formula saw Doug Bryson claim TQ and win over Nick Sibigtroth and Jose Isales. The field would finish the same order they qualified.
Formula results:
1. Doug Bryson
2. Nick Sibigtroth
3. Jose Isales
4. Jose Gomez
Todd Koch ruled the VTA qualifying with his TC4 Camaro by 1 lap over Paul Gaertner and Wayne Stuntz. Todd carried his momentum into the main with a tone to tone win.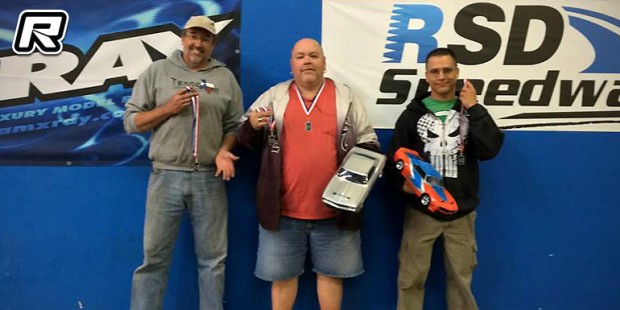 VTA top 5 results:
1. Todd Koch
2. Paul Gaertner
3. Wayne Stuntz
4. Jose Gomez
5. Jesse Roman
In USGT, it would be Jesse Owens asserting his dominance over the field through the weekend. Jesse claimed TQ by 1 second over David Yu, with Leo Moreno rounding the top 3. The main would see David Yu getting into opening lap altercations resulting in electronic issues. This would allow for Jesse to cruise to victory without hassle. Leo Moreno would claim second, while first bump-up from the B-Main, Jose Isales, would complete the podium with a great drive.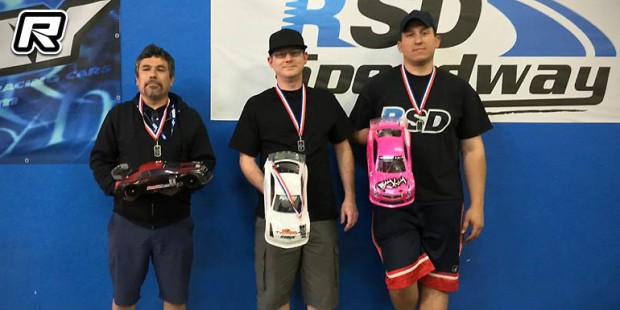 USGT top 5 results:
1. Jesse Owens
2. Leo Moreno
3. Jose Isales
4. Robert Ferrell
5. Todd Koch
The next round of TEOS will be the first of the asphalt races on May 15th at Hobbytown Austin South.
---