March 8, 2016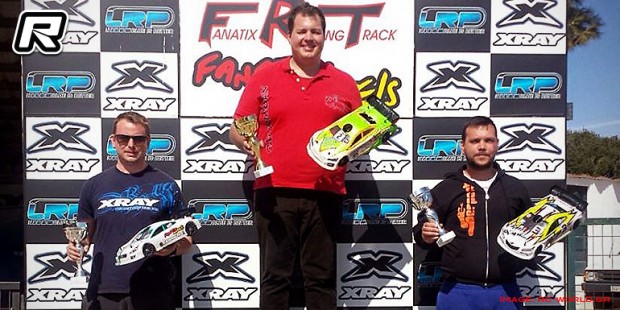 The same day as round four of the Greek Xray Winter Series the Fanatix Racing Track held the Xray Nitro Challenge Greece. Right from the start Xray driver Dimitriou made his intentions clear as he won all qualifiers to take a dominant overall TQ. Only German guest driver Thilo Tödtmann (Capricorn) was able to come close, allowing him to line up in second.
1/10th 200mm A-main grid:
1. Dimitriou – Xray
2. Thilo Todtmann – Capricorn
3. Tsiklitiras – Serpent
4. Sotiropoulos – Mugen
5. Likaris – Shepherd
6. Papachristos – Xray
7. Nikiforos – Xray
8. Xrusomalos – Xray
9. Platanas – Mugen
10.Vovlas – Mugen
At the start of the main final Thilo was able to overtake Dimitriou which was the start of some great battles between the two. Ultimately Thilo would come out successful as mistakes of Dimitriou gave the Capricorn driver room to breathe.
Final result:
1. Thilo Todtmann – Capricorn
2. Dimitriou – Xray
3. Tsiklitiras – Serpent
4. Likaris – Shepherd
5. Nikiforos – Xray
6. Sotiropoulos – Mugen
7. Xrusomalos – Xray
8. Platanas – Mugen
9. Vovlas – Mugen
10.Papachristos – Xray
Source: Xray [teamxray.com]
---