March 21, 2016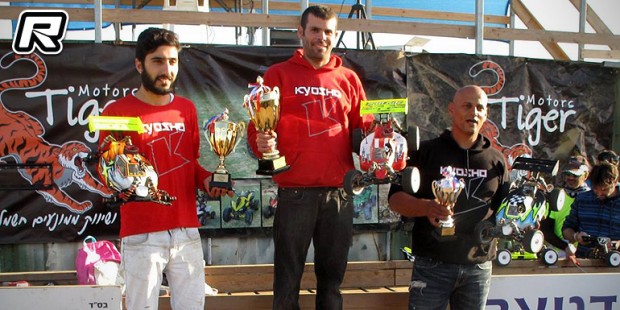 Round 8 of the popular Israeli League was held this past Friday at the Tavor Motors track near Ashkelon. The day started on a muddy track thanks to a few days of rain before the event but the fourth and final qualifier could be held on a dry track. Yaniv Sivan would grab the TQ in the Nitro Buggy class, less than a second in front of Ofir Avitan in second and Tal Siles in third. The 40 minute A-final started with Yaniv Sivan and Ofir Avitan running away from the pack, both swapping positions at first. Meanwhile Tal Siles, Omer Assayag, Ido Carmon and Aviv Mimon fought for final podium spot while Omer Assayag had to pull out due to technical issues. Some 15 minutes into the race Yaniv took the lead, followed by Ofir who had fuel issues and suffered from a flame out but ultimately he would bring home the runner-up spot from Tal Siles while up front Yaniv Sivan took the day's win.
A-final results:
1. Yaniv Sivan – Kyosho
2. Ofir Avitan – Kyosho
3. Tal Siles – Kyosho
4. Ido Carmon – Kyosho
5. Aviv Mimon – Kyosho
6. Dan Price – Mugen
7. Paul Price – HB
8. Itay Eskenazi – Team Associated
9. Omer Assayag – Agama
10.Guy Rinkevich – Mugen
Thanks to Yaniv Sivan for the report.
---