April 26, 2016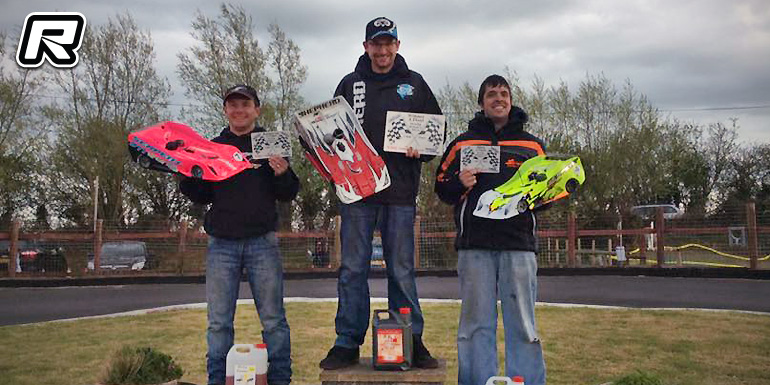 The second round of the BRCA Circuit Championship took place at the high speed circuit of Mendip R/C Raceway. Created in 1977 the circuit was made to challenge the 2WD drive cars of the day, and allow corners to by taken at high speed, this means with a modern 4WD chassis it is very much a power circuit, thus a great engine and big brass spheres are required to get around the circuit at full speed as the circuit is lined with concrete barriers, making this a track to be respected. Greeted by cold but dry weather, practice was under way on the Saturday. With Neal King setting the pace and the usual drivers of Tim Wood, Andy Hastings, John Carr and the returning David Spashett all looking fast it was going to be a close qualifying and race come Sunday.

Sunday morning was once again cold but dry with qualifying unfolding as expected the top 10 lined up as follow.
Qualifying top 10:
1. Neal King – 20/312.249
2. Tim Wood – 20/312.776
3. Andy Hastings – 19/301.230
4. John Carr – 19/301.377
5. Clive Connolly – 19/305.027
6. David Spashett – 19/305.298
7. Richard Hicklin – 19/305.778
8. Giorgio Acanfora – 19/308.432
9. Sam Snell – 19/309.810
10.Jason Frost – 19/310.224
As the final got under way, Jason Frost was caught up in a first lap incident and didn't complete any laps, Neal King stormed away at the start but was caught out by a belt failure, Tim Wood was to succumb to the same fate but the opposing end of the cars belt was to fail. Soon to become a race of attrition as John Carr's clutch started to slip causing him to loose power out of the corners, it quickly became a two horse race between Richard Hicklin and Andy Hastings with Hastings finishing a full lap in front of Hicklin, he recovers from a disastrous round 1 to continue to be a title favourite.
1/8 Nitro final results:
1. Andrew Hastings – 108/1800.163
2. Richard Hicklin – 107/1811.707
3. John Carr – 106/1811.182
4. Sam Snell – 103/1808.794
5. Clive Connolly – 99/1800.863
6. Giorgio Acanfora – 72/1463.577
7. David Spashett – 63/1807.253
8. Tim Wood – 31/523.781
9. Neal King – 10/176.359
10.Jason Frost – DNF
In the electric class Mathew Baker laid down a master class in domination, taking pole position in qualifying and winning both legs of the finals, with Paul Bellinger taking second place and James Ellice taking the final podium spot in both finals.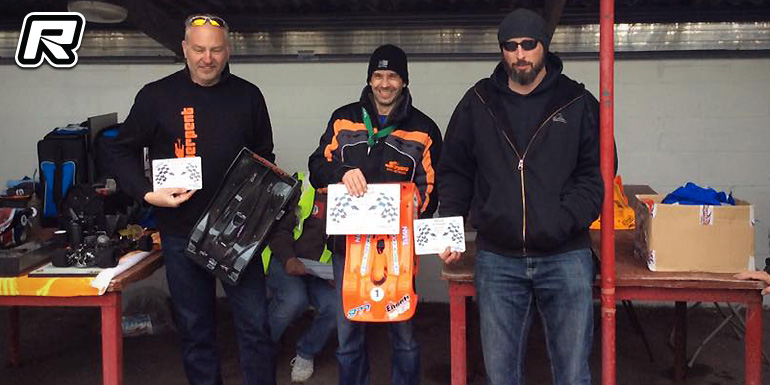 1/8th Electric final results:
1. Mathew Baker – 2 Points
2. Paul Bellinger – 4 Points
3. James Ellice – 6 Points
4. John Russell – 9 Points
5. Franck Dambrine – 9 Points
Thanks to James Healey for the report.
---