April 4, 2016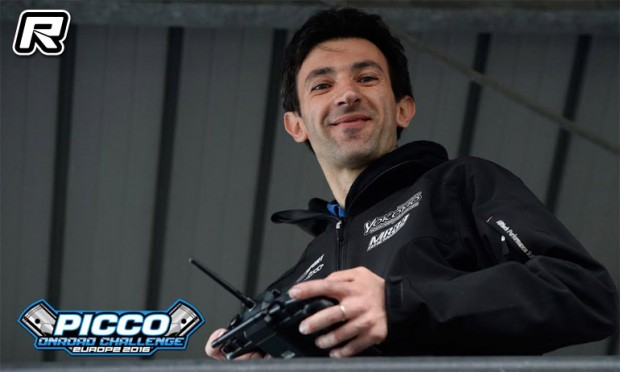 It has been an outstanding final day at the 2016 Picco Onroad European Challenge, with the 1/8th A-Main being the perfect icing on the cake for the event. With the TQ Robert Pietsch suffering an issue with a piston pin clip that came out from its groove and forced him out of the fight for the win, it was Lamberto Collari to pick up the lead. The 9-time World Champion Infinity driver took control of the race and mastered his strategy although a late charge from  Michele Romagnoli put a decent amount of pressure on him, the WRC driver deciding to go all-in not coming in for the last splash&go but eventually running out of fuel in the last lap but still finishing second ahead of Carmine Raiola, who rounded up the podium.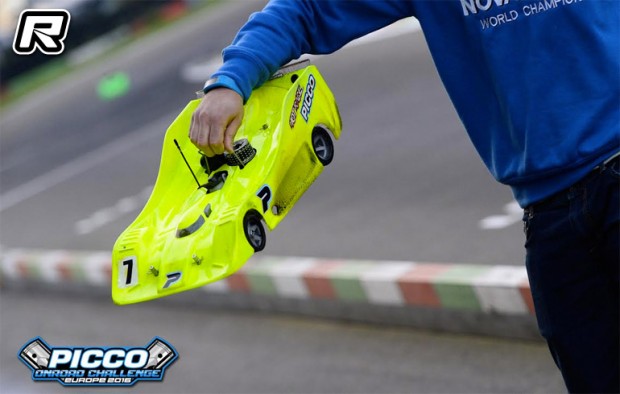 Starting seventh on the grid, Michele Romagnoli managed to rise up to the podium spots soon in the race, and a very fast tyre change allowed him to close on the leader, Collari's pit stop being 4 seconds slower than his, and put pressure on Lamberto in the second half of the race. Michele tried hard until the very last laps managing to bring the separation down to .51 seconds in the third last lap. Coming out from the last fuel stop with 4.40 minutes to go, he and his team decided to risk everything and stay out until the end of the race, the strategy not paying off with his Picco powered WRC running out of fuel in the last corner of the penultimate lap.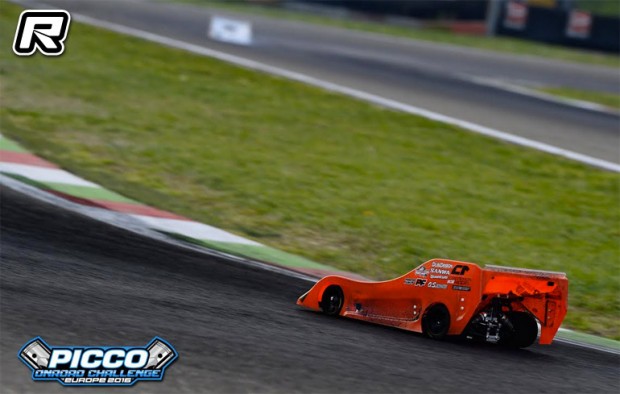 Doing a "crescendo" of his race, Carmine Raiola once again proved to be very solid in the long runs. With Pietsch and Picco out of contention early in the race, Carmine started to push more in order to get closer to the podium spots. When his Infinity team-mate Tironi was forced to a stop due to a broken needle on his engine, he was promoted in the top spots and stayed there with a consistent yet fast drive and put the second Japanese car on the podium.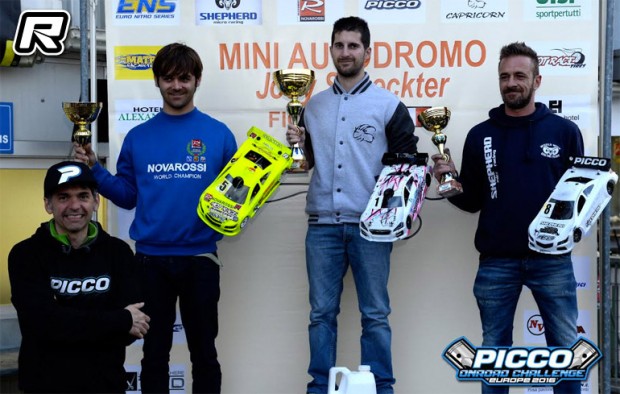 In the 200mm class it was Capricorn's Luca Redaelli to take a tone-to-tone win, the reigning Italian Champion starting out with very big, hard tires to complete the whole 45 minutes main on one set without changing. The same strategy brought to some drama behind the leader with a very good fight for second between Christian Costanzo and Michele Scaglioni, the latter able to save more foam on his rims for the deciding moments and fast enough to overtake the Shepherd driver in the last two minutes to take second.
Source: Picco [teampicco.com]
---