April 4, 2016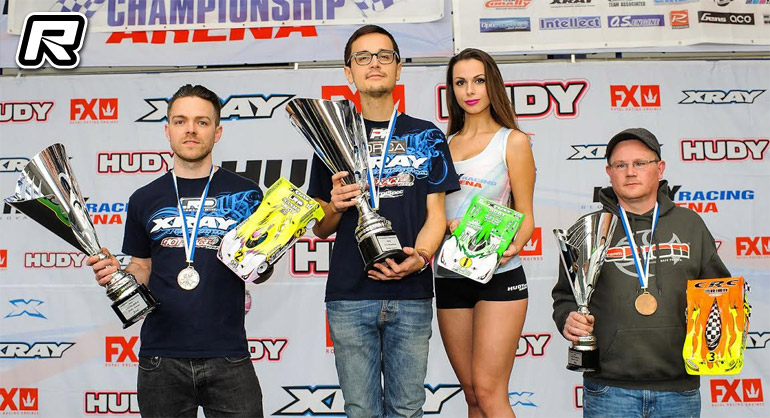 The 2016 European Championships in the classic 1/12 pan car class was held at the Hudy Arena, in Trencin, Slovakia last weekend and Alexander Hagberg gave the following report. 'The race saw a good field of drivers in both modified and stock 13.5T blinky categories, with drivers from 16 different countries in attendance. In the modified class, I managed to set the pace throughout practice, as well as winning 4 out of 6 qualifiers, it meant that I would start first on the grid come Sunday. I was closely followed at times by my team mate Olly Jefferies from the UK, who put his X12 car 2nd on the grid with 1 TQ run and a solid performance throughout qualifying. The young and talented Dionys Stadler, also put in a great TQ run in Q4, and would eventually qualify 4th overall. This meant that the X12 car would TQ every single round of qualifying in modified, with three different drivers fighting for the TQ.
In the 13.5T blinky class, qualifying was a close affair between the two rivals Markus Mobers and Hupo Hönigl. Eventually Mobers would take TQ in front of Hupo and the French driver Alex Laurent in 3rd overall.
The tension was on for Sunday as the tone went off for the triple A-finals. In the modified class, it was a pretty straight forward affair for myself as I could take a tone to tone victory in both A1 and A2 without any major challenges, as the drivers behind me got caught up in small crashes. Olly Jefferies went on the win A3 (which I sat out, as I had already wrapped up the title) which awarded him the runner up spot. Dionys Stadler finished in a strong 4th position overall with his X12 car as well!
I am extremely happy to take my 3rd consecutive title in the 1/12 category, which has come to be my favourite class in the past few years. I am happy and proud to have achieved success in the class where I also have been heavily involved in the development process of the X12 platform! This car has turned out to be one of the fastest, if not the fastest, on the market. It has some nice innovations and works extremely well for all surfaces. I want to thank Martin Hudy and Olly Jefferies in particular for all your hard work in helping to design this great car. It made winning easy – to have such a great handling car!
Modified results:
1. Alexander Hagberg – Xray
2. Olly Jefferies – Xray
3. Markus Mobers – CRC
4. Dionys Stadler – Xray
5. Mark Stiles – Yokomo
6. Dominic Vogl – Black Art
7. Daniel Sieber – Black Art
8. Juho Levänen – Associated
9. Alexander Andersson – Yokomo
10.Hupo Hönigl – Xray
It was a great day for Xray. In the stock 13.5T blinky finals, Hupo Hönigl showed a very strong pace, and was able to catch and overtake Markus Mobers in both A1 and A2 with breath taking manoeuvres to the joy of the big crowd
Hupo's car was definitely well sorted on the track, and seemed to have extremely good steering, particularly at the end of the run, compared to the competition. Even after having a bit of distance to Mobers, with a half way distance into the race, Hupo was able to narrow that gap back down and eventually overtake. It was great to watch! Congratulations to Hupo on being back to back European Stock Champion!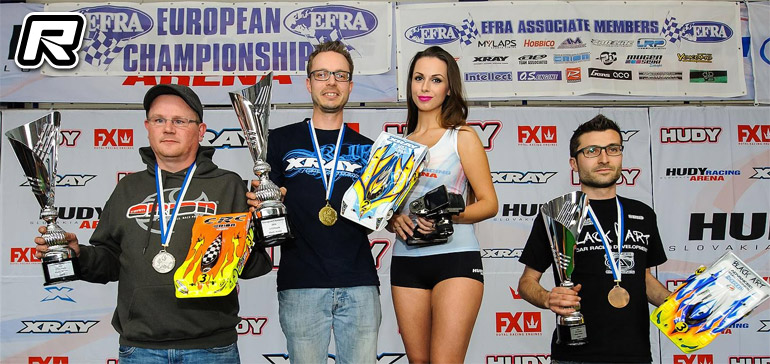 Stock results:
1. Hupo Hönigl – Xray
2. Markus Mobers – CRC
3. Alexander Laurent – Black Art
4. Ollie Jun. Payne – Zen Racing
5. Martin Wollanka – Xray
6. Vesa Yli – Destiny
7. Martin Wilfinger – Black Art
8. Torsten Müller – Black Art
9. Mark Jewitt – Xray
10.Andrej Vnucko – Xray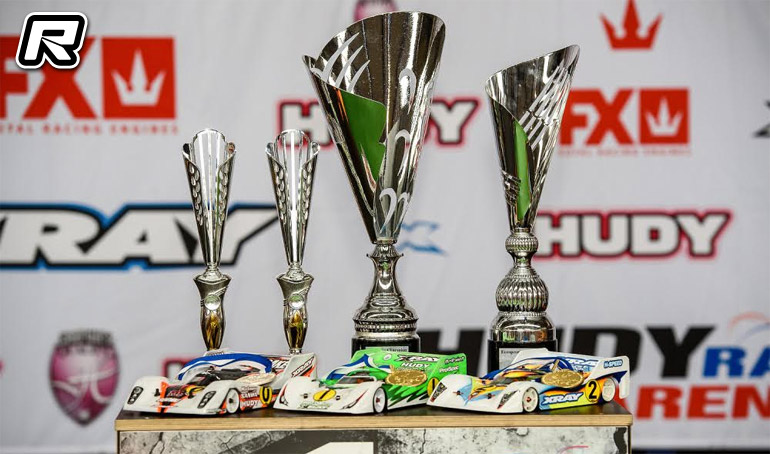 Xray also won the Junior European Championship title in the Modified category, congratulations to the youngster from Czech Republic Matej Benda.
This event was a big success in all aspects, as the crew of the Hudy Arena put on a flawless organization as always. Being at this event was really enjoyable and fun in every way. I cannot wait to participate in the next big event at this great place! Thank you to all drivers and especially all Xray drivers for coming! I hope to see you all soon.
Source: Xray [teamxray.com]
---