April 20, 2016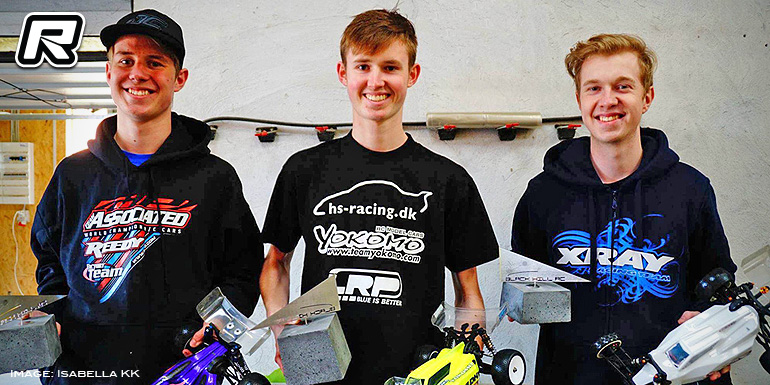 The opening round of the Danish Electric Off-road Nationals was held in rather wet track conditions. In the 2WD Buggy class it was Yokomo driver Frederik Hovgaard who came out fastest in the A-mains by winning A1 and A2 to grab the overall win early. Behind him Jesper Rasmussen (Team Associated) and Mike Gosvig (Xray) battled for the runner-up spot with the better end for Jesper while Mike rounded out the podium result.
2WD A-main result:
1. Frederik Hovgaard – Yokomo
2. Jesper Rasmussen – Team Associated
3. Mike Gosvig – Xray
4. Rasmus Callesen – Serpent
5. Christoffer Henriksen – Team Associated
6. Mads Callesen – Serpent
7. Niclas Christensen – Team C
8. Per Eriksen – Team C
In 4WD it was again Frederik Hovgaard who would lead the proceedings with Mike Gosvig coming in second after the qualifiers. The opening A-main then saw some very hard battles between Frederik and Mike with the latter saving an all-or-nothing move at the centre jump for the closing stages but it would not pay out and Frederik took the win from Mike in second and Jesper in third. A2 and disaster stroke for the TQ holder as he ran into mechanical issues early, allowing Mike to cruise to the win with a 22-lap run. Five seconds down Jesper ended the leg in second place. In the final and decisive A-main Jesper came out fastest in drying and less grippy conditions, leaving Frederik and Mike behind. With all three drivers being tie on points the tie-breaker would decide and thanks to his super-fast 22-lap run in A2 Mike would take the day's win from Jesper and Frederik.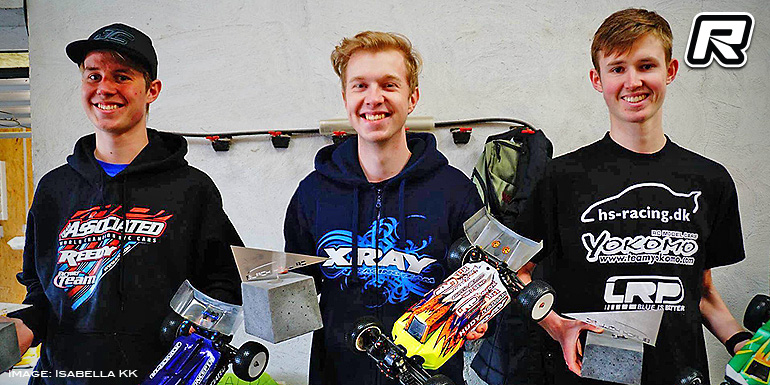 4WD A-main result:
1. Mike Gosvig – Xray
2. Jesper Rasmussen – Team Associated
3. Frederik Hovgaard – Yokomo
4. Oliver Nielsen – Yokomo
5. Jesper Gjellerod – Schumacher
6. Niels Ole Klinge – Xray
7. Hugo Hansen – Tamiya
8. Freddy Nielsen – Team C
Source: Xray [teamxray.com]
---