April 12, 2016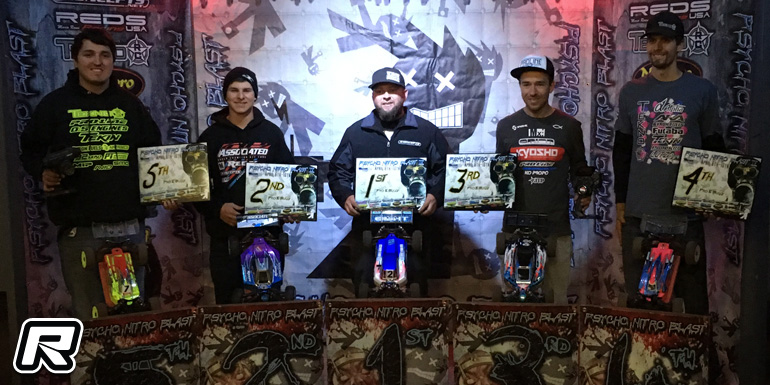 The 2016 Psycho Nitro Blast was held this past weekend at the Walters State Expo Center in White Pine, Tennessee. This would be the first time the PNB would be held at this new location and was very well received by all racers. Every year the PNB has grown in popularity because of the great race organization along with the always impressive tracks designed with big air. This year would be the most stacked PNB to date, along with the biggest turnout that reached an incredible 830 total race entries. In the 1/8 Pro Electric Buggy class, it was Team Associated's Ryan Cavalieri who dominated qualifying to secure the overall TQ.
The 10-Minute A-Main Event would be ran Sunday afternoon with a full 18-car field. As the tone sounded, Cavalieri took the hole-shot and began to lead the field around for lap 1 but before the first lap was complete, Cavalieri would be involved in a big pile-up and go from the front of the field to the back. Kyosho's Jared Tebo would then take the lead for the next 7-Minutes. A small mistake by Tebo in the back section of the track would allow Team Associated's Spencer Rivkin by for the lead. Rivkin would lead the next 2-Minutes until TLR's hard charging Ryan Maifield closed up the gap and began to the apply pressure. Maifield would then pass Rivkin that next lap for the lead and hang on to take the exciting Psycho Nitro Blast 1/8 Pro Electric Buggy win. Rivkin would hold onto 2nd and Tebo would make a great comeback to finish 3rd overall and on the podium.
1/8 Pro Electric Buggy top 5 overall:
1. Ryan Maifield – TLR/Team Orion/Team Orion/Team Orion
2. Spencer Rivkin – Team Associated/Reedy/Reedy/Reedy
3. Jared Tebo – Kyosho/Team Orion/Team Orion/Team Orion
4. Ryan Lutz – Tekno/Tekin/Tekin/Pro-Tek
5. Joe Bornhorst – Tekno/Tekin/Tekin/SMC
In the 1/8 Pro Nitro Truggy class, throughout qualifying it was clear Ryan Cavalieri (Team Associated) was the class of the field as he took the overall TQ honours. As the dust settled after the wild 30-Minute A-main event, it was Driver Ryan Cavalieri that went onto take the impressive win just ahead of TLR's Ryan Maifield by 5 seconds. Kyosho Factory Driver Jared Tebo started 4th on the grid and put in a great drive to finish on the podium in 3rd, only 3 seconds behind Maifield for 2nd and 8 seconds from the win.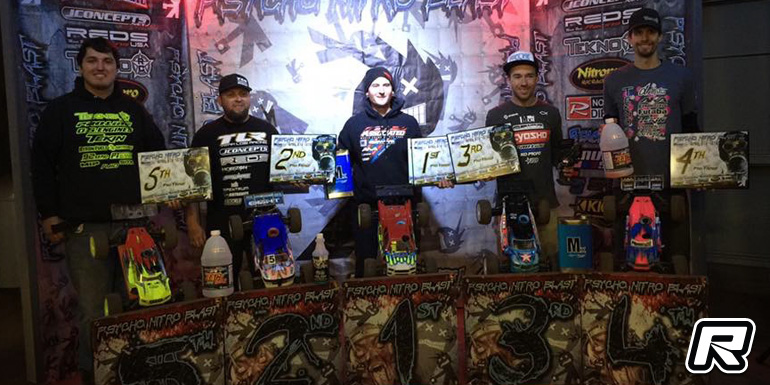 1/8 Pro Nitro Truggy top 5 overall:
1. Ryan Cavalieri – Team Associated/Mx/Mx
2. Ryan Maifield – TLR/Reds/Sidewinder
3. Jared Tebo – Kyosho/Mx/Mx
4. Ryan Lutz – Tekno/Alpha/Byrons
5. Joe Bornhorst – Tekno/OS/Byrons
Source: Team Orion [teamorion.com] & Mx Racing Fuels
---