May 24, 2016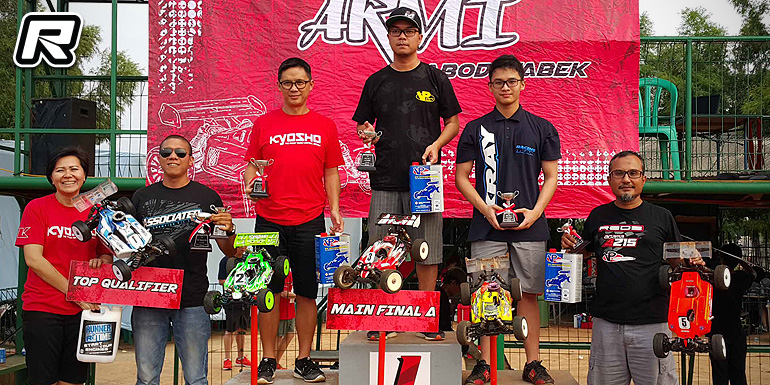 The third round of the Jakarta regional Buggy Championship was held at the Graha Raya track, in Serpong, West Java with about 50 drivers attending the event. The race format was changed a bit this weekend as overnight rain made the track wet and muddy and so the triple qualifiers were cut short from ten minutes to seven minutes per run. After the qualifiers and with the two best to count it was Rama Tribudiman (Team Associated/O.S.) who took the TQ honours, but in the 45-minute A-main Adrian Wicaksono (Mugen/Reds Racing) stroke back to take the win from John Agus (Kyosho/O.S.) and Jason Nugroho (Xray/Novarossi) in second and third respectively. TQ holder Rama had to settle for fourth overall.
Final results:
1. Adrian Wicaksono – Mugen/Reds Racing
2. John Agus – Kyosho/O.S.
3. Jason Nugroho – Xray/Novarossi
4. Rama Tribudiman – Team Associated/O.S.
5. Faisal Ali – Agama/Reds Racing
6. Indra Liono – Xray/SPower
7. Adrian Sutanto – TLR/O.S.
8. Darmadi K – TLR/O.S.
9. Hilman Hendra – Kyosho/O.S.
10.Kenji Liono – SWorkz/SPower
11.Yan – Mugen/Picco
12.Dimaz – Kyosho/O.S.
13.Arya – TLR/FX
14.Futaki – TLR/Picco
15.Vindra Mboi – Mugen/Reds Racing
Thanks to Michael Nugroho for the report.
---