May 18, 2016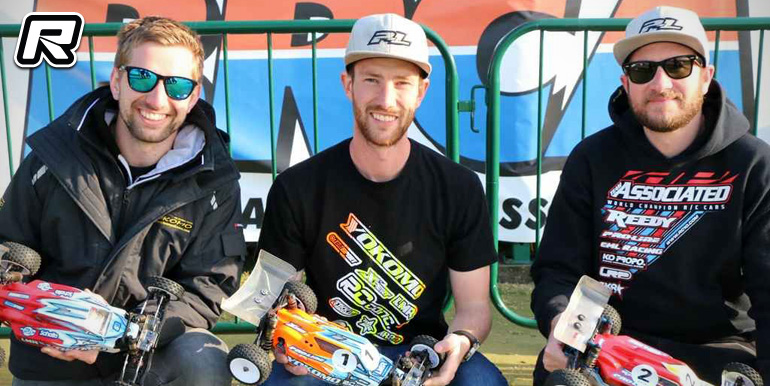 Round two of the BRCA 1/10th Electric Off-road Nationals was held at the famous Robin Hood Raceway. As usual the 2WD portion of the event was held on Saturday and in round 1 of qualifying Neil Cragg would take the round by near 6 seconds. Craig Collinson came in 2nd and Kev Lee in 3rd. In round 2 Lee Martin would snatch the top spot from his team mate Tom Cockerill and with Craig in at the 3rd spot. Craig Collinson with a 3rd had already cemented his A-final. The 3rd round was again exhibition stuff from Neil Cragg to go some 5 seconds quicker on time and take round 3 with Lee in 2nd, Craig another 3rd with Tom Cockrill in 4th. The last round would decide the pole position on the grid, a shoot out between the superstars but a certain Tom Yardy popped up to the party to set a blistering time. It was the fastest at the time. Lee had it all to do and was on fire from the off. Lap by lap he was on and off beating Tom's time and at the end he took another second off Tom's time to take the fastest time of the day and also secure pole for the final. 2nd in round went to Tom Yardy with Neil in 3rd.

Leg 1 of the A-main and from the pole position Lee drove a faultless 1st leg and took the win. Neil was on his heels but never really threatened to overtake. In leg 2 everyone knew if Lee wins it it's all over. It has to be said that Lee drove not only the perfect race but looked real fast through the whole final. 4 seconds clear of Neil, Lee took the win and the meeting. Neil home for 2nd and the bragging rights to this point of the fastest single lap. Tom Yardy in 3rd of the 2nd leg of the finals. As Lee already won the event and so many different names could be on the podium with him, leg 3 would be an exciting one. Lee started well but got on the sandy part of the track and that allowed Neil to take the lead and go on to win the leg. Tom Cockerill also got through and he took 2nd in the leg that gave him the 3rd podium position.
2WD A-main results:
1. Lee Martin – Yokomo
2. Neil Cragg – Team Associated
3. Tom Cockerill – Yokomo
4. Tom Yardy – Schumacher
5. Craig Collinson – Team C
6. Ellis Stafford – TLR
7. Richard Taylor – Schumacher
8. Danny McGee – Schumacher
9. Kevin Lee – PR Racing
10.Ben Jemison – Schumacher
On the 4WD Sunday Neil Cragg opened up his account with a big fat zero in round one. Danny McGee was extremely fast and for sure hot on Neil's heels. Only just 0.32 off his time to take 2nd in the round. Tom Yardy was quick too to take 3rd, Craig Collinson took 4th and Lee Martin down in 5th. Round 2 and Neil would go some 5 seconds faster on the faster time of the day to take another fat zero into his account. Lee Martin had a better run and came in 2nd in the round with Craig Collinson getting settled and taking the 3rd spot. 4th was Danny McGee and with that he secured his A final spot. 5th was Tom Cockerill. Round 3 brought a new name at the top of the timing sheets. Danny McGee had a great run to take the round with a new fastest time of the day. Craig Collinson was getting faster and faster and in this round he went 2nd. 3rd was Tom Tardy that looked fast and very smooth. 4th was Ellis Stafford, 5th was Tom Cockerill with no Lee Martin or Neil Cragg in the top 5. Round 4 was under way and it was 1 of 2 drivers that could take the pole position. Neil already had 2 zeros and Danny had 1. Danny with a faster time than Neil so if he could take the round with anytime, he would TQ the meeting but Danny could only manage 6th in the round and relied on his zero and 2nd in round that actually cave him 2nd on the grid. It was Craig Collinson that took the zero in round and with that he would line up 3rd on the grid. 2nd in round was Lee to drag his car to the 4th spot on the grid and 3rd in round was Tom Cockerill to line up 6th in the main.
For the A-main leg 1 there was some tension in the air and many were expecting a charge from the 4 car through the field. Neil drove superbly from pole to convert to a leg 1 victory. Tom Yardy had an excellent final from 5th to the 2nd position with Craig Collinson in 3rd, Tom Cockerill in 4th and Lee Martin 5th. Fastest single lap was a 23.61 and goes to Tom Cockerill.
In leg 2 Neil only needed to win one more and the meeting is his. If only things were that simple in RC racing as an early error by Danny McGee and by Neil dropped the 1 and 2 car down the order. It was an amazing race between the 3 car of Craig Collinson, the 4 car of Lee Martin and the 5 and 6 cars of Tom Yardy and Tom Cockerill. Hot their heels was Neil in the 1 car but after some proper driving and some lovely overtaking manoeuvres by Craig it was his car that would take leg 2. 0.14 behind was Lee Martin and a further 1.06 back was Tom Yardy. All to play for and already the place was buzzing looking forward to the last and deciding leg on this great A final main.
Leg 3 went off and some early drop outs left Craig Collinson out front and leading the last leg. With already a leg 2 win under his belt it was soon noted that Craig had never won a National event. In fact it was noted that if Craig did not win this final he would top a list going back to 1998 of the most A finals without a National win that is held by Matt Needham. Everyone was looking at the clock counting down and he had a healthy lead with 2 minutes remaining. Fast laps coming in from the chasing pack but Craig was pumping them in too but Craig held his nerve and drove his Team C car home for his 1st ever National win. Not only does he avoid the record of Mr. Needham but he also joins an elite number of people to have actually won a UK National and his is entry number 36. 2nd was Danny McGee, 3rd was Neil Cragg. And with a 23.49 single fast lap, the bragging rights go to Richard Lowe.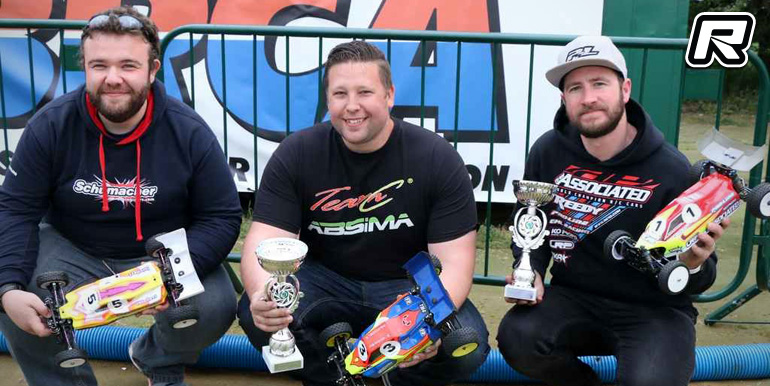 4WD A-main results:
1. Craig Collinson – Team C
2. Neil Cragg – Team Associated
3. Tom Yardy – Schumacher
4. Lee Martin – Yokomo
5. Tom Cockerill – Yokomo
6. Danny McGee – Schumacher
7. Jack Neal – Schumacher
8. Ellis Stafford – TLR
9. Richard Lowe – Team C
10.Paul Robinson – Team Durango
Source: BRCA [brca10thoffroad.co.uk]
---