May 26, 2016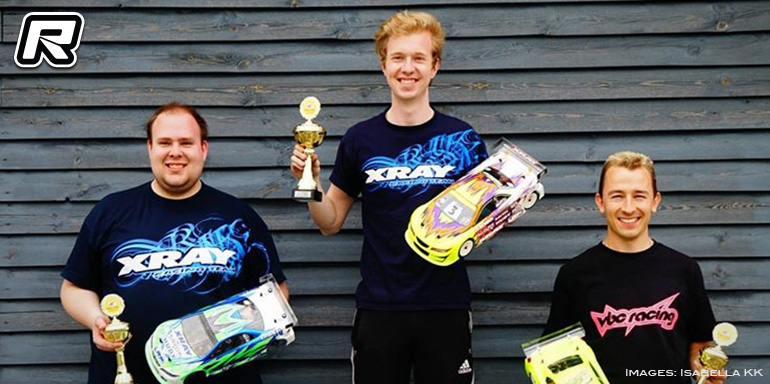 The opening round of the Danish Electric On–road Nationals was held in the town of Vejle. The track offers a challenging layout with loads of curves, chicanes and long straights and unfortunately rainy weather on Saturday disturbed the practice sessions, limiting track time for the drivers. In the Touring Super Stock class Mike Gosvig (Xray) would take the TQ after sweeping the qualifiers while Soren Holst (VBC) and Steven M. Olsen (Xray) lined up in second and third respectively for the finals.

The opening A–main was then dominated by Mike who took an 8 seconds win over teammate Steven who could pass Soren after he flipped his car. A2 and Mike ran into trouble with his car feeling to have no traction, causing him to spin in the big sweeper and after he rolled his car two times on the big curbs Steven was able take the lead after passing Soren. Ultimately Steven would take the win some two tenth of a second in front of Soren. In the final A–main Mike's car was up and running again, allowing him to take the win from Soren and Steven. Overall the day's win went to Mike from Steven and Soren.
Touring Super Stock final results:
1. Mike Gosvig – Xray
2. Steven M. Olsen – Xray
3. Soren Holst – VBC
4. Stefan Finnich – Schumacher
5. Patrick Danielsen – Xray
6. Kim Lindegaard – Schumacher
7. Peter wolf Svensson – Serpent
8. Soren Slot – VBC
In the Modified class the race for the TQ was on between three drivers with the better end for Mike Gosvig thanks to a second place. Local driver Frederik Hovgaard (Yokomo) came in second from Johnni Andersen (Schumacher). The opening A-main saw a battle for the win between Gosvig and Lindegaard who was promoted into second place following a mistake of Frederik on lap 4. But Mike got his things together and managed the gap to take the win. Johnni Andersen came in third for now. A2 and Mike, Frederik and Lindegaard quickly opened a gap on the field but on lap 8 Nicolai made a mistake on the straight, tried to get back and Callesen hit him at full speed because there was no warning. Up front Mike and Frederik kept fighting but a mistake of Mike allowed Frederik to get by and to take the win. Mike then kept his cool to save tyres. Johnni again came in third. For A3 Mike made some setup changes to stop the car from slowing too much in the corners. At the start he and Frederik quickly pulled away while Nicolai climbed up to third only to crash at the end of the straight on lap 3, so he was out of the challenge for the podium. Later Frederik and Mike were in a close battle for the win with both swapping positions but a last lap block of Mike allowed him to take the win by half a second.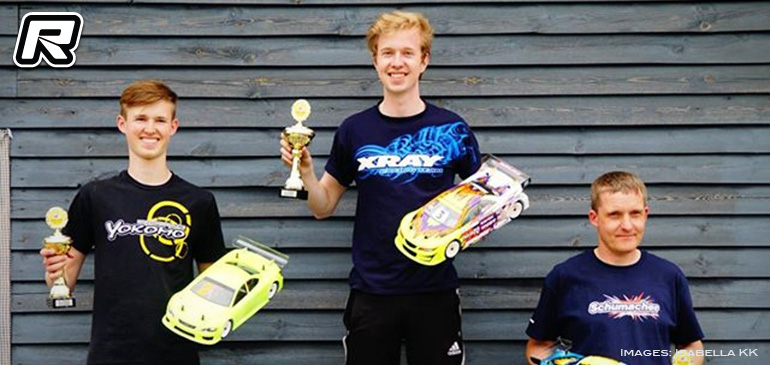 Touring Modified final results:
1. Mike Gosvig – Xray
2. Frederik Hovgaard – Yokomo
3. Johnni Andersen – Schumacher
4. Nicolai Lindegaard – Schumacher
5. Mike Hansen – Team Durango
6. Morten Iversen – Schumacher
7. Rasmus Callesen – Serpent
8. Patrick Danielsen – Xray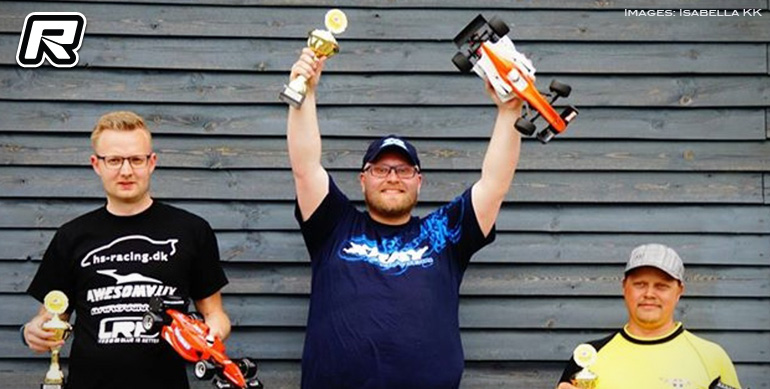 In the Formula class Christian Lehm (Xray) was the man to beat again as he dominated the qualifiers and also the A-mains to take the overall win from Michael Hovgaard (Yokomo) and Torben Palsberg (Xray).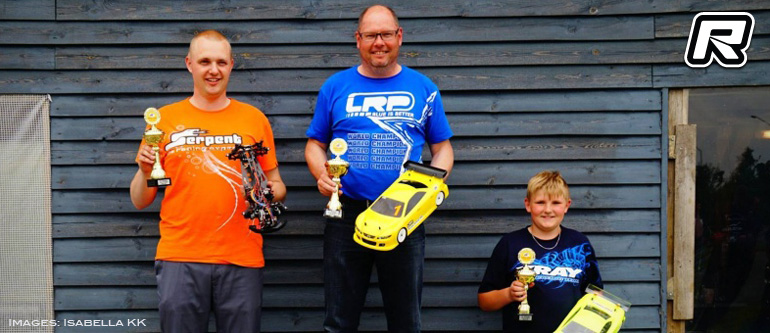 In the Stock Class Tommy Udesen (Xray) made a clean sweep with Nicolai Nilesen (Serpent) in second and young rising star Calle Jaque in third (Xray).
Source: Xray [teamxray.com]
---