May 31, 2016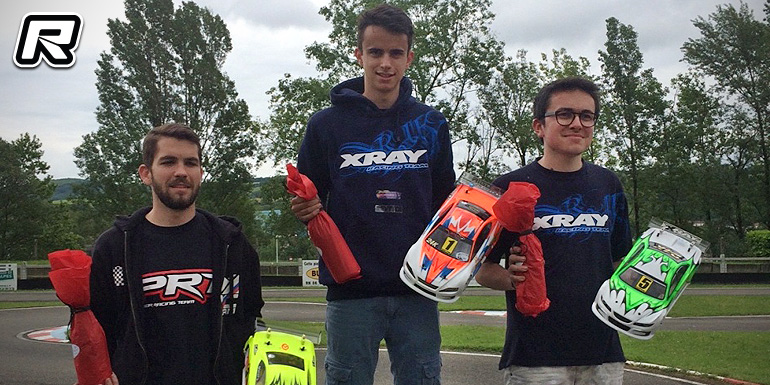 The recent third round of the French Electric On-road Nationals was held at the Ampuis track with 77 entries for the four classes of Touring Modified, Touring 10.5T, Touring 13.5T and Formula 21.5T. Saturday started out with hot and dry weather and in Touring 10.5T is was Pierre Delorme who set the pace with Alexandre Duchet hot on his heels. As predicted the weather turned to the worst on Sunday and so the remaining qualifiers were held in wet conditions. The opening two A-mains of the 10.5T class then saw Pierre taking pretty easy wins in front of brother Jean, who started from the 7 spot and had pretty good runs. In the final A-main, on a drying track, things became complicated in terms of tyre choice with Jean making the right decision to run Volante tyres and he was able to bring home the win with a tight gap on Alexandre. Overall Pierre came out successful in the main from Jean and Alexandre in second and third respectively.
Stock 10.5 Blinky final results:
1. Pierre Delorme – Xray/Trinity
2. Jean Delorme – Xray/Trinity
3. Alexandre Duchet – Xray/PRT
4. Julien Jost – Yokomo/PRT
5. Steve Favrelle – Xray/PRT
6. Aurelien Rivard – Team Magic/PRT
7. Laurent Desperies – Team Magic/Trinity
8. Mickael Jasmin – Yokomo/Trinity
9. Richard Volta – Xray/Prt
10.Nardeux Sebastien – Team Magic/Trinity
In the Formula class Willy Voisangrin came out fastest in the finals from Jeremy Limoges and Ghislain Mantrand.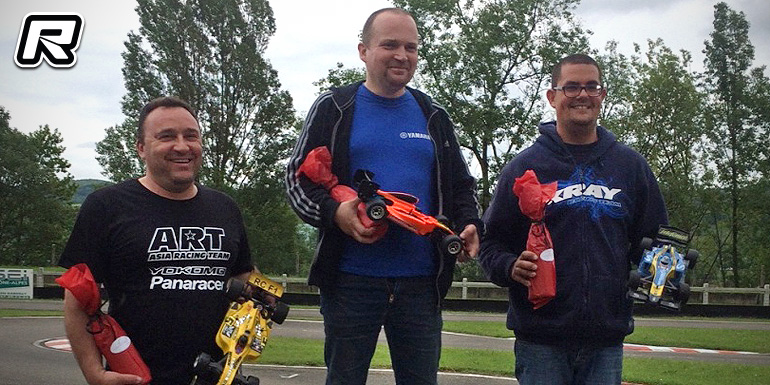 Formula 21.5 final results:
1. Willy Voisangrin – Xray/Trinity
2. Jeremy Limoges – Xray/Trinity
3. Ghislain Mantrand – Yokomo/Trinity
4. Herve Becet – Xray/Trinity
5. Philippe Pauvert – Xray/LRP
6. Frederic Favier – Xray/Trinity
7. Nicolas Borgeot – Xray/Trinity
8. Jean Michel Varinard – Xray/Trinity
9. Devautour Frederic – Xray/–
10.Yohann Bukowski – MD Racing/PRT
Source: Xray [teamxray.com]
---