May 20, 2016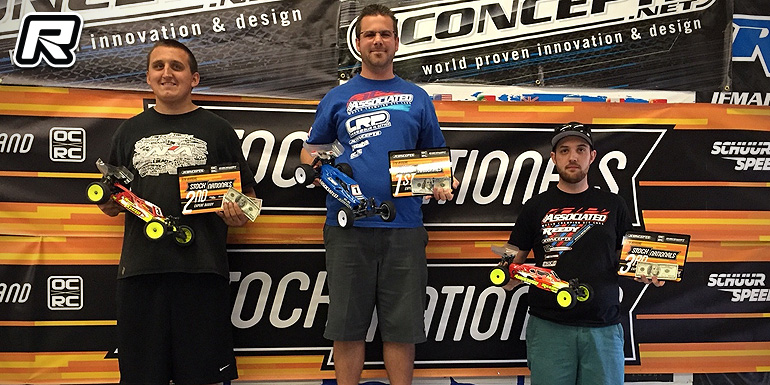 The 5th annual JConcepts Stock Nationals were once again hosted by the world famous OCRC Raceway. This unique race brings Stock and Modified racers from all over the country to compete against one another in the hottest segment of RC racing, Stock 17.5. This race offers a spot for everyone with 11 different classes covering all skill levels and vehicles, each one requiring a 17.5 stock motor (blinky mode). This year's pre entries were limited to 200, which sold out in 5 hours, and then classes were filled in from there for a total of 250+ entries. With 3 rounds of qualifying on Saturday, one final round and mains on Sunday, there was plenty of track time for everyone. After four rounds of IFMAR qualifying, the top eight drivers made the A-Main in each category to be joined by two bump-ups from the lower finals. The A-Mains ran for ten minutes, with 7-minute B-Mains and 6-minute lower mains.

The 2WD Expert Buggy class would be the main attraction and would close out the weekend. Qualifying would see a great battle between Frank Root and Steven Hartson. Root opened up qualifying with a round 1 TQ with his "laydown" TLR 22 3.0, but it was Hartson that would go on to TQ rounds 2, 3, and 4 for the overall TQ with his brand new and laydown gearboxed Team Associated RC10B6D. The main event would get interesting as Hartson and Root would both crash on the opening lap over the big triple. This opened the door for local racer/privateer Casey Becica to move into the lead followed by Kody Numendahl. Hartson worked his way pass Numendahl by lap 9 and set his sights on Casey, who was running a flawless race out front. Hartson put his head down and went to work, putting together the fast laps of the weekend, Hartson tracked down Casey and made a spectacular last lap pass for the win. Casey would hold onto 2nd and Team Associated driver Numendahl would finish 3rd.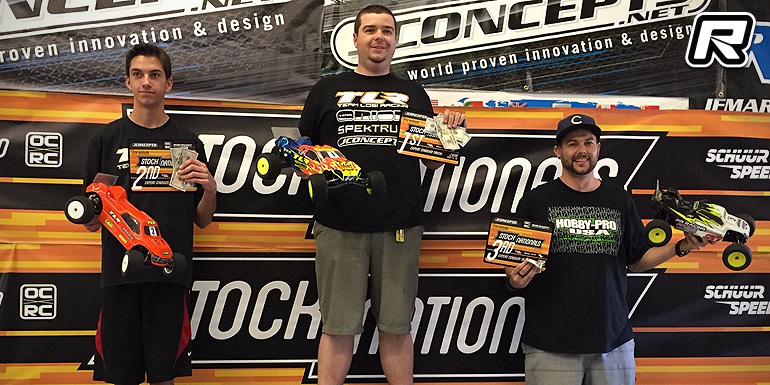 TLR teammates Frank Root and Blake Bayett would go on to dominate the Modified Truck qualifying to start P1 and P2 in the 10 minute A-final. In the main, TQ man Frank would lead wire-to-wire for the overall win with Blake going unchallenged for the 2nd spot overall.
Source: JConcepts [jconcepts.net]
---