May 20, 2016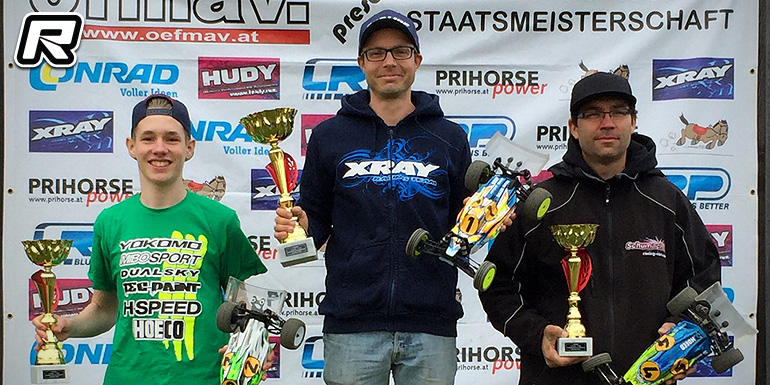 Round two of the Austrian Electric Off-road Nationals was held at the GMAC Litschau track in the very North of the country. The weather forecast wasn't very promising with rain and low temperatures predicted but at the end the race would be completed without any delays although wind and cold temperatures made things pretty unpleasant. In the 2WD Buggy class Xray's Hupo Hönigl made a clean sweep by taking the TQ and win from Marcel Rekettye (Yokomo) and Schumacher's Peter Pinisch.
2WD A-final results:
1. Hupo Hönigl – Xray/Tekin/Dualsky
2. Marcel Rekettye – Yokomo/Dualsky/H-Speed
3. Peter Pinisch – Schumacher/Reedy/Reedy
4. Rene Trauner – Yokomo/Vampire/Vampire
5. Roland Hauleitner – Team Associated/Hobbywing/Reedy
6. Andreas Janda – Xray/Dualsky
7. Thomas Rössler – Team Associated/Reedy/Reedy
8. Mathias Presolly – Yokomo/Reedy/Reedy
9. Philipp Stocker – Kyosho/Hobbywing
In the 4WD class things were a bit more exciting with a bunch of drivers battling for the overall TQ. Xray's Roland Macho would win the opening qualifier with Q2 being snatched by Peter Pinisch. Q3 and Q4 then went to Hupo Hönigl who was able to secure the overall TQ in the progress. The triple A-mains then again saw a fight for the top spots with Marcel Rekettye setting the pace, but he just made too many little mistakes and finished 2nd overall. Hupo in return would win A1 and A3 to secure the overall win while Peter Pinisch finished 3rd overall with his win in A2.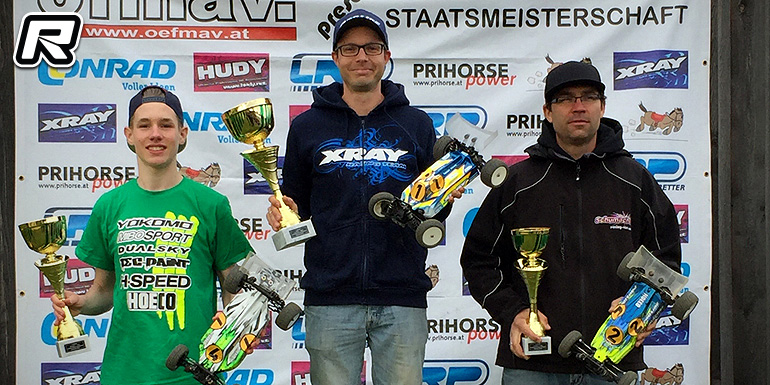 4WD A-final results:
1. Hupo Hönigl – Xary/Tekin/Dualsky
2. Marcel Rekettye – Yokomo/Dualsky/H-Speed
3. Peter Pinisch – Schumacher/Reedy/Reedy
4. Roland Macho – Xray/Hobbywing/Yuntong
5. Roland Hauleitner – Team Associated/Hobbywing/Reedy
6. Rene Trauner – Yokomo/Vampire/Vampire
7. Marcus Prihoda – Xray/Dualsky/H-Speed
8. Thomas Diesselbacher – Xray/Hobbywing
9. Thomas Pumpler – Yokomo/Muchmore/Muchmore
10.Martin Lindner – Yokomo/Dualsky/H-Speed
Source: Xray [teamxray.com]
---