May 17, 2016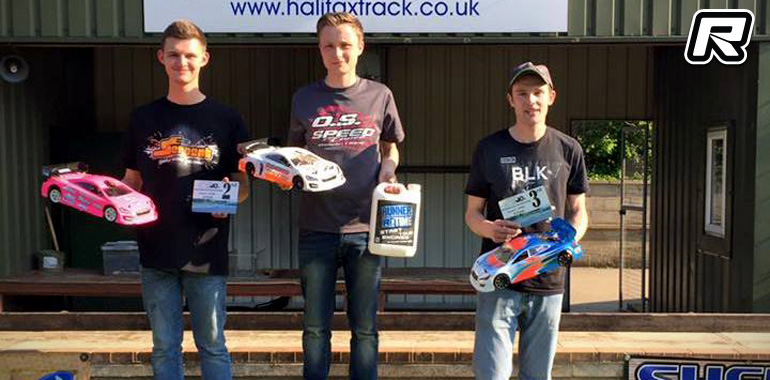 Round three of the British 200mm Nationals was held at the fast Halifax track. The weather was very good with temperatures around 25 Degrees Celsius and Saturday's practice saw Joe Kerry setting the pace getting down to 16.0 laptimes, with his best only 0.06 from the lap record. Alex Thurston was second quickest around 0.4 seconds back, just ahead of Matthew Cook who was third fastest. Overnight rain washed away some of the grip so it took a little while to build it up again on Sunday. By the end of qualifying it was Kerry who took the TQ with a time of 19/311.78.
Qualifying results:
1. Joe Kerry – Capricorn/O.S. Speed– 19/311.78
2. Alex Thurston – Serpent/Max – 19/316.41
3. Matthew Cook – Shepherd/Orcan – 18/305.83
4. James Conolly – Mugen/Picco MAG Tuned – 18/308.13
5. Peter Hastings – Shepherd/Orcan – 18/309.13
6. Neil Wallace – Capricorn/Tesla – 18/311.09
7. John Zottl – Serpent/O.S. Speed– 18/312.89
8. Jon Withington – Mugen/O.S. MH Tuned – 17/301.58
9. Daniel Jones – Serpent/Ielasi Tuned – 17/305.56
10.Ollie Williams – Shepherd/Orcan – 17/306.75
At the start of the main final Kerry quickly pulled away at the front while Thurston and Cook battled for second. Kerry had rapidly built up a big lead so started cruising round saving fuel and tyres. And at the end of the 30 minute final he took the win 2 laps ahead of second place Thurston who just started to pull away from Cook near the end. The results mean that Kerry now leads the 2016 British Championship with round 4 to take place on the 28th/29th May.
Final results:
1. Joe Kerry – Capricorn/O.S. Speed – 106/1812.01
2. Alex Thurston – Serpent/Max – 104/1807.17
3. Matthew Cook – Shepherd/Orcan – 103/1813.40
4. John Zottl – Serpent/O.S. Speed – 101/1802.46
5. Neil Wallace – Capricorn/Tesla – 98/1801.73
6. Peter Hastings – Shepherd/Orcan – 98/1809.02
7. Daniel Jones – Serpent/Ielasi Tuned – 95/1810.44
8. Ollie Williams – Shepherd/Orcan – 94/1805.44
9. Jon Withington – Mugen/O.S. MH Tuned – 90/1816.57
10. James Conolly – Mugen/Picco MAG Tuned – 51/931.45
Source: Capricorn [Capricornrc.com]
---