May 24, 2016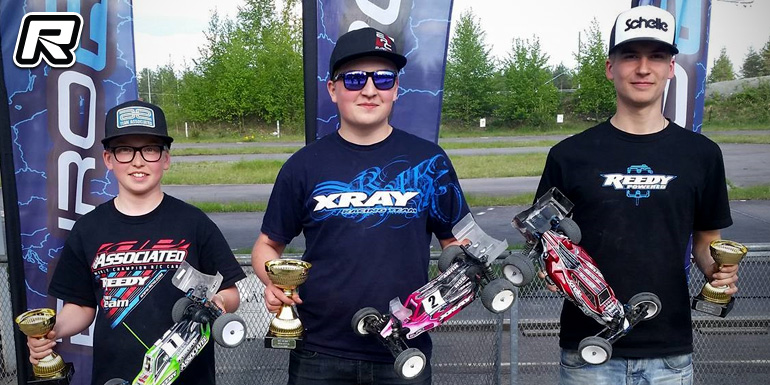 The opening round of the Finnish 1/10th Electric Off-road Nationals was held in Hyvinkää in pretty warm and sunny weather conditions. In the 2WD class Joel Valander would grab the TQ with two round wins from Joona Haatanen in second and Karri Salmela in third. The finals then were a 3-horse race for the win with Joel coming out successful after winning A1 and A3. Joona Haatanen in second and Karri Salmela in third would round out the top 3 result.
2WD A-main result:
1. Joel Valander – Xray
2. Joona Haatanen – Team Associated
3. Karri Salmela – Team Associated
4. Tomi Mairue – Team Associated
5. Lari Jäppinen – Xray
6. Sami Salmela – Team Associated
7. Mikko Luopajärvi – Team Associated
8. Oskari Mäki – Team Associated
9. Tuomo Otsavaara – Xray
10.Jani Hovi – Yokomo
On Sunday the 4WD class was held. Qualifying was again super close between the top three guys. Joel took Q1, Joona Q2, Karri Q3 and Joona Q4 so Joona was starting from the pole position into the finals followed by Karri and Joel. A1 then saw Joel taking the win with a comfortable gap to second. In the second A-main Joona came out successful from Joel and in the last and decisive leg Joona and Karri had early mistakes while Joel took the lead. Karri was pushing hard behind Joel but couldn't find way to pass so Joel Valander also won 4WD race following the 2WD win on Saturday.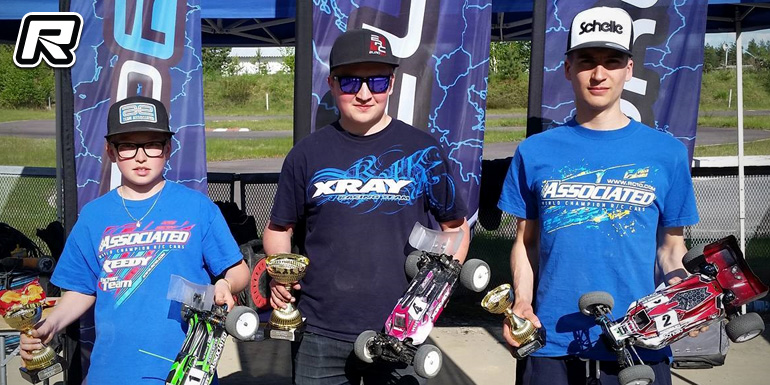 4WD A-main result:
1. Joel Valander – Xray
2. Joona Haatanen – Team Associated
3. Karri Salmela – Team Associated
4. Henry Salmen – Xray
5. Tomi Mairue – Xray
6. Juha Aromaa – TLR
7. Valtteri Eklund – Xray
8. Jari Itävuori – Team Durango
9. Toni Niinivirta – Xray
10.Jani Hovi – Team C
Source: Xray [teamxray.com]
---