May 11, 2016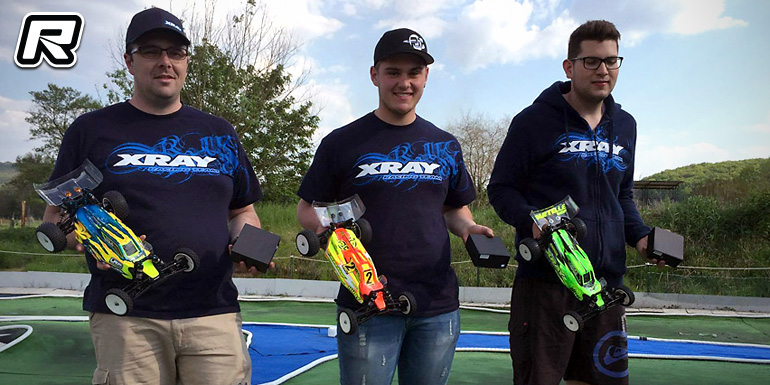 This past weekend the third round of the French Electric Off-road Nationals was held at the Mutzig astro turf track. The weather was nice and sunny with high temperatures making for a lot of traction. In the 2WD class Lorenzo Crolla and Nico Risser battled for the TQ with the better end for Nico while in 4WD, after a troubled start, Lorenzo would take the TQ from Armand Lanthaume.

In the 2WD A-mains, Lorenzo than would be able to get by Nico to take the overall win from Nico Risser in second and Mathieu Briere for an all-Xray podium lockout.
2WD A-main result:
1. Lorenzo Crolla
2. Nico Risser
3. Mathieu Briere
4. Armand Lanthaume
5. Sylvain Gallo Selva
6. Jean-Pierrick Sartel
7. Julien Formentin
8. Olivier De Montfumat
9. Mathieux Chaffardon Bobby
10.Julien Parnot
11.Nicolas Rodriguez
12.Kevin Seysen
The 4WD A-mains went similar for Lorenzo who was able to conserve his qualifying performance to take the second win of the weekend, this time in front of Armand Lanthaume and Nico Risser (all Xray) in second and third respectively.
4WD A-main result:
1. Lorenzo Crolla
2. Armand Lanthaume
3. Nico Risser
4. Alexandre Beauquier
5. Mathieu Briere
6. Jean-Pierrick Sartel
7. Julien Formentin
8. Sylvain Gallo Selva
9. Julian Ferrandis
10.Clement Boda
11.Mickael Villa
12.Cedric Didier
Source: Xray [teamxray.com]
---