May 26, 2016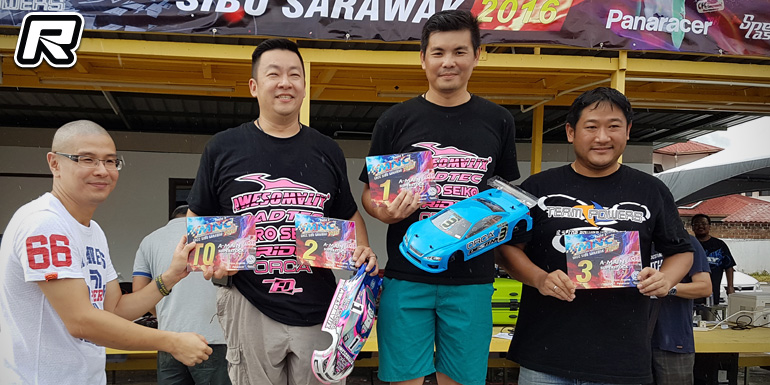 The recent third round of the Malaysia National Championship was held in the town of Sibu in East Malaysia. The race format saw six round of qualifying followed by triple mains. In the Touring 13.5T Boosted class the battle for the top spot was on between Michael Lo (Awesomatix), Chong YeeYong (Awesomatix), Albert Tang (ARC), Max Teo (Destiny) and James Ki (Awesomatix). Michael would take the TQ in the opening qualifier from Chong YeeYong, Albert Tang, Max Teo and James Ki.

In Q2 the order would stay pretty much the same as Michael Lo again took the TQ position with Chong YeeYong following close behind while Max Teo could only secure 4th overall. Q3 was a very exciting round as Chong YeeYong could not make the top 10 as he was out of the race after only 5 laps due to technical issues. Max Teo took his place and finished second behind Michael Lo although Michael made a mistake and flipped his car on lap 4 as did Chong, but he managed to recover to take anther round TQ. James Ki came in third from Albert in fourth. The penultimate round again went to Michael Lo, making it four out of four from Chong YeeYong in second and Max Teo completing the top 3. Tang KaiSheng was the surprise of Q4, finishing fourth ahead of Albert and James respectively. Due to rain, the fifth round of qualifying was postponed and later the race organiser decided to cut short the six rounds to five, counting three of the five rounds for the overall standings. This secured Michael Lo the overnight and also overall TQ. In Sunday's final qualifying round it were the usual suspects that managed to secure the top 5 positions with Chong YeeYong, Max Teo, Albert Tang and James Ki all finishing behind Michael.
13.5T Boosted qualifying results:
1. Michael Lo – Awesomatix
2. Chong YeeYong – Awesomatix
3. Max Teo – Destiny
4. Albert Tang – ARC
5. James Ki – Awesomatix
6. Suah – Xray
7. Yau KaSeng – CSO
8. Tang KaiSheng – n/a
9. Robert Ho – n/a
10.Halim Hafni – Tamiya
The opening A-main was run on a slightly wet track following brief rain showers. On the tone, Michael Lo lead the field and started to open a gap but already on the opening lap he made a rare mistake, flipping his car and dropping down the order to be dead last. This allowed James Ki, coming from the 5 spot on the grid, to take the lead but it was short lived as he collided with Yau KaSeng after only a lap as Yau flipped his car onto the main straight with James going full speed causing both cars to be taken out of the race. Max Teo now lead the pack with Chong YeeYong, Albert Tang and Suah following close behind while Michael Lo made a comeback after the flip to be in seventh position. Chong, making an uncharacteristic mistake in lap 8 that allowed Albert to take the second place, recovered to sixth after his mistake while Suah was promoted into third. With Michael charging hard, he was able to put the power down and to pass each racer one by one to finally pass Albert. Now in second he pushed harder than ever to try to close the +3 second gap to Max Teo. At the end Michael ran out of time, allowing Max Teo to take the win with Michael Lo less than a second behind and Albert Tang completing the top 3. Shortly after the race the heaven opened its gates again and so the race director had to call it a day, counting the results of A1 which handed Max Teo the overall win in the 13.5T Boosted class.
13.5T Boosted final results:
1st Max Teo – Destiny
2nd Michael Lo – Awesomatix
3rd Albert Tang – ARC
4th Tang KaiSheng – n/a
5th Suah – Xray
6th Chong YeeYong – Awesomatix
7th Robert Ho – n/a
8th Halim Hafni – Tamiya
9th James Ki – Awesomatix
10th Yau KaSeng – CSO
Thanks to Michael Suriawinata for the report.
---