May 25, 2016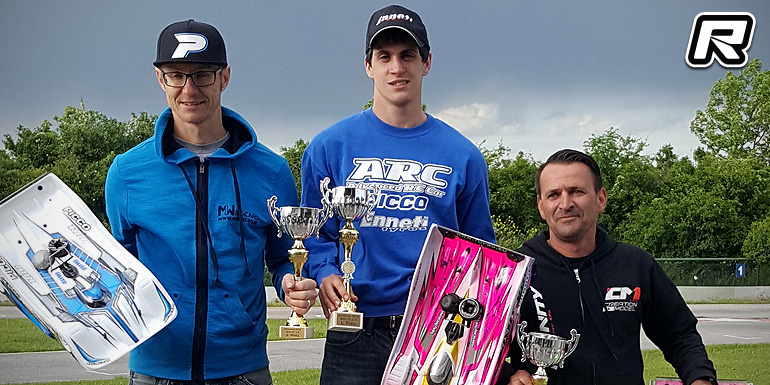 The fast Sollenau track played host to the opening round of the Austrian Nitro On-road Championship with windy weather making for low-grip track conditions. 2016 sees a change in the race format with the introduction of a points system, like used at the ENS, with the TQ driver proceeding directly into the A-main while the second to fifth place drivers compete in the Superpole race to battle out the 2 spot on the grid. The qualifiers were dominated by Herfried Pucher who won three of the four qualifiers from Nejc Mihelic and Maximilian Hofer. The first to start the Superpole was Kurt Hubeny who had engine problems, followed by Alain Levy who had a very successful run. Maximillian Hofer did not manage to beat Alain's lap time and Mihelic lost front belt before the start, meaning Alain joined Herfried in the final.

In the semifinal B Mihelic started from pole and he had no intentions to leave the first spot, but hitting a stone damaged his car's rear suspension, but a quick repair allowed him to recover and to grab the fourth spot – a position that would be good enough to proceed to the A-main. At the start of the 45 minute A-main final Herfried took the lead followed by Mihelic who was already in second place after the first couple of minutes. Herfried was able to manage the gap on Nejc but the latter was on a different fuel strategy with one pit stop less but it was unexpected tyre wear on Herfried's car that made things interesting again towards the end. Ultimately Nejc Mihelic (ARC) was able to pass Herfried Pucher (ARC) for the win while Rene Pflanzl (Infinity) rounding out the podium in third.
Thanks to Nejc Mihelic for the report.
---