May 25, 2016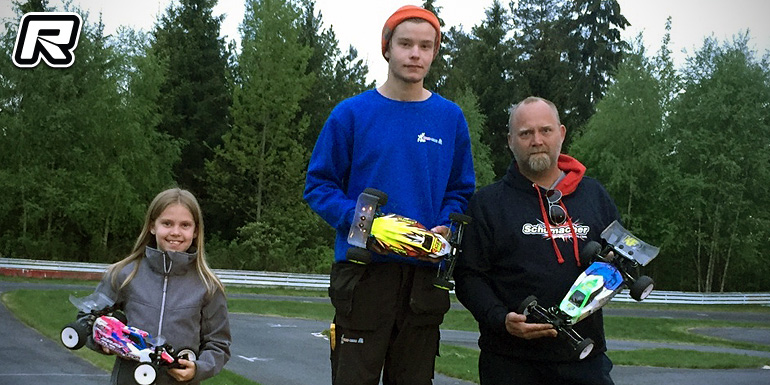 The astroturf track in Skien, Norway played host to the second round of the Norwegian 1/10th Electric Off–road National Series. The weather forecast wasn't too promising for the weekend with cold temperatures and loads of rain in the air. In the 2WD Buggy class local driver Joakim Nicolaisen would take the TQ from fast girl Malin Karlsen. In time for the finals rain started to fall but this did not stop Joakim from being the fastest driver on the track and so he took pretty easy wins from Malin Karlsen and Thorbjorn Doler.
2WD final results:
1. Joakim Nikolaisen – Team Associated
2. Malin Karlsen – Xray
3. Thorbjorn Doler – Schumacher
4. Oystein Doler – n/a
5. Roy Gjemble – Schumacher
6. Tom Erik Strand – Team Associated
7. Marius Kristensen – Serpent
8. Frode Skauen – TLR
9. Sindre Reitan – Schumacher
10.Petter Strand – Team Associated
Sunday morning greeted the drivers with a soaking wet track and no promises of the rain to stop. Malin Karlsen was immediately very quick on the slippery track in the morning practice and she easily won all three qualifying rounds to take the overall TQ ahead of Roy Gjemble and Joakim Nicolaisen. Lining up on the 1 spot of the starting grid she was easily able to open up a small gap to the chasing pair and to control the distance from the front to take wins in A1 and A2 to secure the overall victory.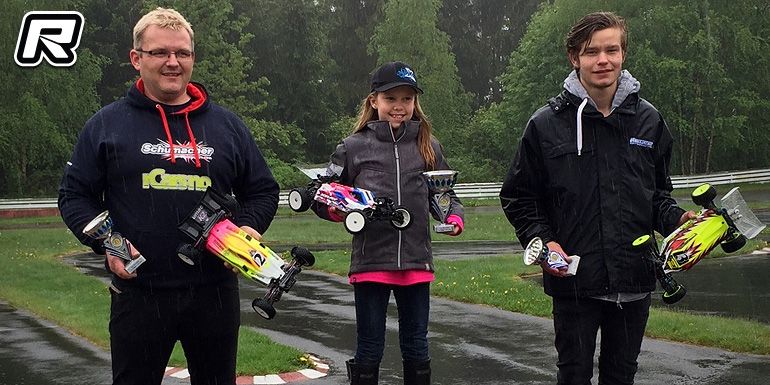 4WD final results:
1. Malin Karlsen – Xray
2. Roy Gjemble – Schumacher
3. Joakim Nicolaisen – Team Associated
4. Niklas Bjorka Roos – n/a
5. Sindre Reitan – Schumacher
6. Thorbjorn Doler – n/a
7. Frode Skauen – TLR
8. Oystein Doler – HB
9. Marius Kristensen – Serpent
10.Petter Isaksen – Xray
Source: Xray [teamxray.com]
---