May 12, 2016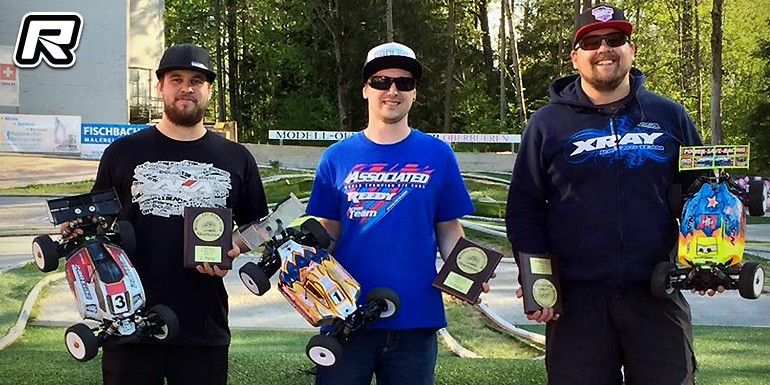 Round one and two of the Swiss 1/8th E–Buggy National Championship was held at the MORC Oberbüren track in great weather conditions and with a total of 36 drivers in attendance. The track recently underwent some changes with the multi-surface layout should be now doing away with the dust issues the club was faced before. The now high-grip surface made for new challenges for the drivers, cars and tyres. In qualifying Patrick Hofer and Robin Frischkopf battled for the overall TQ with the better end for Patrick who would take the pole position after the qualifiers. During the triple A–mains on Saturday, Robin wasn't able to challenge Patrick as he was also under pressure from the drivers behind. Ultimately he Robin would still be able to bring home the runner–up spot behind Patrick while Kevin Zwahlen rounded out the top 3.
Top 10 result Rd1:
1. Patrick Hofer – Team Associated
2. Robin Frischkopf – Xray
3. Kevin Zwahlen – HB
4. Romeo Grass – Xray
5. Yael Zurflüh – TLR
6. Romain Agostinelli – Agama
7. Gerd Pfeifer – TLR
8. Noah Kaufmann – n/a
9. Roman Kummer – Agama
10.Thomas Bodmer – TLR
Round two, run on Sunday, was pretty much the same story for the frontrunners with Patrick dominating the proceedings. Behind him, Robin and Kevin battled for the runner-up spot with now Kevin being on top of things by bringing home a second place finish from Robin in third.
Top 10 result Rd2:
1. Patrick Hofer – Team Associated
2. Kevin Zwahlen – HB
3. Robin Frischkopf – Xray
4. Yael Zurflüh – TLR
5. Gerd Pfeifer – TLR
6. Romain Agostinelli – Agama
7. Roman Kummer – Agama
8. Noah Kaufmann – n/a
9. Thomas Bodmer – TLR
Source: Xray [teamxray.com]
---