May 3, 2016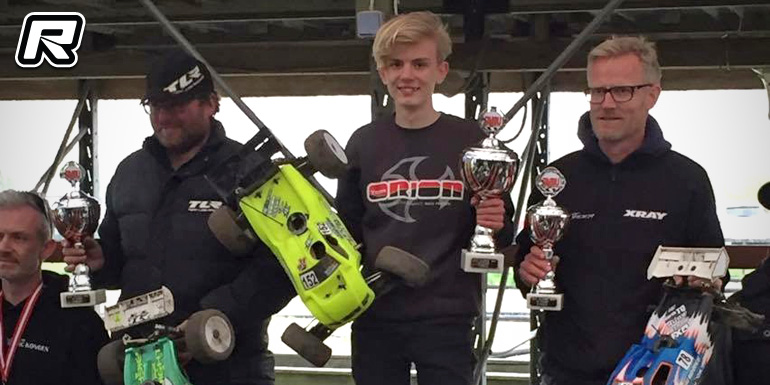 The second round of the Danish Nitro Offroad Nationals hosted by the Hillerod RC Racing club and as usual the weekend started off with Nitro Truggy and Electric Buggy racing on Saturday. In the Nitro Truggy class Peter Harder would grab the TQ in front of Jan D. Hansen and Steffen Culmsee. Mike Kjærgaard rounded out the top 4 after the qualifiers.
Truggy top 10 qualifying result:
1. Peter Harder
2. Jan D. Hansen
3. Steffen Culmsee
4. Mike Kjærgaard
5. Søren Hempel
6. Tim Culmsee
7. Pelle Culmsee
8. Ole Harder
9. Jesper Lund
10.Christian Schat
Right from the start of the 45 minute main final, up front a family battle arose with Steffen, Tim and Pelle Culmsee fighting for the lead. After three laps Pelle got by Tim but Peter was off with a mission. Unfortunately he started to make mistakes, allowing Pelle to take the lead and from that moment on he was able to cruise to the win, some 2 laps in front of runner-up, Jan D. Jansen. In third Peter Harder would round out the podium.
On Sunday it was time for the premier Nitro Buggy class and it was Pelle Culmsee who pretty much dominated the proceedings by TQing all four qualifying rounds to grab the overall TQ from Robert Gustafsson.
Buggy top 10 qualifying result:
1. Pelle Culmsee
2. Robert Gustafsson
3. Magnus Frandsen
4. Jan D. Hansen
5. Silas Høgholt
6. Steffen Culmsee
7. Peter Harder
8. Nikolai Lamberts
9. Daniel Rose
10.Henning Warner
After winning the semifinals Pelle would put his car on the 1 spot for the main final in which he got a bad start as he dropped down the order in the beginning stages. But he was able to recover and by lap 3 Pelle was in the lead again only to suffer a flameout due to a stone hitting the engine's flywheel two minutes before the first pit stop. The flameout send Pelle dead last but after five laps he was in the lead again but he had to go for one additional pit stop compared to leader Nikolai Lamberts. Two laps before the end Nikolai lost 9 seconds which allowed Pelle to overtake him two turns before the finish line, handing him the second win of the weekend. Behind Nikolai Lamberts, Magnus Frandsen rounded out the top 3 result.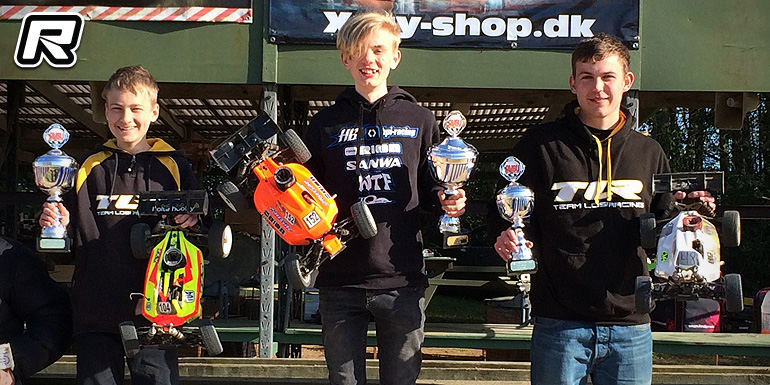 Thanks to Pelle Culmsee for the report.
---