May 17, 2016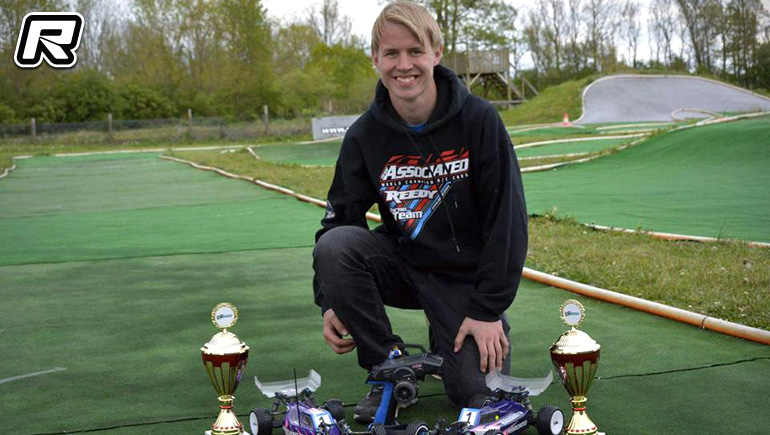 The second round of the Danish Electric Off-road Nationals was held at the Odense RC Minirace club on a super bumpy and high-grip astroturf track. The qualification of the 2WD class was a super close affair between Jesper Rasmussen, Frederik Hovgaard, Mike Gosvig and Jonas Kærup. Ultimately Jesper took the overall TQ after winning the first and third round while Jonas lined up in second thanks to winning Q2. The triple A-mains also had a lot of close racing to offer and a change in weather let the track significantly drop in traction due to a lot of rain. Jesper would be able to conserve his qualifying performance for an easy win in A1 but after a mistake in the opening stages of A2 he had to recover but after a good fight with Jonas he was able to win the leg and with it the 2WD class ahead of Frederik and Jonas.
2WD A-main results:
1. Jesper Rasmussen
2. Frederik Hovgaard
3. Jonas Kærup
4. Mike Gosvig
5. Kim Nielsen
6. Christer Rasmussen
7. Marcus Kærup
8. Christoffer Henriksen
The 4WD class qualification had Jesper and Mike battle it out while Frederik was not up to speed this weekend. With a round TQ in Q1 and Q3, Jesper took the second pole position of the weekend with Mike Gosvig lining up in second. Konrad Berger would grab the 3 spot on the grid thanks to a round TQ in a wet Q2. The wet A1 saw a mix-up at the front of the pack with Jesper and Mike taking off with no problem while Konrad dropped down the order due to a mistake at the start. This allowed Frederik to move into third and an error by Jasper late in the race then promoted Frederik into the lead that he would hold onto until the end. A2 then had Jasper damaging the steering of his buggy after a mistake which made way for a clean win of Mike. A drying track in the third and decisive A-main let the drivers run into traction roll trouble and after a good start of the two front runners, Jesper would profit of a struggling Mike to take the win in the leg. When the dust settled and after the tie-breaker Jesper would take a second win this weekend thanks to scoring the fastest time in A3 with Mike in second and Frederik Hovgaard in third.
4WD A-main results:
1. Jesper Rasmussen
2. Mike Gosvig
3. Frederik Hovgaard
4. Christian Lassen
5. Rune Gustavsen
6. Mathias Skaarup
7. Henning Warner
8. Konrad Berger
Thanks to Jesper Rasmussen for the report.
---