May 24, 2016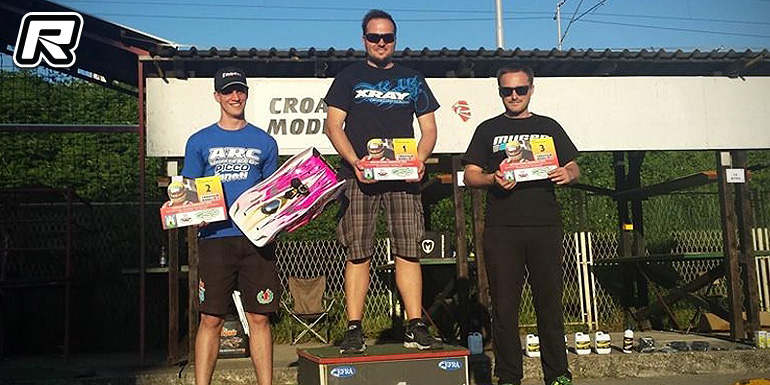 Round two of the TopRC Track Masters was held in Zagreb, Croatia at the technical yet fast Ayrton Senna track. In the premier 1/8th On-road class Nejc Mihelič, Jernej Vuga Štendler and Herfried Pucher battled for the overall TQ. The opening qualifier was won by Jernej who had to sit out Q2 due to being busy with race support, allowing Nejc to score a 20 laps TQ run, bettering Jernej's previous time. For the final qualifiers the track had become slower so the top 3 qualifying positions would be Nejc from Jernej and Herfried.

The final then was a thriller as Nejc instantly jumped into the lead while Jernej was struggling with his tyres, promoting Herfried into second only to become passed by Jernej when his tyres finally came in. The latter then tried to challenge Nejc in front when a contact with a slower car lead to a flameout of Nejc's engine, allowing Jernej to take the lead who then started to control his pace as tyre wear would be an issue. At the 20 minute mark Jernej decided to only change the outside tyres, keeping the lead in front of Nejc who was pushing a lot. Some quick laps of Jernej allowed him some room to breathe but that wasn't needed as Nejc had a coming together with a slower car which ended in an additional pitstop, allowing Jernej to cruise to the win.
1/8th On-road final results:
1. Jernej Vuga Štendler
2. NejcMihelic
3. Luka Busac
4. Roland Riegler
5. Gottfried Knapp
6. Simon Stelcl
7. Goran Vignjevic
8. Valentin Mis
9. Stefano Restivo
10.Herfried Pucher
11.Zvonimir Matosic
12.Lovro Sustersic
In the 1/8th Nitro GT class it was Fabio Callegari who set TQ in front of Boris Majsec and Matošič Zvonimir. The following final was a pretty intense affair with TQ holder Fabio suffering a flameout at the start followed by another in the opening stages. After a re-adjustment of the engine Fabio was able to make up lost ground and in the closing stages he was able to regain the lead from Boris Majsec, which was also helped by some swift pitstops. Behind Boris, Denis Mlivic rounded out the top 3 result.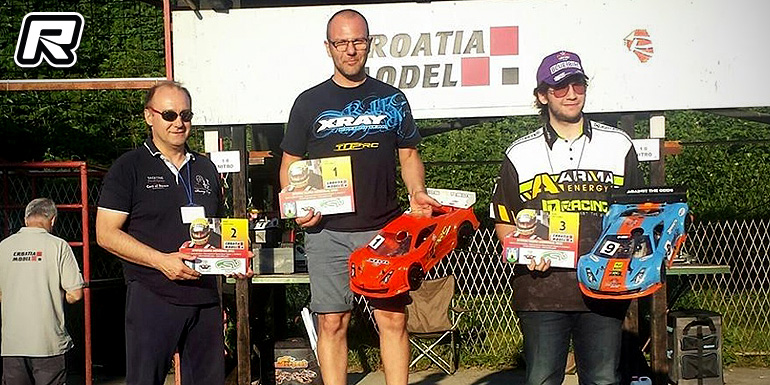 1/8 Nitro GT final results:
1. Fabio Callegari
2. Boris Majsec
3. Denis Mlivic
4. Zvonimir Matosic
5. Aleksandar Zaja
6. Mihael Galekovic
7. Rocco Kaucki
8. Tomislav Benc
9. Patric Pelin
The 1/10th Touring Stock 13.5T class attracted some swift drivers from Slovenia, Italy and Croatia. Young Patrik Pozgaj from Croatia dominated the free practice on Saturday and he also took all qualification rounds on Sunday morning thanks to some very consistent driving. The opening final then saw a battle between Zeljko Selman and Patrik Pozgaj. After a very good fight during the run, Zeljko hit Patrik and the latter lost his first place so Zeljko won the first leg with Gabriel Benvenuti in second and Patrik in third. A2 started with a bit of a disaster for Patrik who made an early mistake, costing him two places. This promoted Benvenuti into the lead  followed by Selman in second and Pozgaj in third. Pozgaj was trying pass to Selman but he couldn't so at the end Benvenuti came in first in front of Selman and Pozgaj. In the final A-main Patrik Pozgaj was pushing really hard, finishing first without a mistake from Selman and Benvenuti 3rd. Overall Zeljko would take the win from Gabriel and Patrik.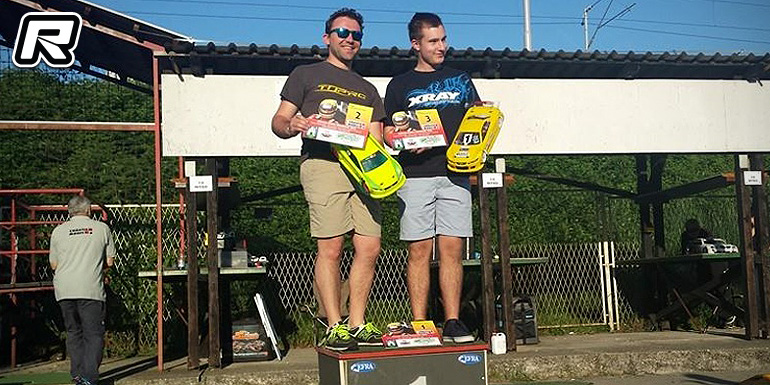 13.5 Stock final results:
1. Zeljko Selman
2. Gabriel Benvenuti
3. Patrik Pozgaj
4. Darko Nemec
5. Zvonko Pungracic
6. Stanislav Kokol
7. Adolfo Ferraioli
8. Bjan MIklozic
9. Kristjan Miklozic
The third and final round of the TopRC Track Masters series will be held in Lavanttal, Austria on the 11th of September.
Source: Xray [teamxray.com]
---